The joy of that first bite into a Mickey Ice Cream Bar, the thrill of racing through Space Mountain, the euphoria of getting a wave (or soon, a hug!) from Mickey Mouse – there are a LOT of reasons why you go to Disney over and over again. But, let's face it…Disney is EXPENSIVE.
What if we told you that you could go on some pretty EPIC vacations that are CHEAPER than visiting the Most Magical Place on Earth? Would you turn in your Mickey Beignets for, say, a trip to Paris?
Today we're breaking down 6 vacations you won't believe are actually CHEAPER than a trip to Disney World!
The Price of a Disney Trip
First, we have to know the price of a Disney World trip for comparison. We've done a few of these calculations in the past in terms of just how much a trip to Disney might cost in 2022 or in an analysis to see at what point Disney World is too expensive.
We'll price out this Disney World trip (and all other trips below) for an imaginary family of 4 with 2 adults and 2 kids — ages 5 and 6.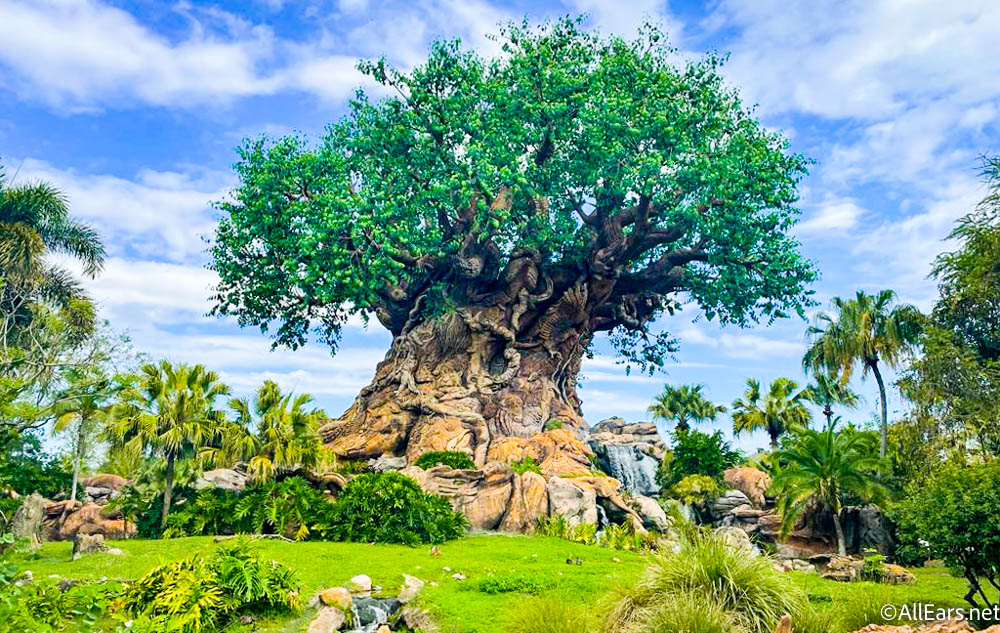 For Disney World, we'll price out the vacation for 6 nights (August 1st, 2022 – August 7th, 2022). Keep in mind that for some of our other vacations, we might not be able to get 6 nights for cheaper than Disney World, so it might not always be apples to apples in terms of exact comparisons. But the idea is just to give you a feel for what other potential vacations out there might actually be cheaper (given certain restrictions) than a trip to Disney.
So, note that prices for all vacations (including Disney World) can vary a LOT depending on when you choose to go, how many people are in your party, what things you opt to get or opt to skipEtc.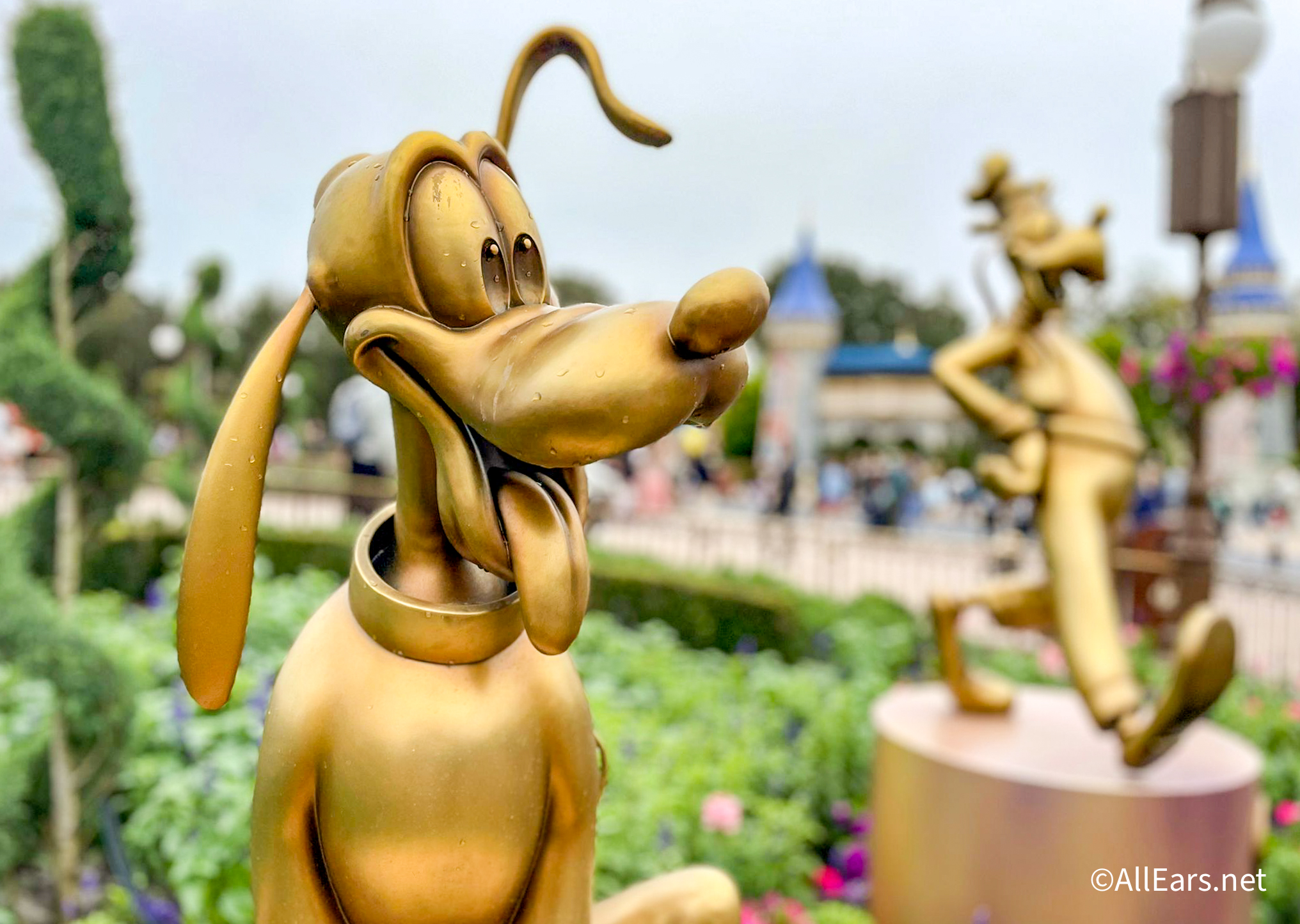 For our trip, the cheapest hotels (when we looked in March of 2022) were the All-Star Resorts. We picked All Star Movies Resort for $175 per night.
We then added on a 5 day ticket with the Park hopper option other Genius+. That brought our total to $4,088.56.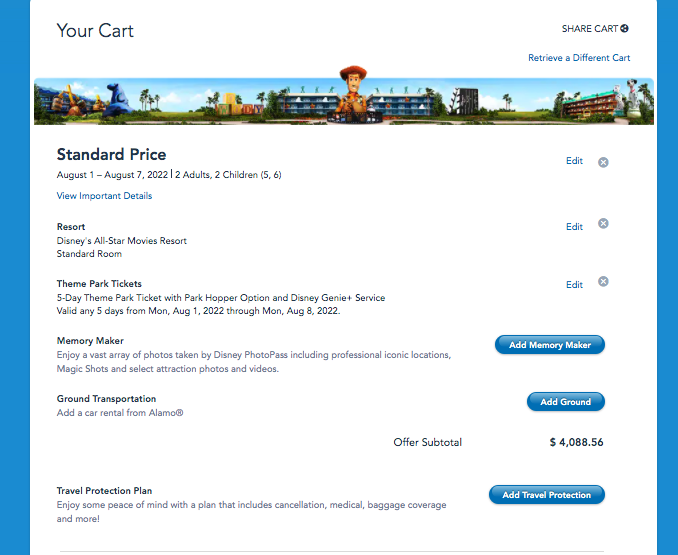 That's for one of Disney's Value Resorts, though! If you go to a moderate resort, say Disney's Port Orleans French Quarterthe price jumps to $4,764.30.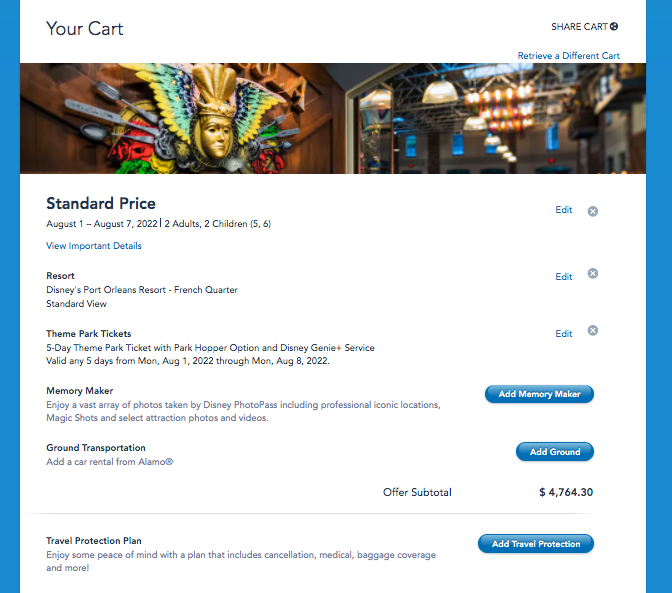 And, of course, things would be even more expensive for a Deluxe Resort!
When we previously priced out a 5-night trip (with 5-day tickets, 1 park per day) for February of 2022, the prices ranged from $3,179.64 to $8,826.10. In other words, things can vary a LOT
For this example, we'll go with the cheaper estimate — $4,088.56 — as our number for hotels, tickets, and Genie+.
But, hotel, tickets, and Genie+ aren't the only costs you have to consider. So there it is food. Food prices can vary a lot, particularly depending on eating habits. A quick service meal with 4 entries (2 for the adults, 2 for kids) can typically cost around $42. Multiply that against 6 days and maybe add in 1 more for day 7 (when they check out) and you've got a total cost of around $798.
And that's assuming the family just sticks to Quick Service, doesn't get drinks, and doesn't have any snacks! For this example, let's bump that to $1000.
Then, you've got to consider other expenses like flights, merchandise costs, tips, special event tickets, Memory Maker/PhotoPass, and transportation to/from airport and hotel (just to name a few).
For our example, we'll allot $169 for MemoryMaker, and $118 for Mears Connect (transportation to/from the airport). For flights, we priced it out from Dallas Fort Worth and the estimated cost was around $1,526 round trip for the whole family.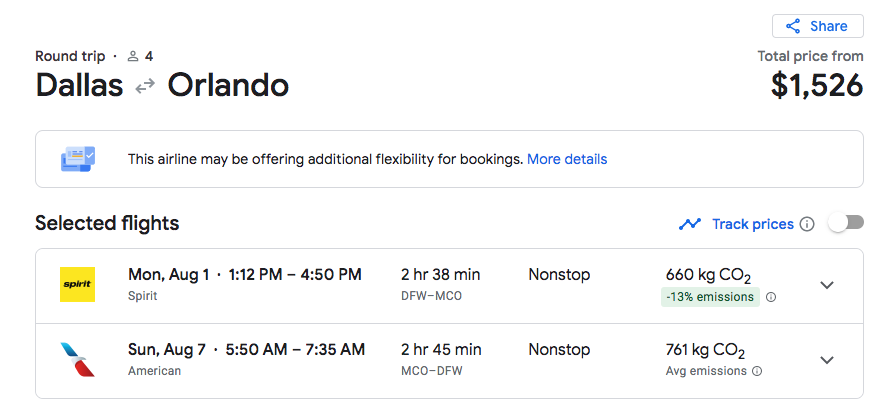 We can also set aside $100 for merchandise and $240 to give our family the chance to get some Individual Attraction Selections during their trip.
Altogether that's:
Hotel, tickets, Genie+: $4,088.56
Food: $1,000
Memory Maker: $169
Mears Connect: $118
Flights: $1,526
Merchandise: $100
Individual attraction selection: $240
That comes out to about $7,241.56. But again, that doesn't take into account other costs like parking, rental car costs (if needed for any reason), special event tickets, etc. And keep in mind that costs could be much higher or much less depending on when the family chooses to visit, what they choose to do, etc.
For purposes of this analysis, we'll round it up to $7,300.
Click here to see 7 things you need to add to your 2022 Disney World budget!
Now, let's look at the cost for other trips!
DisneyCruise
Let's assume that flight costs stay the same for this trip ($1,526) and that our family only wants to travel in August. And let's give our family $200 for transportation from the airport to the port.
Still, given those restrictions, our family of 4 could go on a 4-night Bahamian Disney cruise from Miami, leaving on the Disney Dream in August (August 25-29, 2022) for LESS than our 6-night trip to Disney World.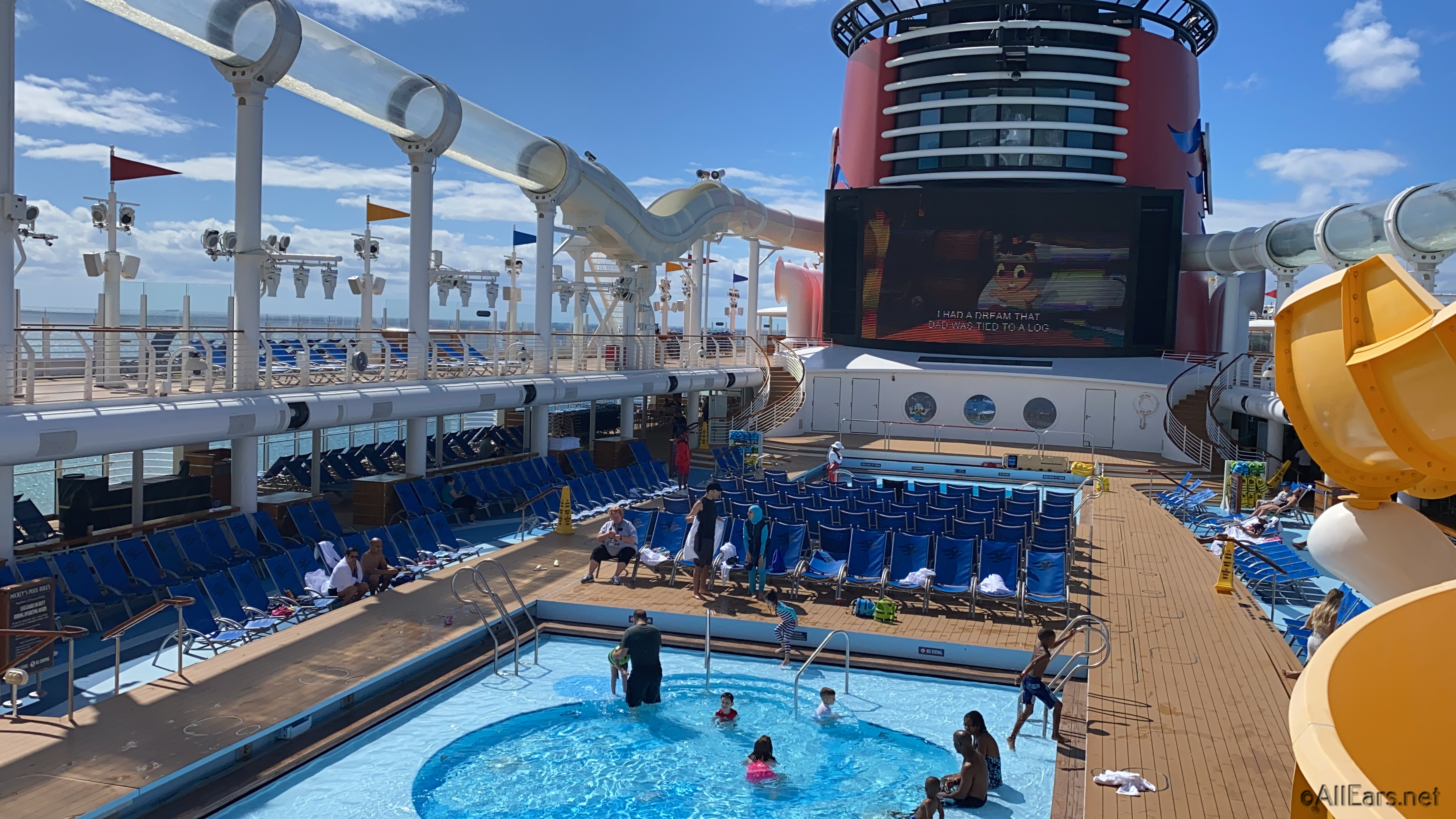 If the family grabs a Deluxe Oceanview Stateroom, the price comes out to $4,463.40. Add on the $200 for transportation and $1526 for flights and it's about $6,189.40.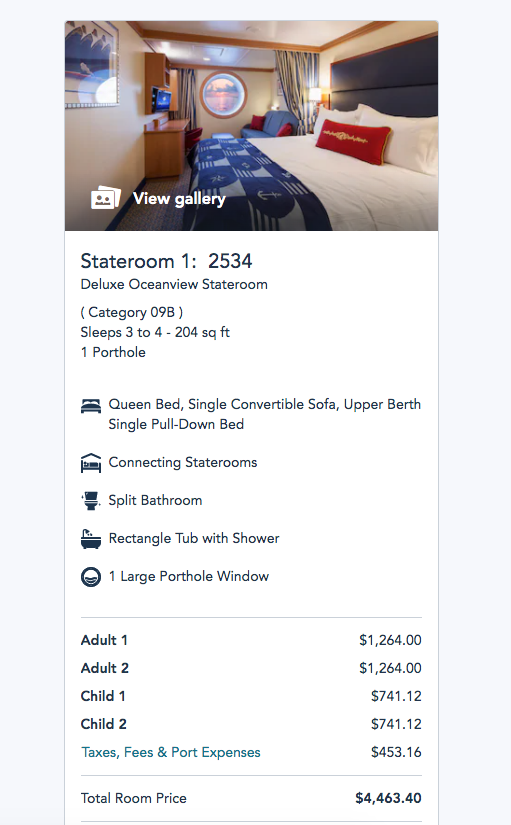 Now, again, it's not apples to apples because this is a 4-night cruise (as opposed to a 6-night Disney World trip), and you'll still need to factor in merchandise costs and tips, but it could still potentially be cheaper!
And costs could be different if our family is willing to travel at other times. For example, our family could go on a 5-night Western Caribbean Disney Very Merrytime Cruise (inside stateroom) from Miami (December 5-10) from December for $4,244.56. So maybe that Disney Cruise trip isn't as "out of reach" as you might have thought!
Click here to see the guide to Disney Cruise Line's ports of departure
Disneyland Paris
Can a trip all the way to Disneyland PARIS be cheaper than a trip to a domestic Disney theme park? Some seem to think so, including the New York Post and the Orange County Register! Though again, there are caveats.
For our trip, we'll price out a 4 night stay (August 1st-5th) at Disney's Hotel Santa Fe, and got a package with park tickets for 5 days…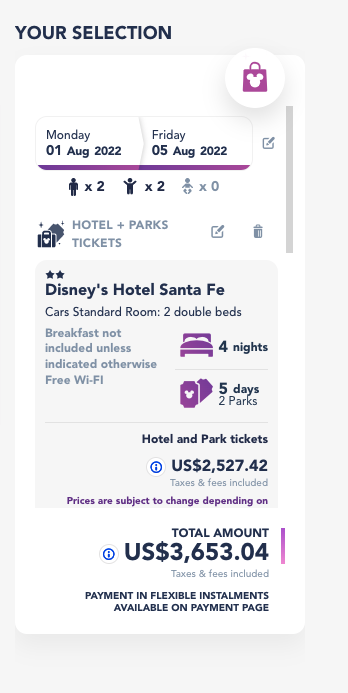 …a meal plan…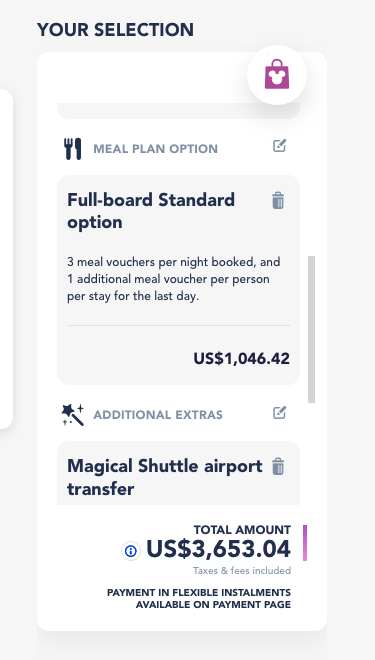 …and an airport shuttle to get from the airport TO the hotel.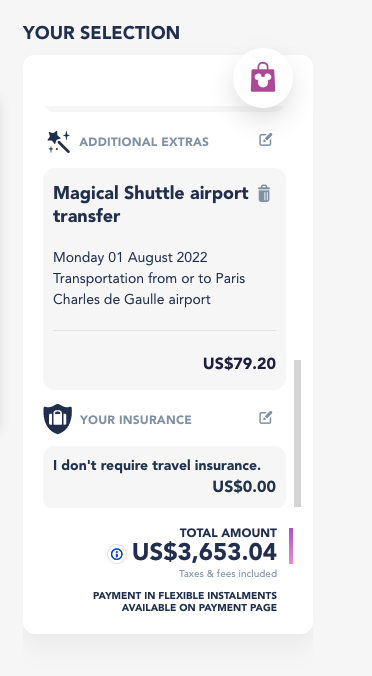 That all came out to $3,653.04. You'd likely need to add on another $80 or so to get back to the airport. That brings the total to $3,733.04.
And then there's the big kicker — flights. Flights from Dallas Texas, where we had our family placed before, would not get us under that $7,300 budget (they were priced at around $5,624). An estimate from Miami got us close but not close enough — the flight from there was priced at around $3,881 (bringing the total to $7614.04).
A flight from Newark (EWR) DID, however, get us to a trip that was actually CHEAPER than Disney World. In that case, the flight was $3,336, bringing the trip total to $7,069.04!
So, while you can go to Disneyland Paris theoretically for cheaper than a trip to Disney World, it's really going to depend on the flight costs.
The Orange County Register pointed out that there were 2 big reasons why another news station had noted that a trip to Disneyland Paris could be cheaper than a trip to Disneyland (in California). First, they picked a more expensive room at Disneyland (in CA) because the cheaper rooms had sold out. And second, they found some cheap flights from Los Angeles International to Paris Orly on a low-cost, long-haul airline with limited service to other spots.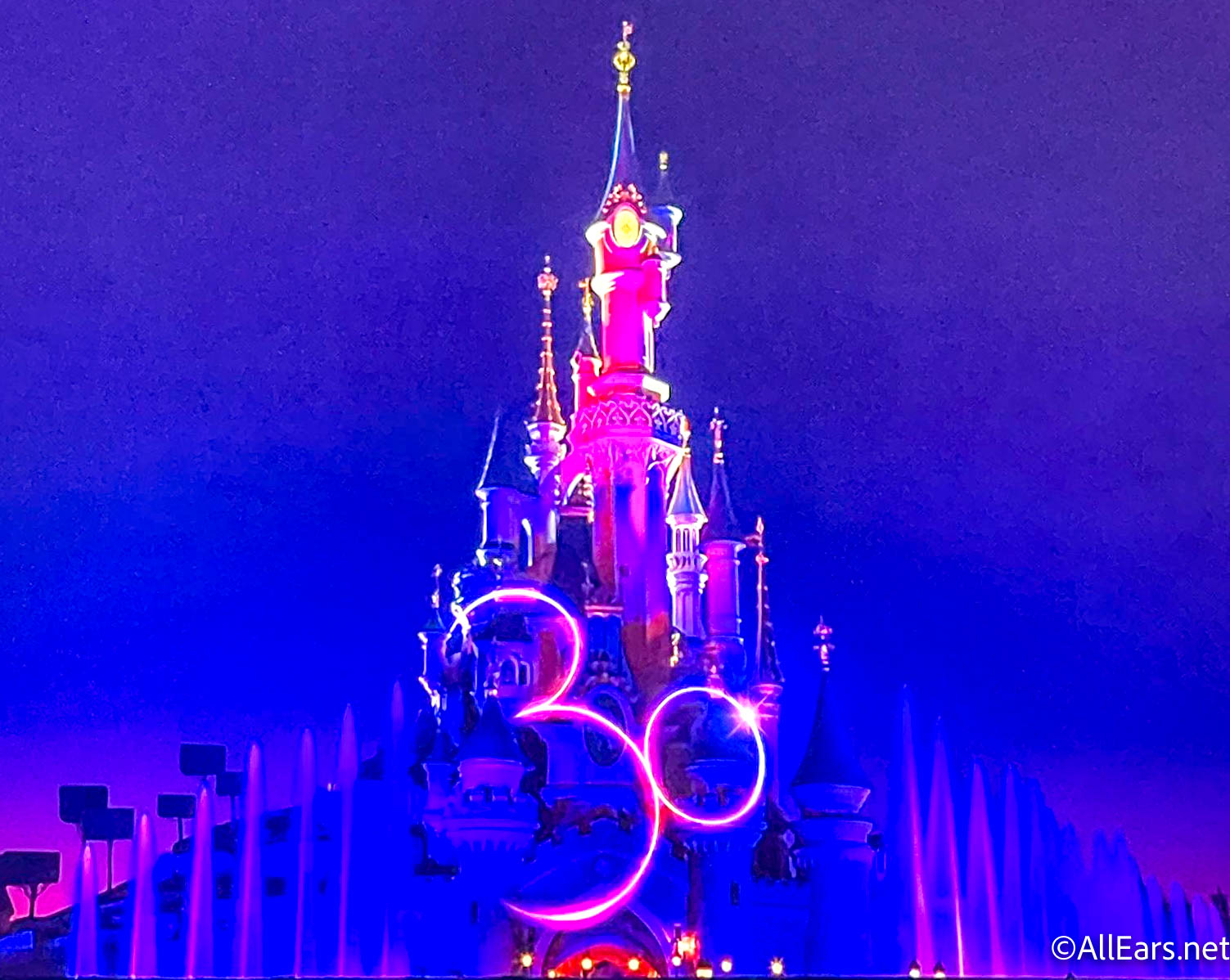 So again, it's not quite apples to apples here — more like apples to…croissants? 😉 But the idea still remains, you could (if you're REALLY careful) swing a trip to Disneyland Paris for , less than a trip to Disney World.
Click here to learn about the BIG plans announced for Disneyland Paris' shopping district!
Royal Caribbean Cruise
We looked at a Disney Cruise, but what about a cruise on another cruise line, with rates significantly less than Disney? Well, you might actually be surprised at just how far your money can go!
We limited our search to cruises in August and were able to find a 7-night GREEK ISLES Cruise available through Royal Caribbean at a reduced rate. Yes, you read that right — 7-night greek isles! The cruise was priced at $3,350 but was on sale, bringing the total to just $1,808.16.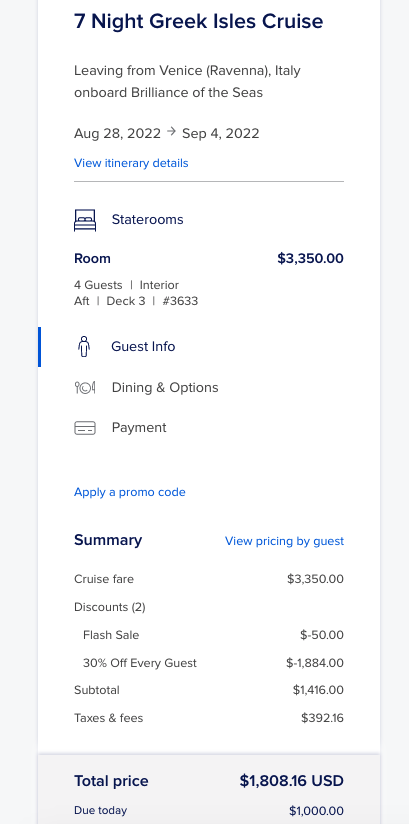 Flights are where the cost really goes up here. Round trip to Venice for 4 was around $4,461 at the time we looked, bringing the total cost of the trip to $6,269.16 — under our $7,300 Disney World vacation.
Of course, there might be additional costs to factor in here including any passports, etc., though some of those would have to be factored in for other trips as well. But still, is it just us or does that cost for a Greek Isles cruise just BLOW your mind?!
Trip to London
For this trip, we used Expedia to price out some estimated trip packages departing on August 1st and returning on August 6th (from Dallas Fort Worth to London). We picked a relatively cheap hotel and the cheapest flights we could get.
We then added on airport transportation on the Heathrow Express, tickets for the London Eye Experience, a London Hop-On Hop-Off Bus Tour with River Cruise, and Kensington Palace tickets. All of that was priced at $4,024.41!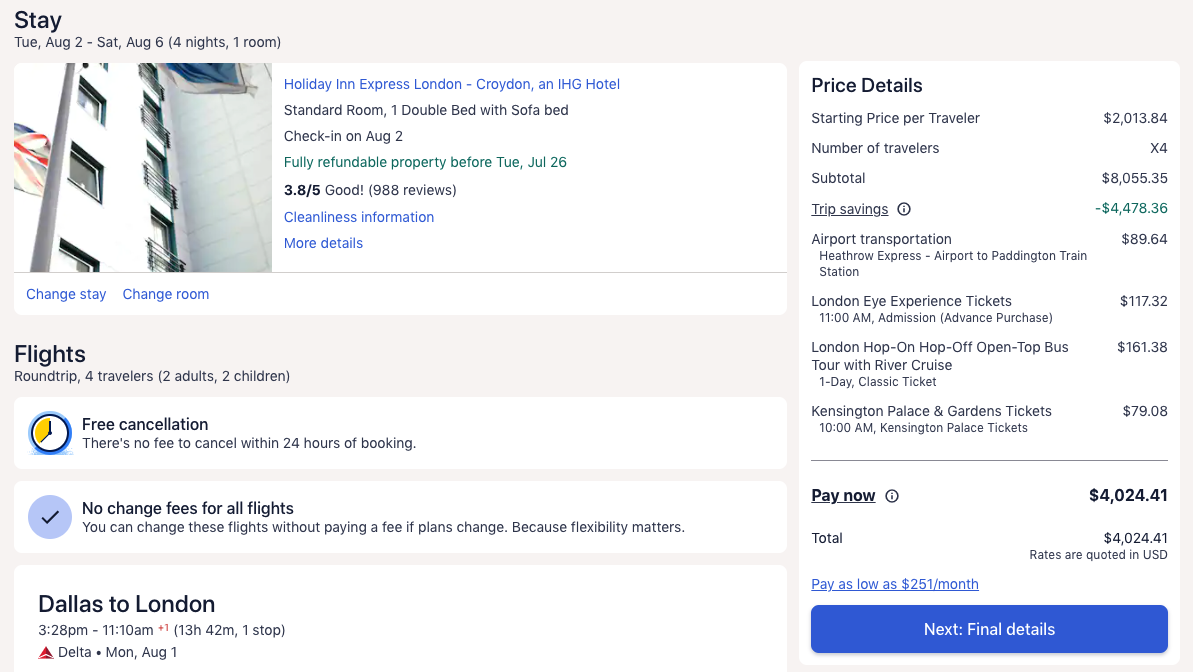 Of course, you'd have to add on additional costs for food and merchandise and likely other miscellaneous things, but it's still impressive to see just how far your money can , go!
Trip to New York
For our trip to new York, we also used Expedia and priced it out for August 1st-August 6th (from Dallas Fort Worth to New York). Again, we stuck with a slightly cheaper hotel, but splurged for more expensive flights with a better arrival time.
We also added on a Statue of Liberty Tour, a Hop-On Hop-Off bus tour, and a Harbor Lights Cruise Tour. All of that came to just $2,567.27.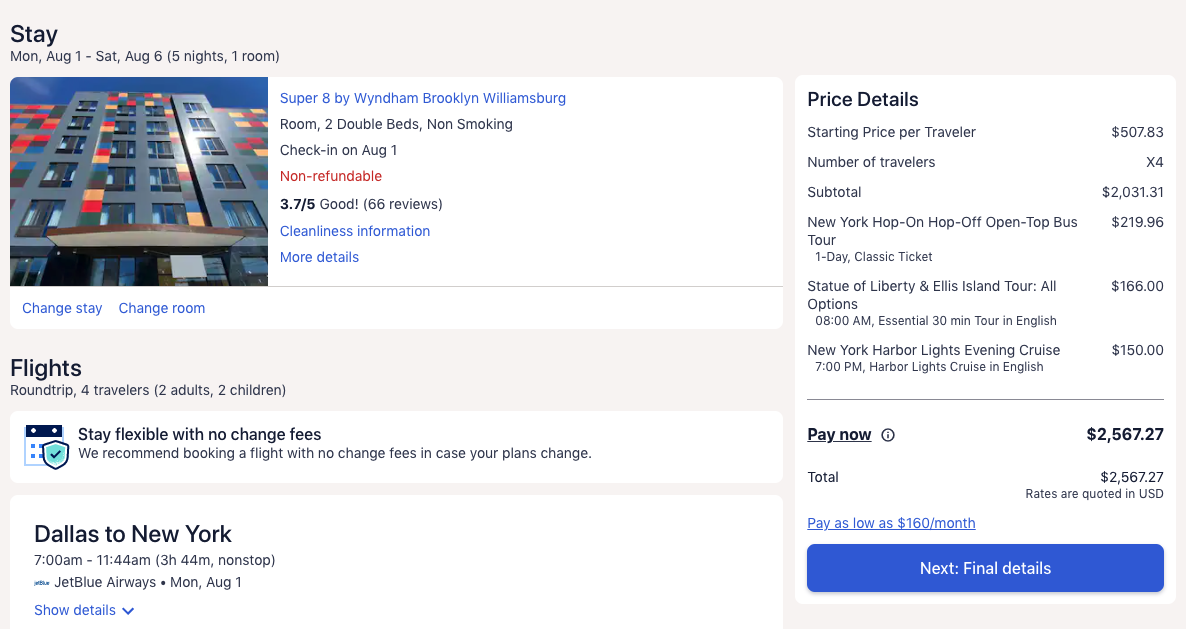 You'll then have to factor in transportation to/from the airport, food, and merchandise costs, but you could easily add on that along with some tickets to a Broadway or off-Broadway show for well under the price of the Disney World trip .
Trip to South Africa
Once again we used Expedia for this estimate and arranged for flights from Dallas Fort Worth to Cape Town with the trip from August 1st-August 6th. The big issue here (of course) is the flights since they are tremendously long. The ones we chose (which were particularly cheap) cut the trip to just being 3 nights at the hotel, so that is an issue.
But, in theory, you could spend a very short amount of time in South Africa, add on transportation, a Guided Historic Cape Town Tour, and a Cape Peninsula Full-Day Tour for $7,208.05.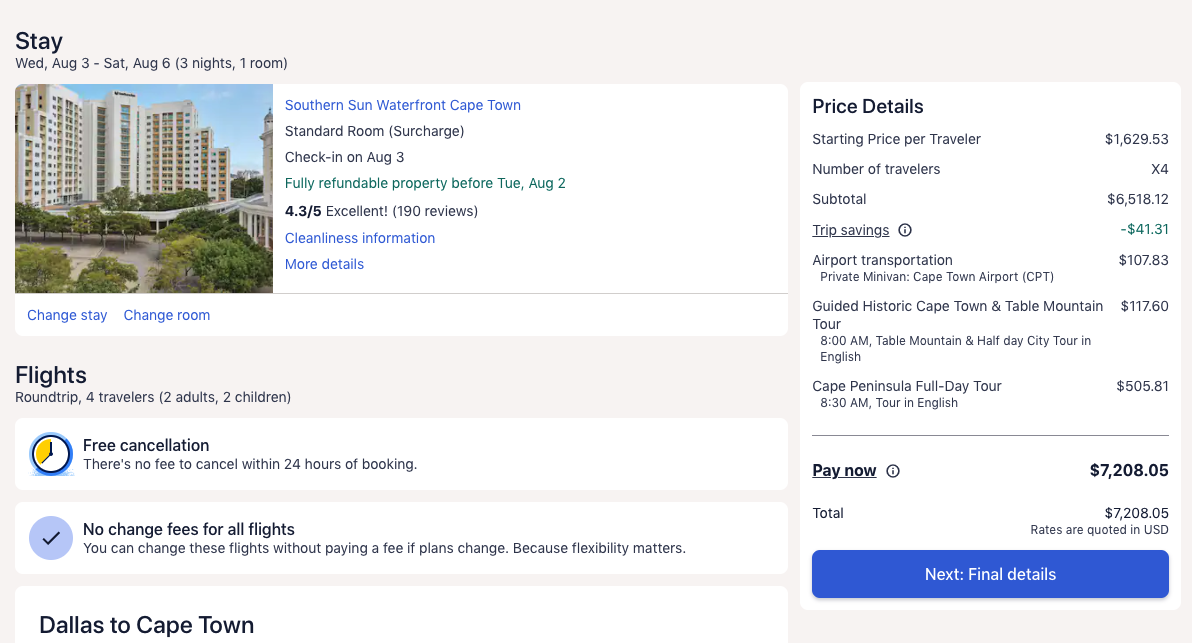 You'll have to add in food costs and other things but could potentially get it to be just less than the Disney World trip.
There are a lot of things to keep in mind
As we noted above, these aren't all apples to apples comparisons. Some trips were longer, some were shorter, some included more than others — the differences can be rather large. Prices can vary depending on when you book, you might need to factor in additional costs, flights can be long or inconvenient. BUT the idea is that there are a whole bunch of trips out there that you maybe never realized could be cheaper than (or just as expensive as) a Disney World trip.
Of course, the other thing to remember is that there are TONS of ways to make your Disney World trip significantly less expensive! You can search for special discounts and deals, rent Disney Vacation Club points, skip out on Park Hoppers or Genie+, pack food from the grocery store, use travel points to stay at off-property spots, and more.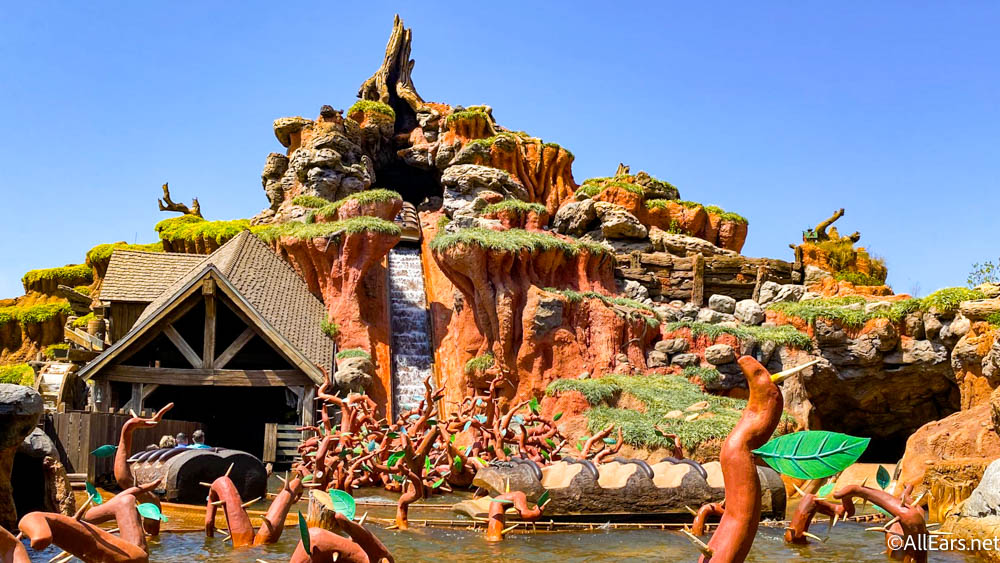 We'll continue to check for more Disney news and bring you all the latest planning tips and tricks. Be sure to check back with us for all the latest info!
More Stories About Disney World
Join the AllEars.net Newsletter to get the free list of the 10 Best Secrets of Disney World! Click here to get started!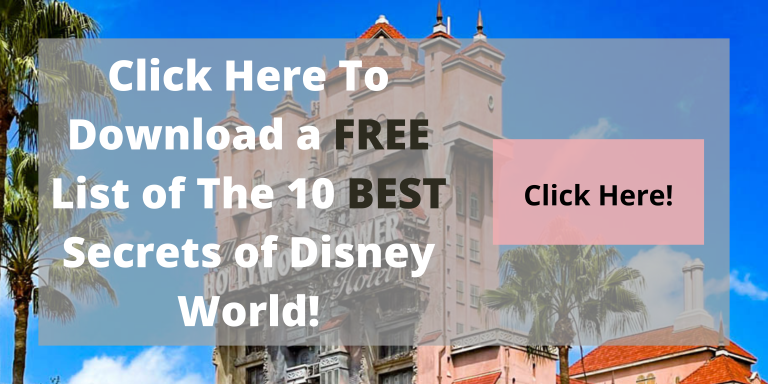 What trips have you been on that are surprisingly CHEAPER than a trip to Disney World? Tell us in the comments below.