Summer is one of the most popular times to go to Disney World!
With school out and the sun shining (usually), people from all over the world flock to Disney World for vacation between May and August. This means that summers can get pretty busy in the parks so you'll need to be sure that you're planning ahead — especially with all the new(ish) Disney Park policies in place! And, to help you plan, we're taking a look at ALL the Park Pass Reservation availability for summer 2022!
As a quick refresher, Disney is currently requiring that all guests have both a valid ticket and a Park Pass Reservation for the day that they plan to visit the parks. This park pass is an extra planning step and availability can (and often does) book up!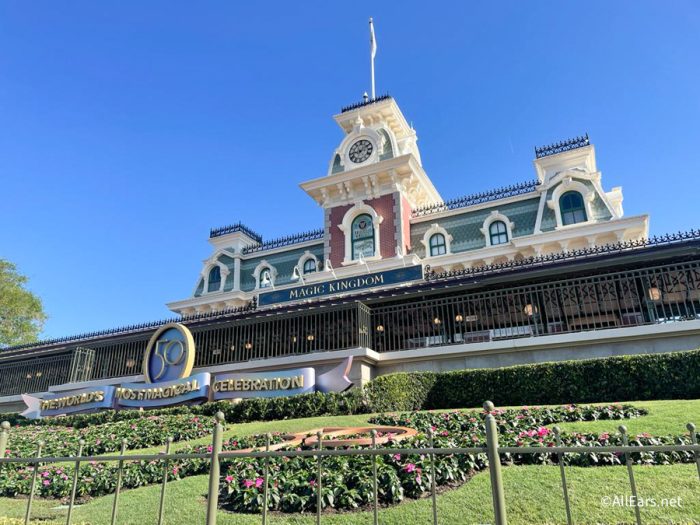 If you'll be park hopping, you'll only need to book a pass for the first park that you plan to visit, and (as long as you've scanned into that first park), you'll be able to hop to any other park after 2PM as long as that park hasn't reached capacity.
So, now that we've covered the basics — let's take a look at the Park Pass Reservations for Summer 2022!
May 2022
If you're heading to Disney World in the final weeks of May, we hope you already got your reservations!
Theme Park Ticket Reservation Availability
For traditional day guests, no dates are completely sold out at all four parks, but it's going to be particularly tough to get into Magic Kingdom at this point.
Disney's Hollywood Studios is also sold out a handful of times in the remaining weeks, and Disney's Animal Kingdom is sold out on a couple of dates as well. EPCOT is going to be your best bet if you don't have reservations yet — the only day it's sold out is May 27th, the opening day of Guardians of the Galaxy: Cosmic Rewind!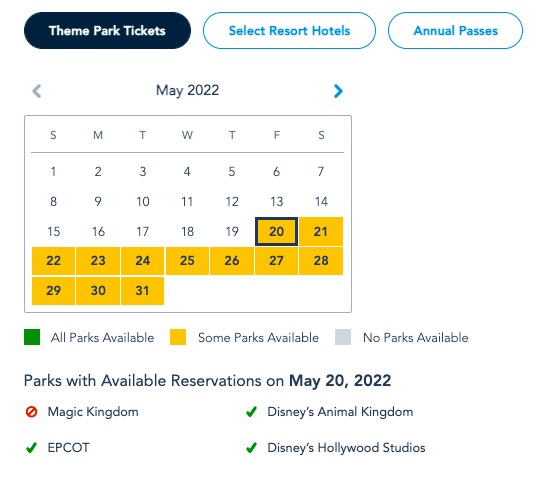 Select Resort Hotels Reservation Availability
The calendar for Select Resort Hotel guests is also the same. If you're going to Disney World this month and still need reservations, don't wait! Get them before they're all gone!
Now, let's see what things are looking like in June!
June 2022
As we approach these dates, they'll likely start to fill up more and more — but we can start to see some trends for crowds this summer already in the month of June.
Theme Park Ticket Reservation Availability
When it comes to theme park ticket reservation availability, June is still pretty open. But from what we're seeing, weekdays are filling up faster than weekends with Disney's Hollywood Studios and Magic Kingdom filling up almost.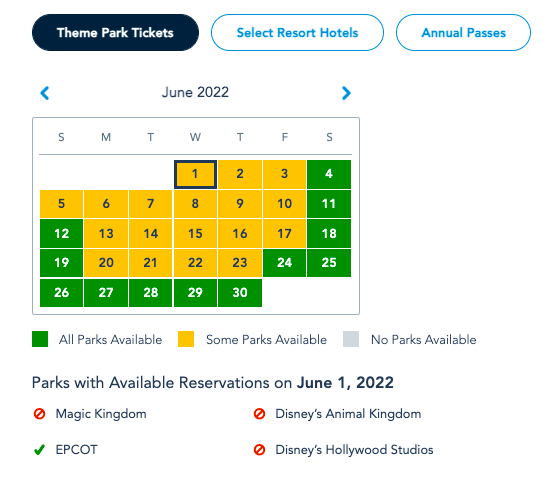 Select Resort Hotels Reservation Availability
The availability is about the same for Select Resort Hotel Guests with many weekend dates available and several parks already sold out on the weekdays.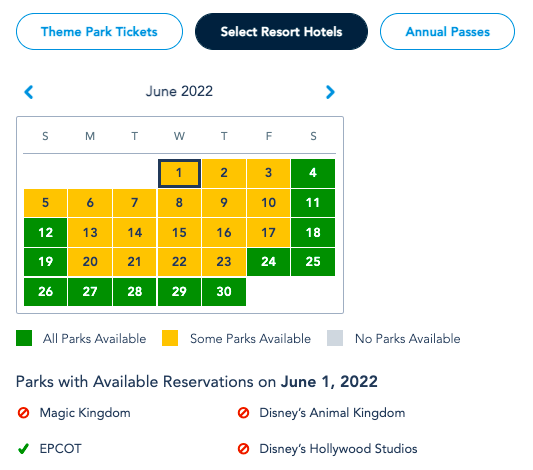 Let's take a look at July!
July 2022
As of right now, July is wide open when it comes to park pass availability! So, if you're planning a trip for this month, we recommend booking sooner than later.
Theme Park Ticket Reservation Availability
You can book any park on any date of the month no matter whether you're a regular day guest…
Select Resort Hotels Reservation Availability
…or a hotel guest! Even the weekend of the 4th of July has all four parks available right now, but this likely won't last!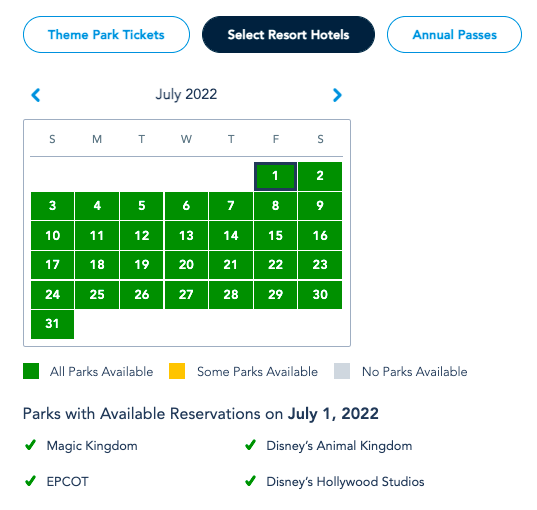 If previous years are any indicator, we'll likely be seeing these dates fill up soon.
Aug 2022
Theme Park Ticket Reservation Availability
August also has full availability for theme park ticket holders…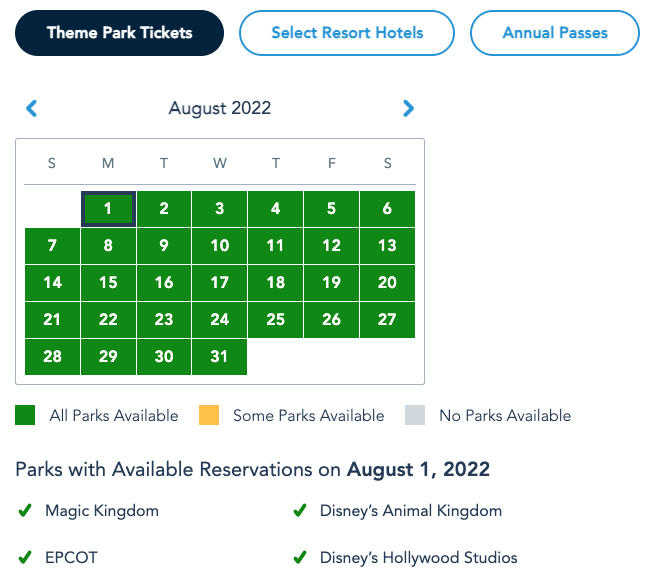 Select Resort Hotels Reservation Availability
…and Disney World hotel guests!
Annual Pass Availability
Disney World Annual Passholders have a different set of availability for Park Pass Reservations — let's take a look at how the summer is shaping up!
Incredi Pass Reservation Availability
The Incredi Pass is the only Disney World Annual Pass without blockout dates and currently, all parks have availability for these passholders throughout the entire summer. the only exception is May 27th, the opening day of Guardians of the Galaxy: Cosmic Rewind.
Sorcerer Pass Reservation Availability
Sorcerer Pass holders also have no blockout dates for the summer months (though select dates are blocked out around holidays throughout 2022). And, much like Incredi Pass holders, the Entire summer has park pass reservation availability right now, with May 27th being the only sold-out date.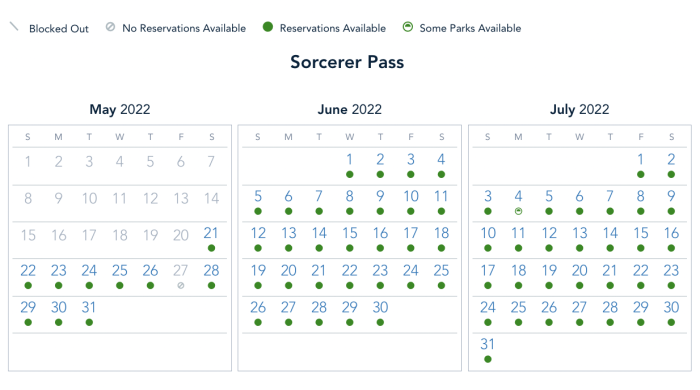 Pirate Pass Reservation Availability
Pirate Pass Holders are blocked out on 2 weekends in May through June. The first is Memorial Day weekend from May 28th until the 30th, and the second is 4th of July Weekend from July 1st through the 4th. If you have a Pirate Pass, you won't be able to make a reservation on those dates, but otherwise, May 27th is the only sold-out date.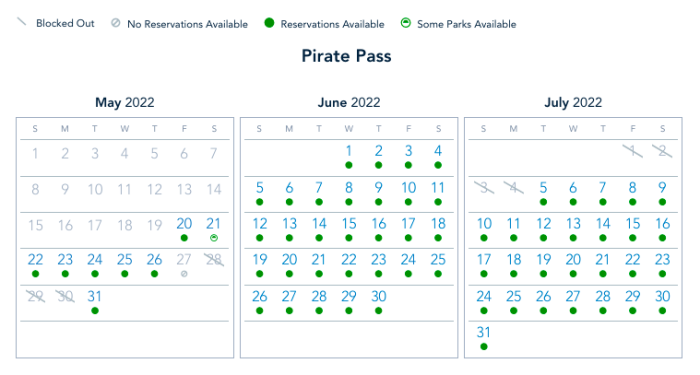 Pixie Dust Pass Reservation Availability
Those with the Pixie Dust Pass are only able to visit Disney Parks during the week, with the only additional blockout dates this summer being May 30th and July 4th. As for park pass reservation availability, all other weekdays are open with May 27th being the only one booked up.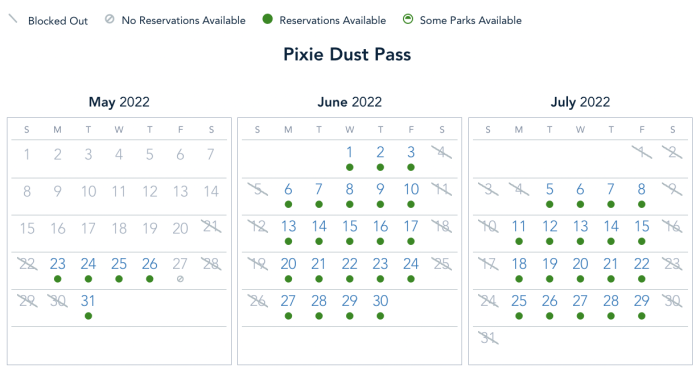 So, if you already know that you'll be headed to Disney World this summer, get those reservations quickly before they're gone! And, stay tuned to AllEars for more of the latest Disney news and updates!
Already planning your 2023 Disney World trip? Click here to see Everything You Should Know Before Booking!
Join the AllEars.net Newsletter to get the free list of 50 Ways to Celebrate Disney World's 50th Anniversary! Click here to get started!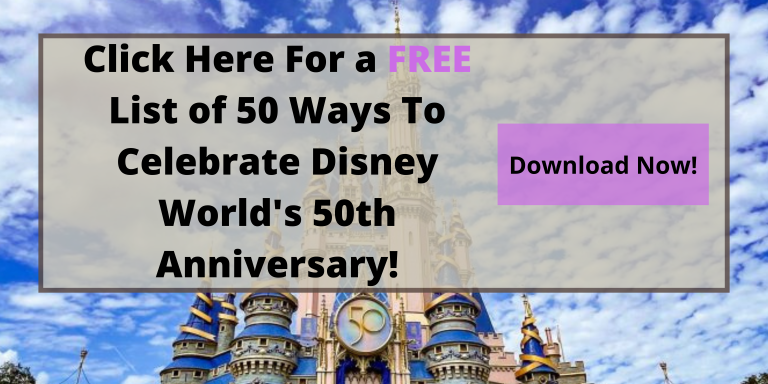 Are you planning a Disney World trip this summer? Let us know in the comments!