This is part 4 of Cynthia's back-to-back Dream guest trip report. You can start from the beginning here.
Guest Trip Report: December 27, 2021 4 Night Sailing on the Disney Dream
Part 2 of our back-to-back Christmas cruises was a four night cruise from Port Canaveral with stops in Nassau and Castaway Cay as well as a day at sea. Because this four night cruise was very similar to the three night cruise, I am not going to write a day-by-day summary of the cruise. Instead, I am going to share some of our favorite experiences and general thoughts about cruising in the current environment.
To start, we were back on board the Dream very early in the day on embarkation day and unbeknownst to us, we were in for a very long day in port. (You can read about the back-to-back process in detail here) In our experience, the Disney ships normally head out of port close to 4:00 in the afternoon. We spent our day getting situated in our new cabin, eating lunch, decorating our cabin door and generally roaming the ship.
We began to hear rumblings that our departure was going to be delayed for a bit, but we never found out for sure why we were delayed. In any event, we did not leave port until after 6:30 pm We had the second dining time, so we were not in the group that ended up eating dinner while still docked in Port Canaveral. The late departure did allow for a sail away into a beautiful sunset.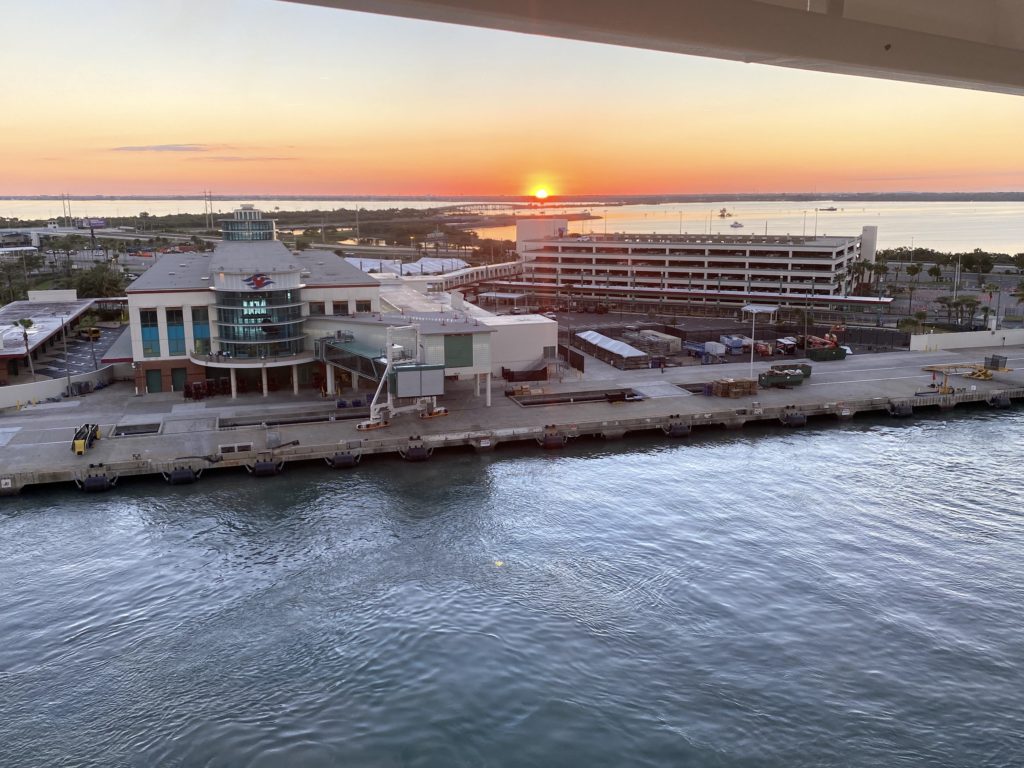 I have read many Disney Blogs and Disney Cruise Facebook pages, and I often see questions about how you keep up on your dinner times and dinner locations now that this information is no longer printed on your Key to the World card. There is no need to worry because this information is located on the Navigator App and is available the first day you board the ship. You can check your dining locations and menus for the entire cruise as soon as you open the app on board. Here is what you want to see: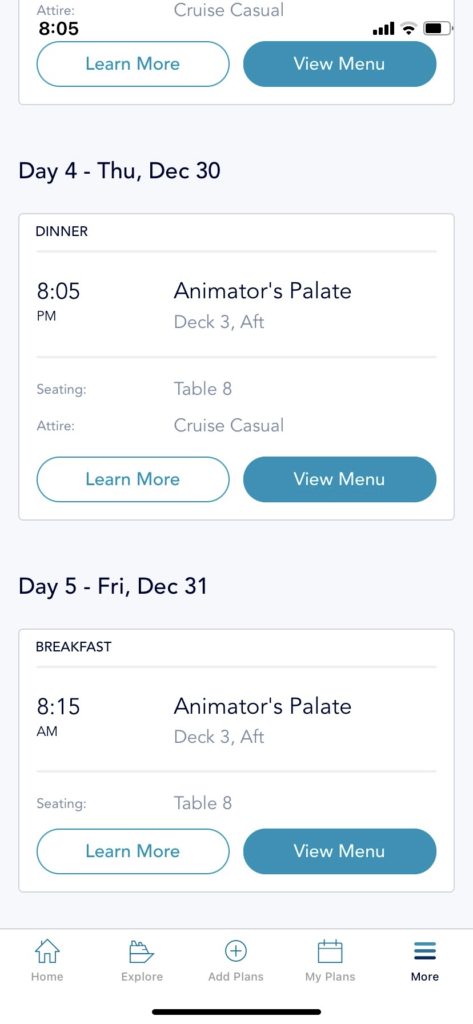 This page of the App tells me that dinner for our family on Day 4 was at 8:05 pm at Animator's Palate and we were to be seated at Table 8. We also knew that the dinner attire on Day 4 was cruise casual. We could then simply view the menu at any time and preview the menu selections for the evening before arriving at the restaurant. So don't be worried that your dining rotation is not printed on your Key to the World card. All the information you need is right in the app.
The second cruise sailed at about 50% occupancy so we felt we had a lot of room to move around without running into large groups of people. When I say a lot of room to move around, I mean there were many times when no one was around!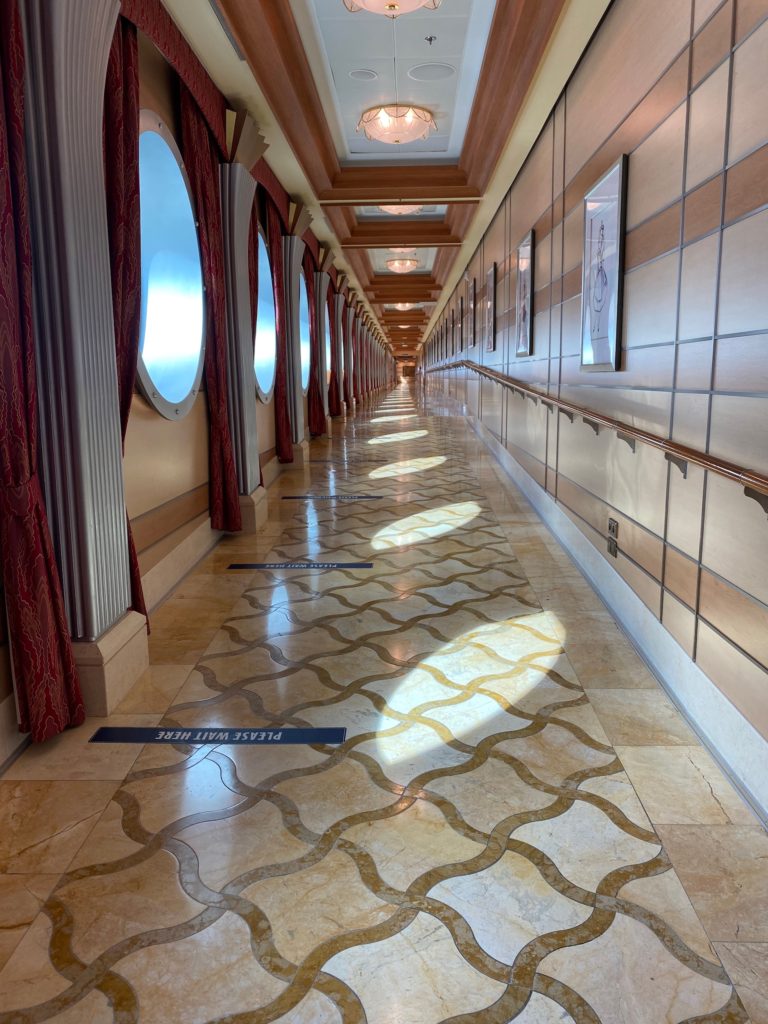 At one point I found my daughter practicing her photography skills. As you can see, she had the atrium to herself and her pictures were really nice!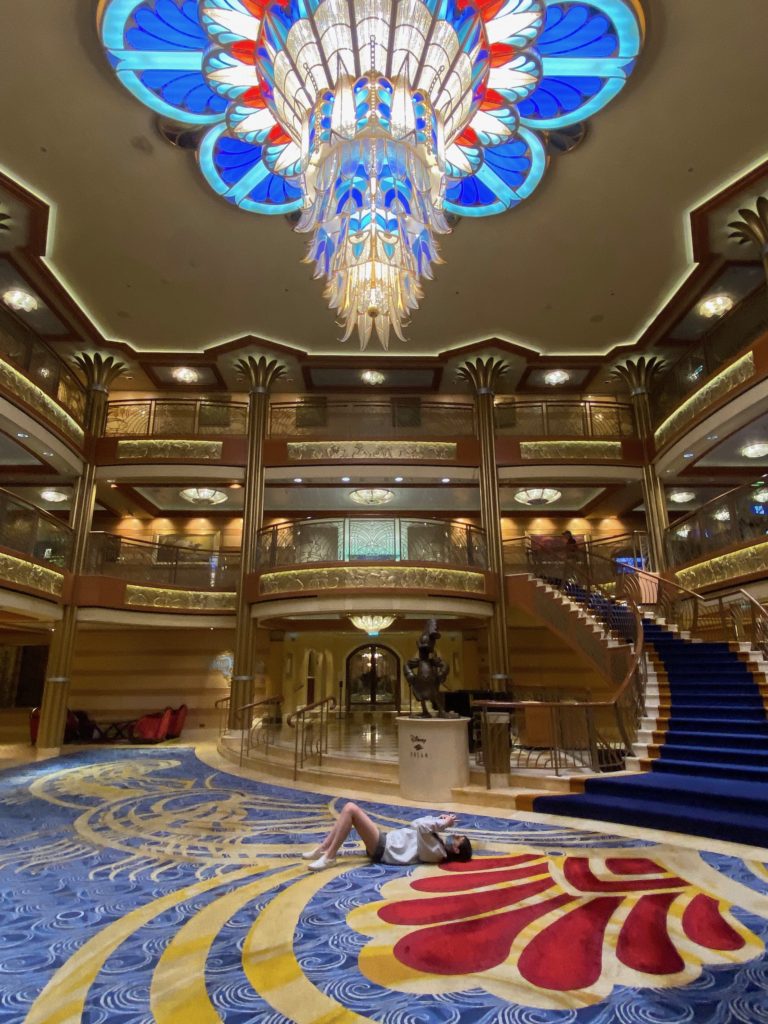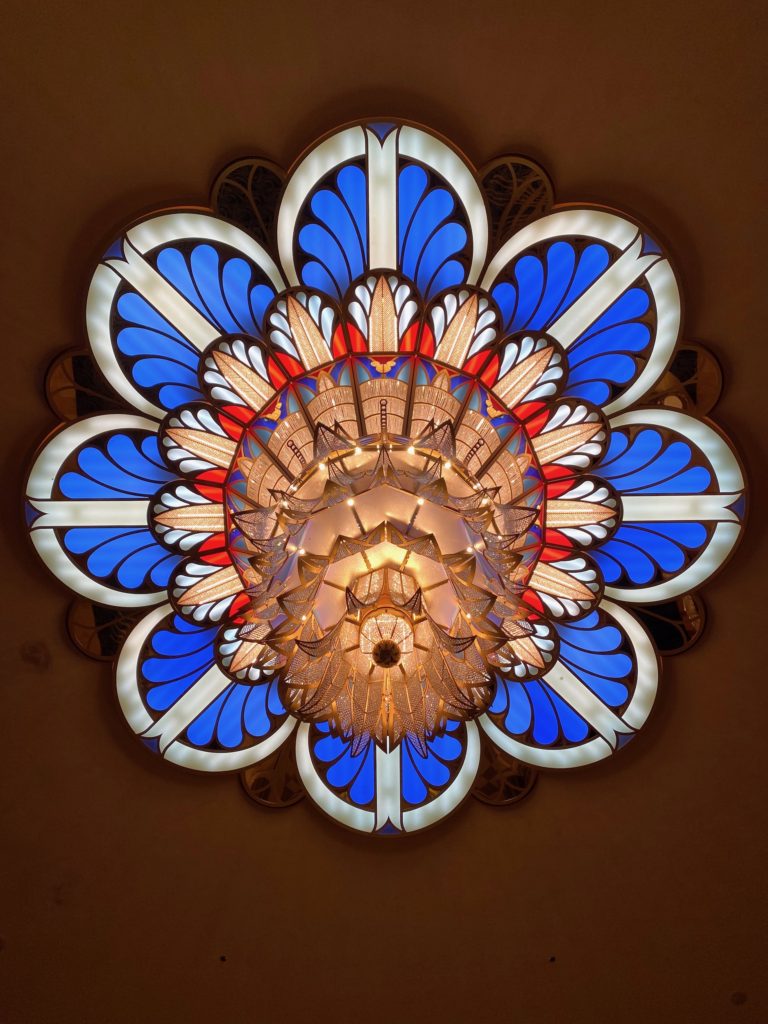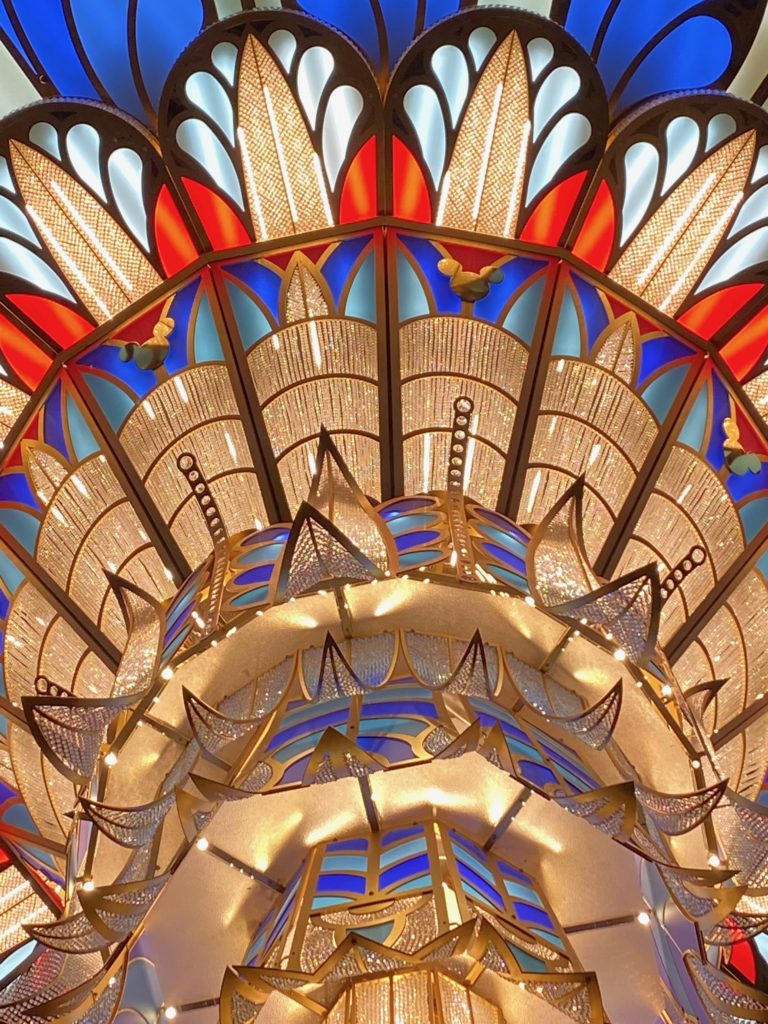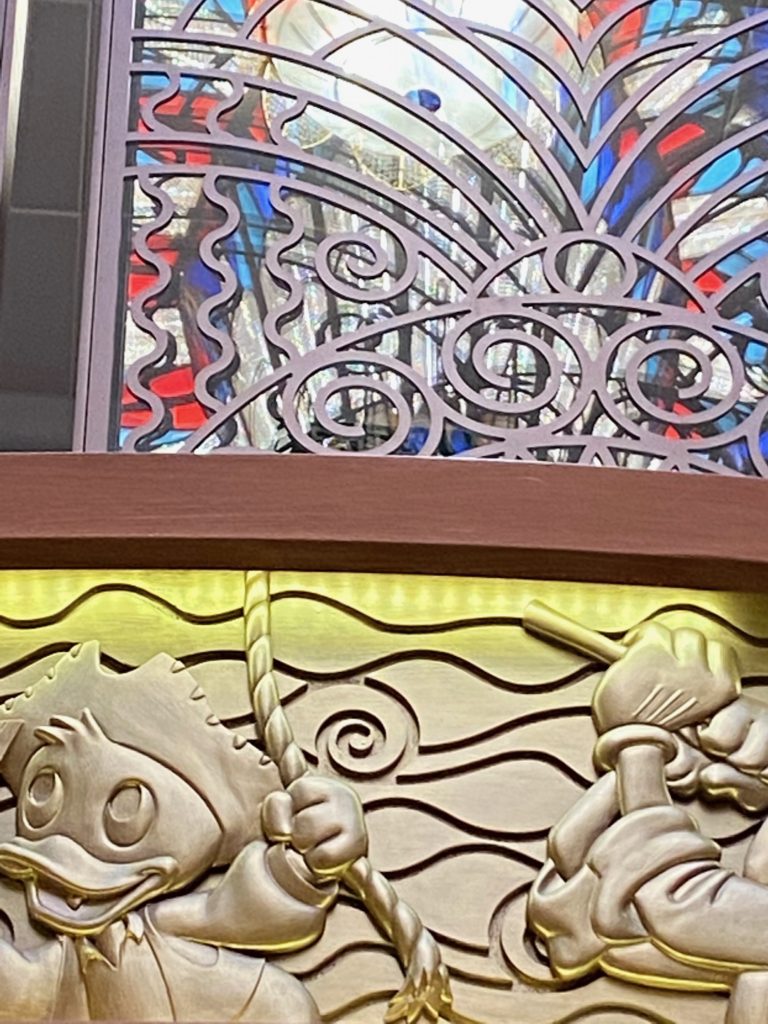 With the smaller crowds, my husband was able to decide at the last minute that he would try another tasting experience. This time he experienced the chocolate and liquor tasting at Cove Cafe. He had a great time!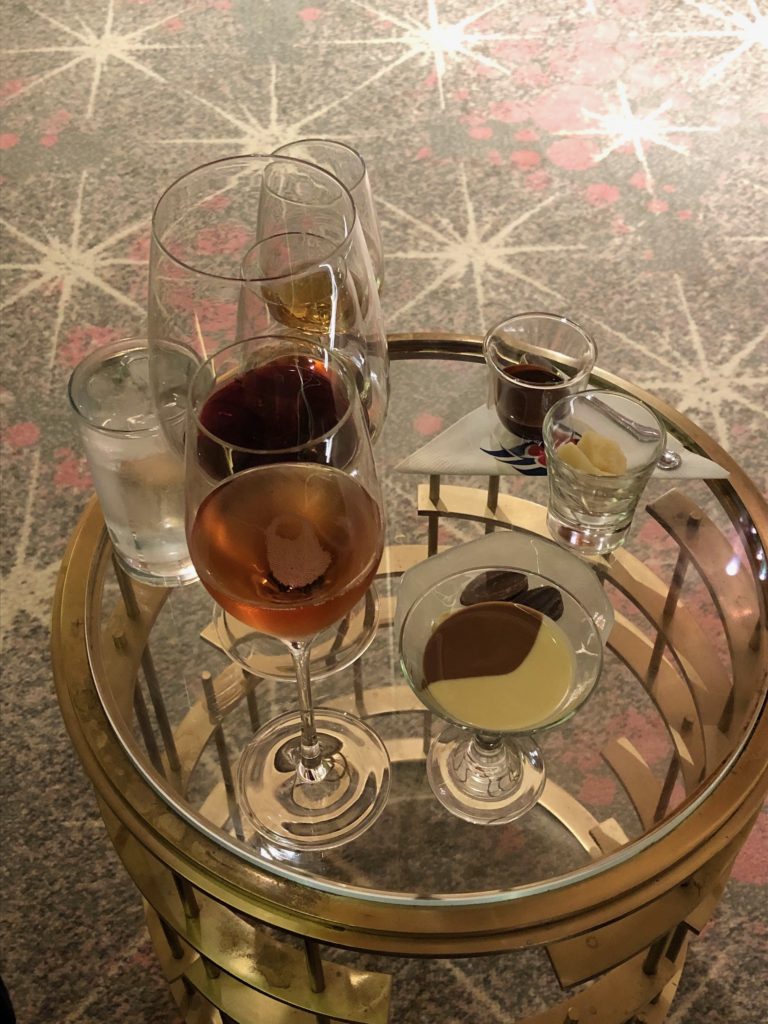 The movie selection in the Buena Vista Theater was pretty good on this cruise. My favorite was Encanto.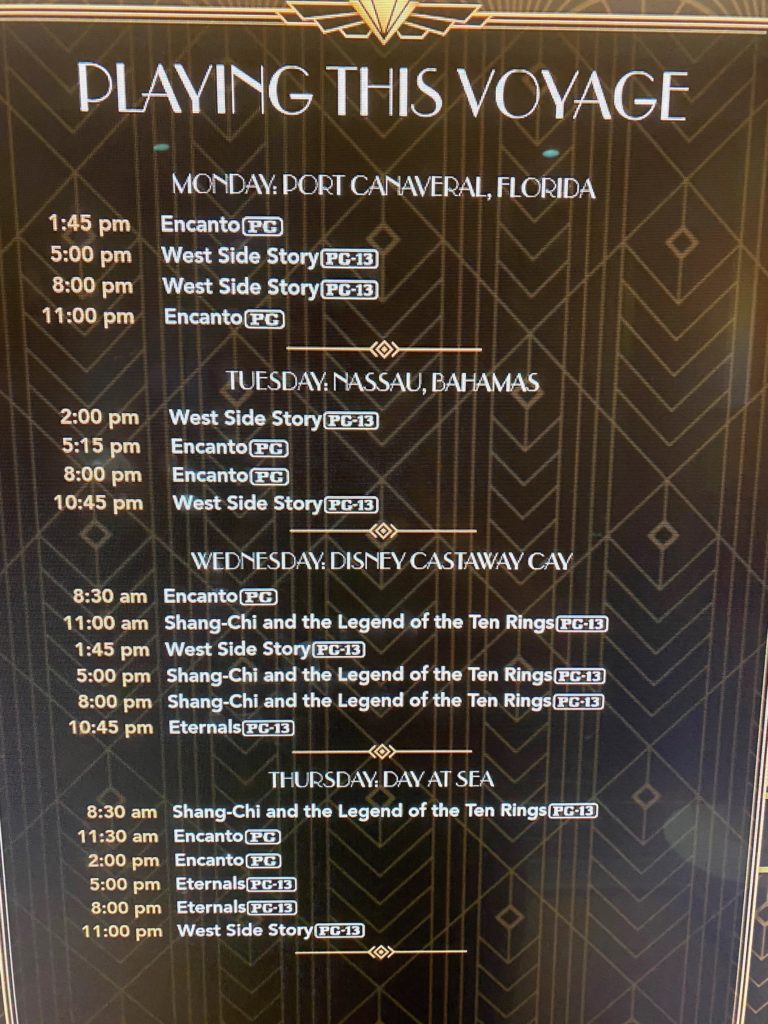 We did have a stop in Nassau. When we were there, local regulations allowed us to walk around on our own as long as we were fully vaccinated and wore a mask. We decided to disembark for a couple of hours and then be back on the ship by lunch. Arrival into Nassau was perfect and the weather could not have been better.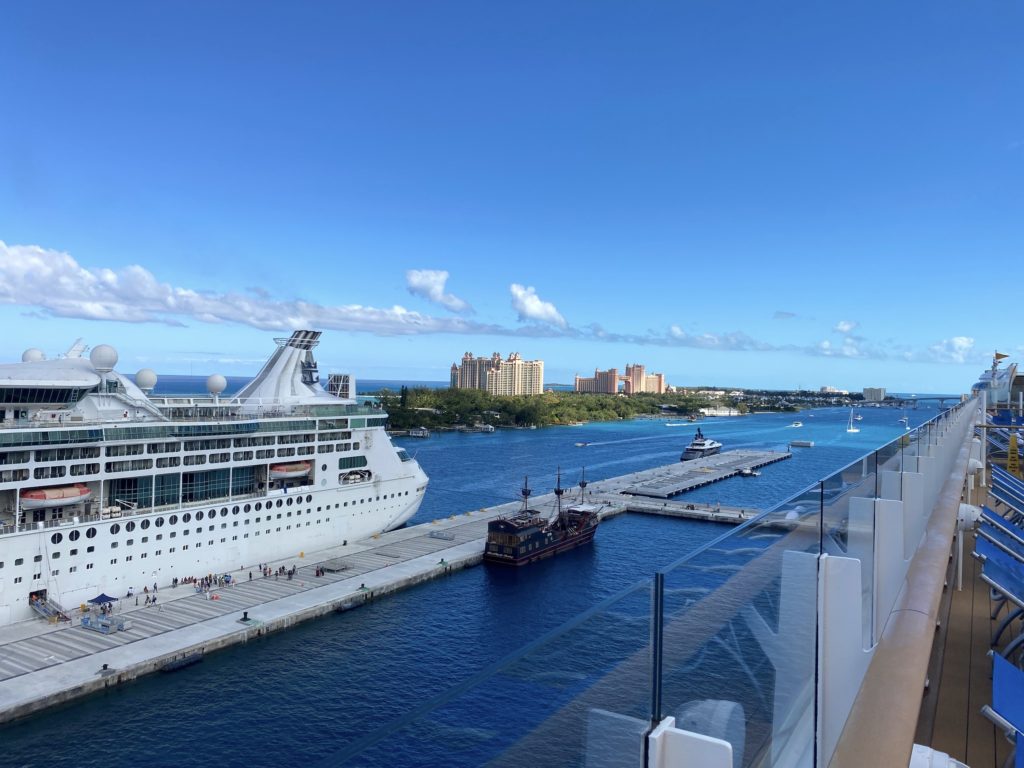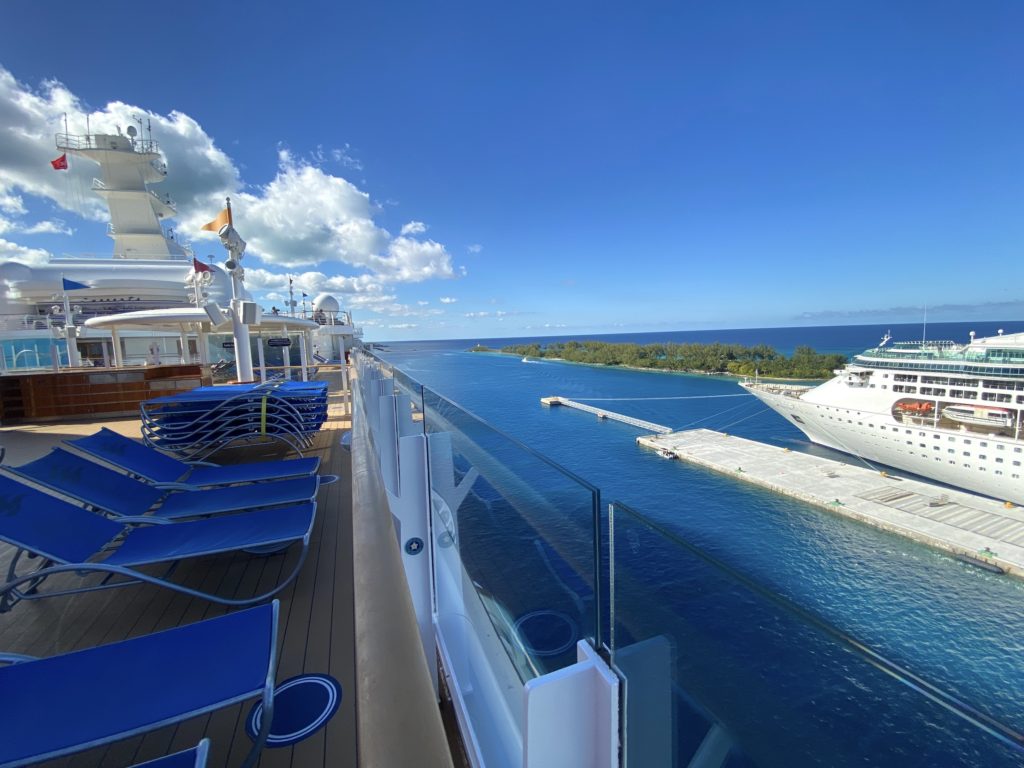 We ended up walking around for a very short time because there were not many shops and restaurants open. We did find a beautiful historic church in the middle of town that we stopped to admire.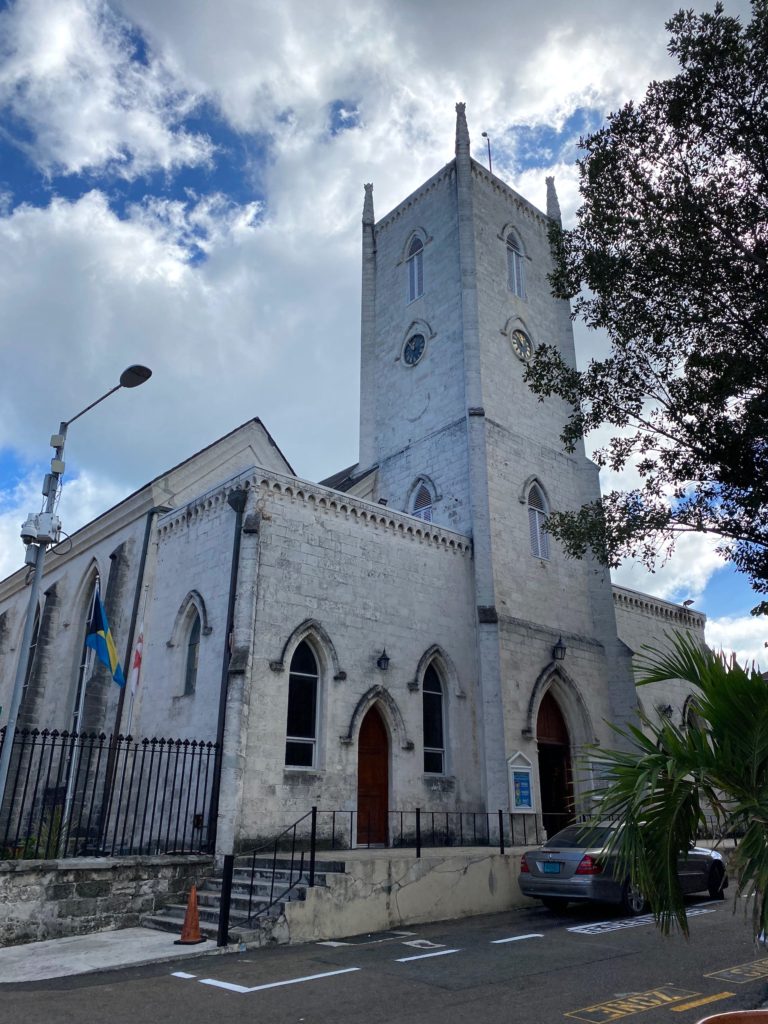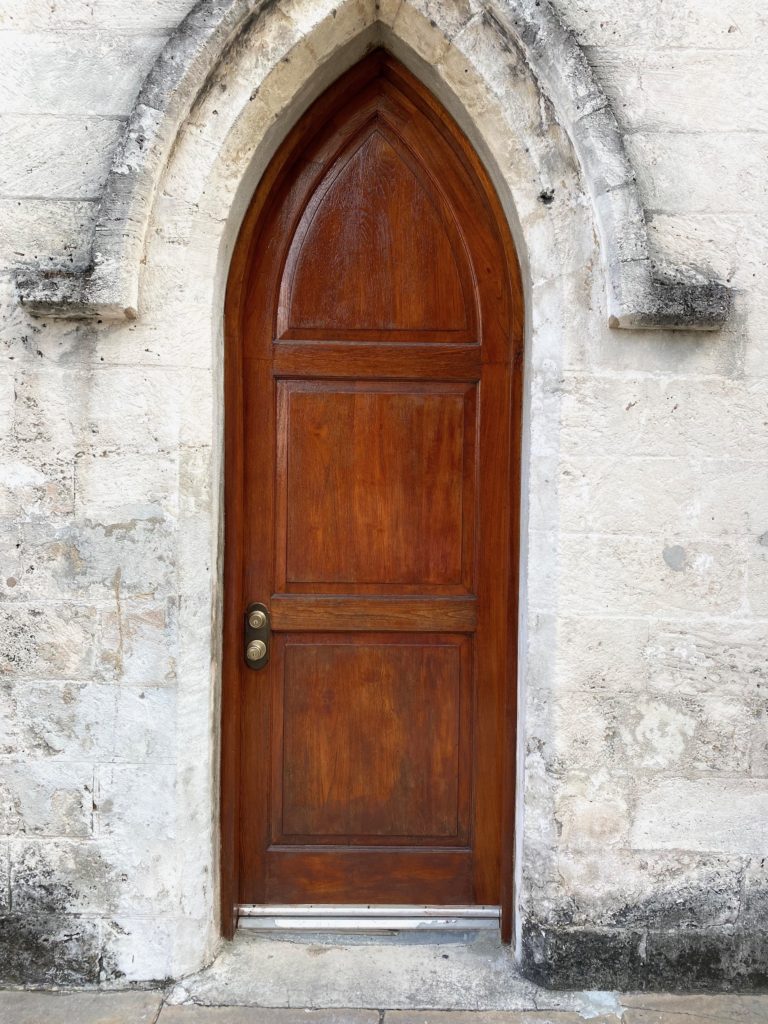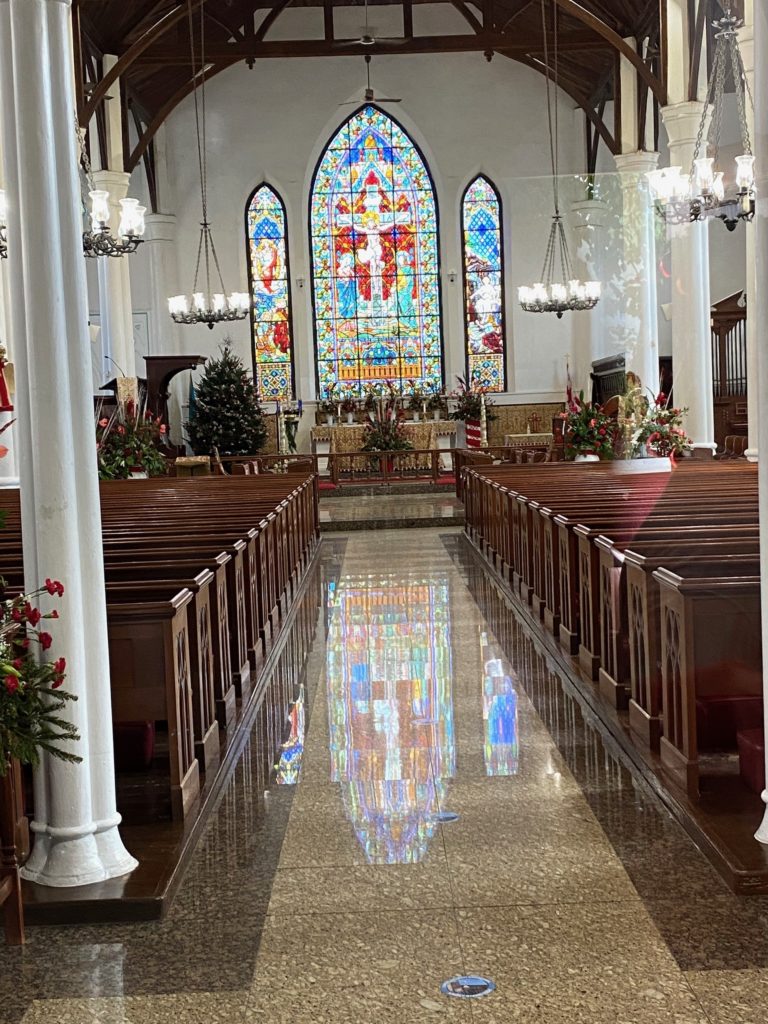 One of the experiences that we really enjoyed on these two cruises was the character interactions. Even though you were not able to stand next to your favorite characters for the up close and personal pictures, you still have many opportunities for more unique, playful experiences. It seems to me that Disney Cruise Line decided to compensate for the inability to interact closely with the characters by providing more opportunities to meet the characters throughout the ship in unexpected areas at unexpected times. My favorite spot to find characters was at the base of the funnel overlooking the main pool. Characters were always there watching Funnel Vision and interacting with the guests.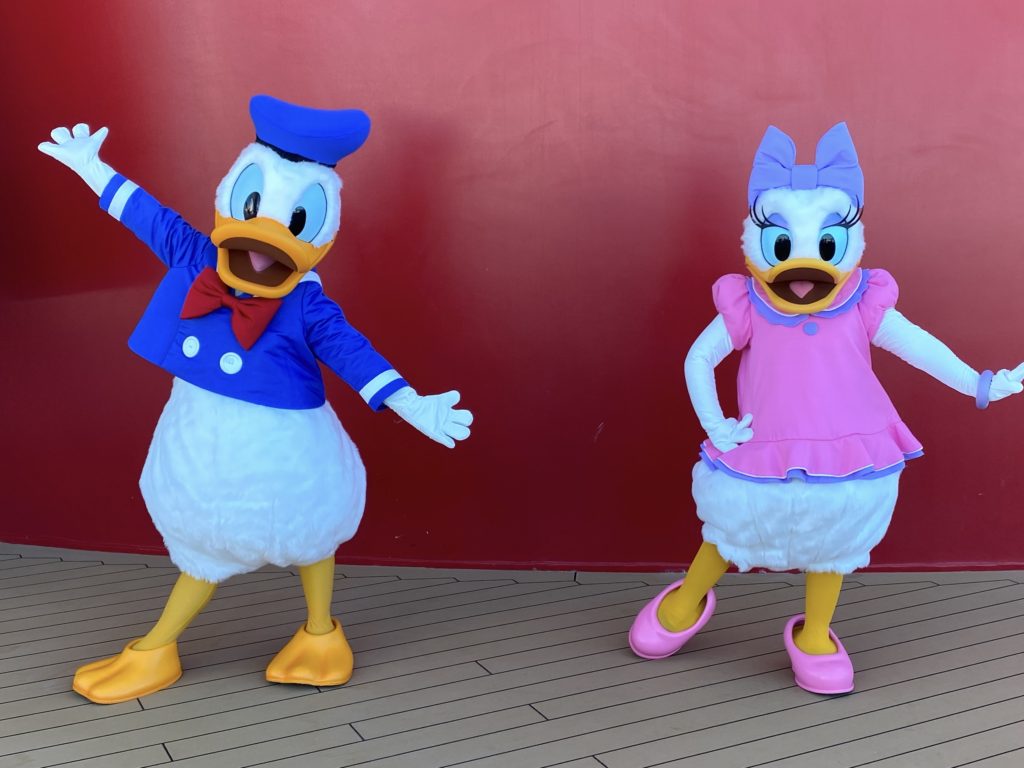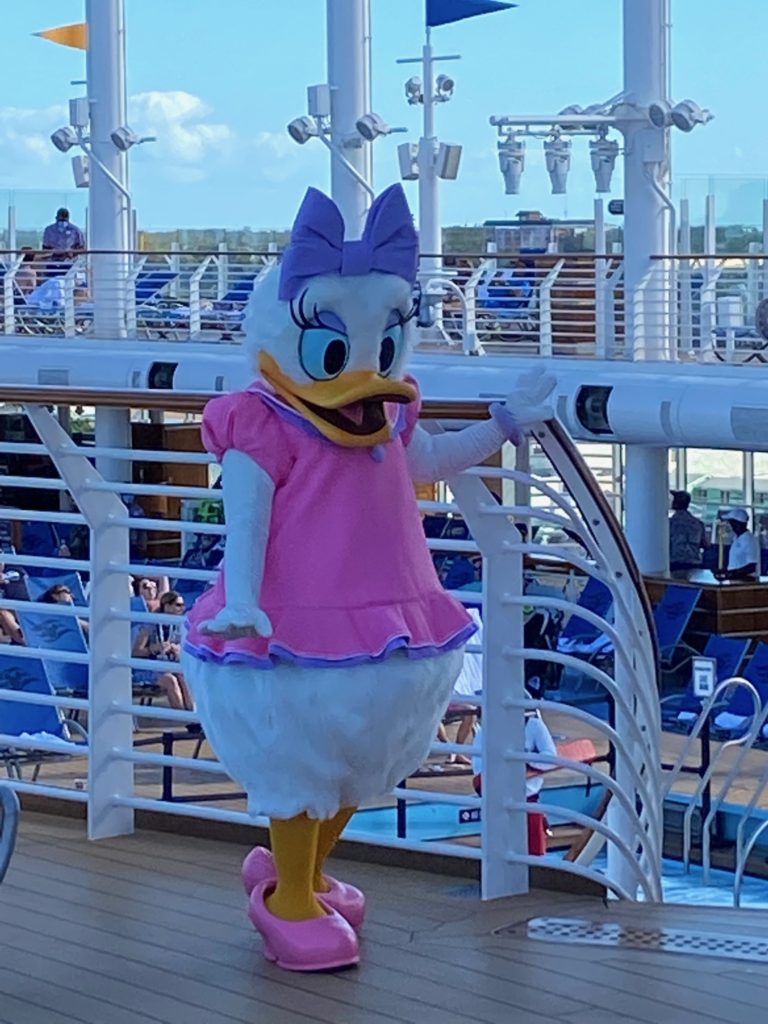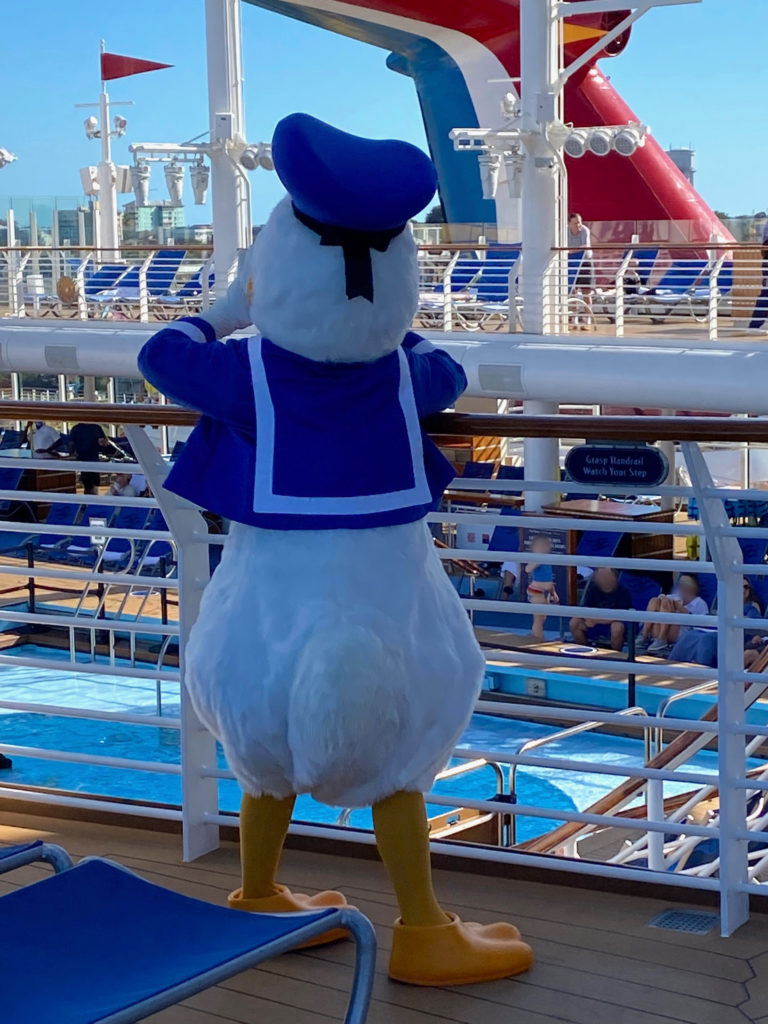 Often you could turn a corner and run right into a wandering character or have an unexpected photobomber appear!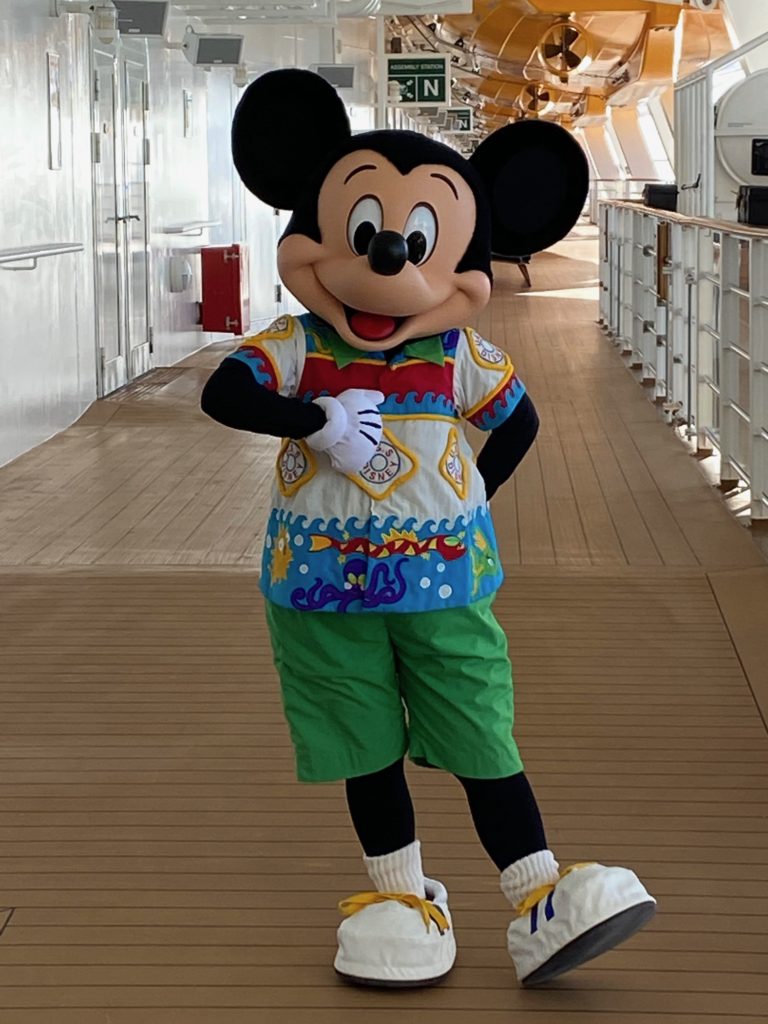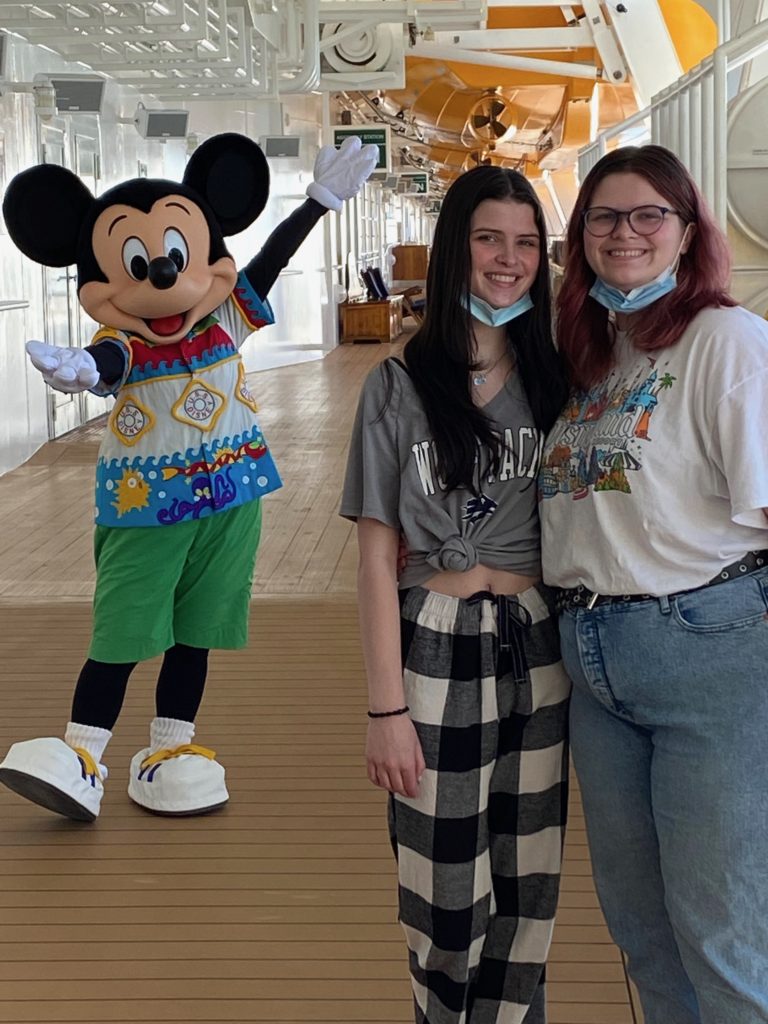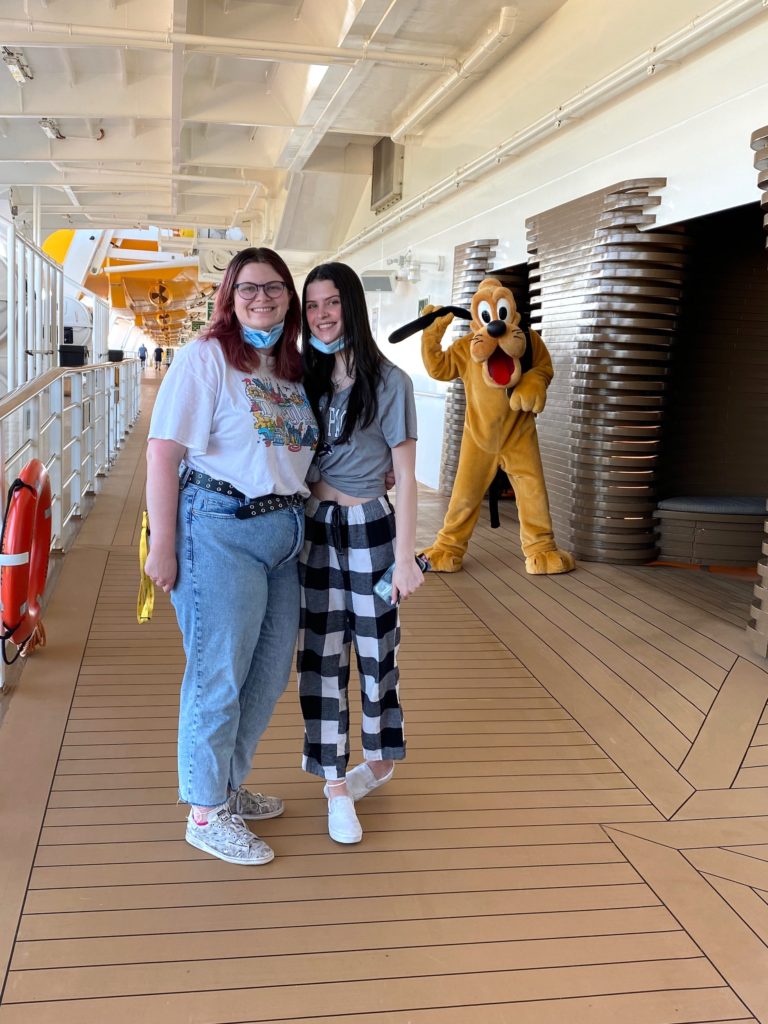 Not to worry, you could always find characters in the atrium whether early in the morning or late at night.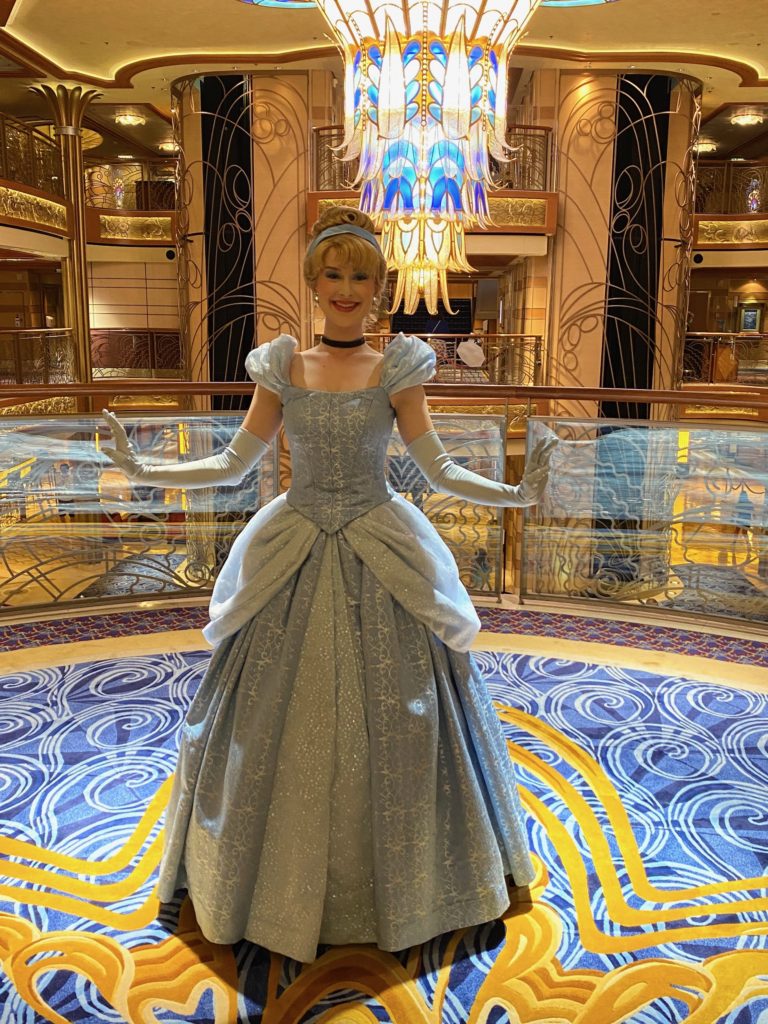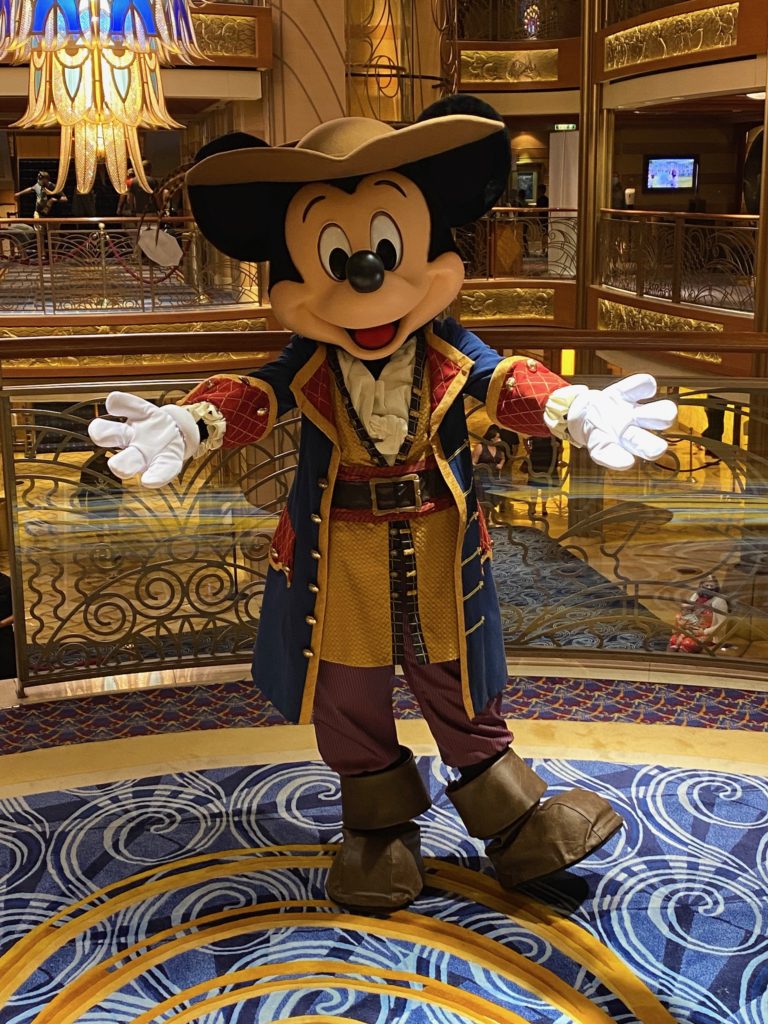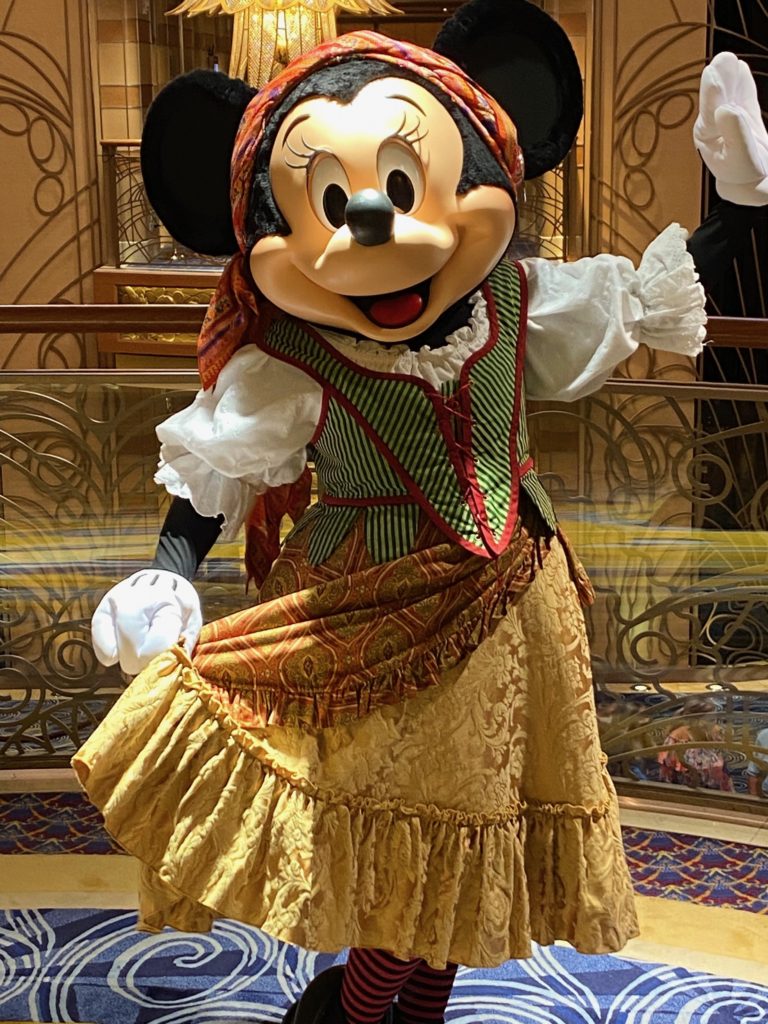 In fact, one evening at about 10:00 pm I made my way to the Atrium to find Cinderella all by herself waiting for someone to stop by and say hello. This was a first for me.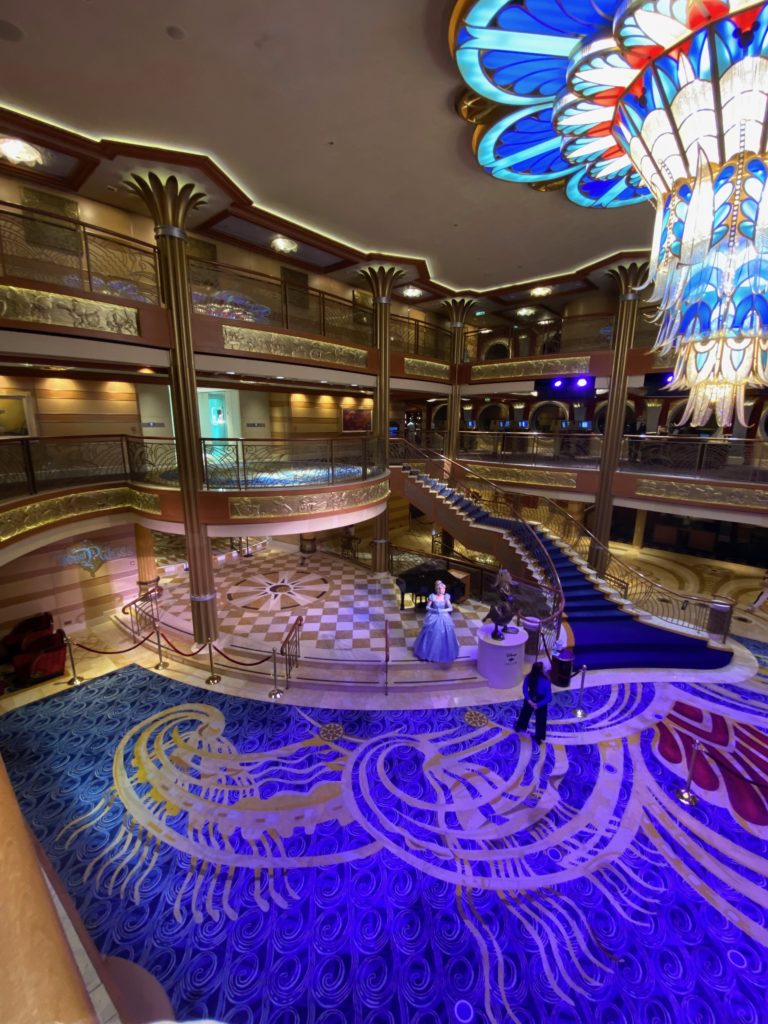 On this cruise, we took time to try some new experiences. Did you know you can order specialty desserts at Vanellope's Sweet Shop and have it delivered to you during dinner? If you go to Vanellope's before your assigned dining time, you can pick out a selection of desserts (and pay for them) and arrange for delivery. Simply tell the cast member at Vanellope's your dining time, location, and table number and they will give you a card with their name and phone number. Give the card to your dining server and they will call Vanellope's at dessert time. Within minutes, a Vanellope's cast member will arrive at your table and present your special desserts. It was so much fun and we will definitely do this again.
I did indulge in another of my secret menu offerings. Tow Mater's Grill has great cheeseburgers on the menu. They also have a supply of bacon at the ready and will gladly pile a stack of bacon on your cheeseburger to make the best bacon cheeseburger! The best place to enjoy this creation is in the adult pool area.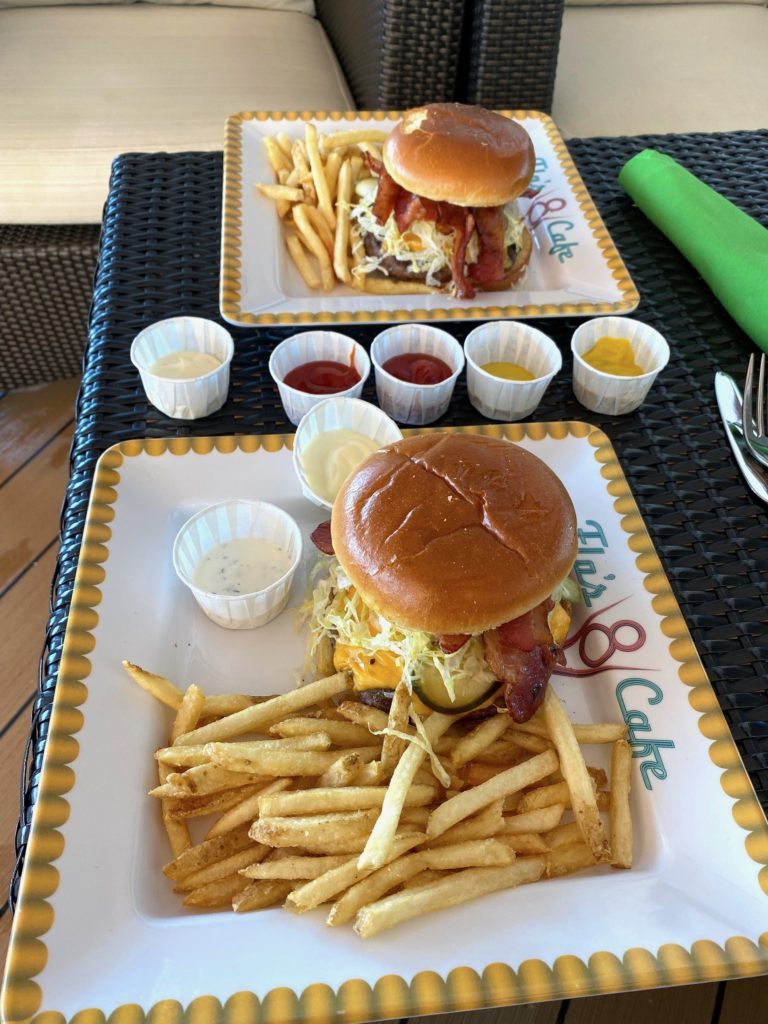 Another great (and special) dining experience was during Palo dinner. My daughter Alexandra experienced her first Palo dinner and the staff made sure to make her experience memorable.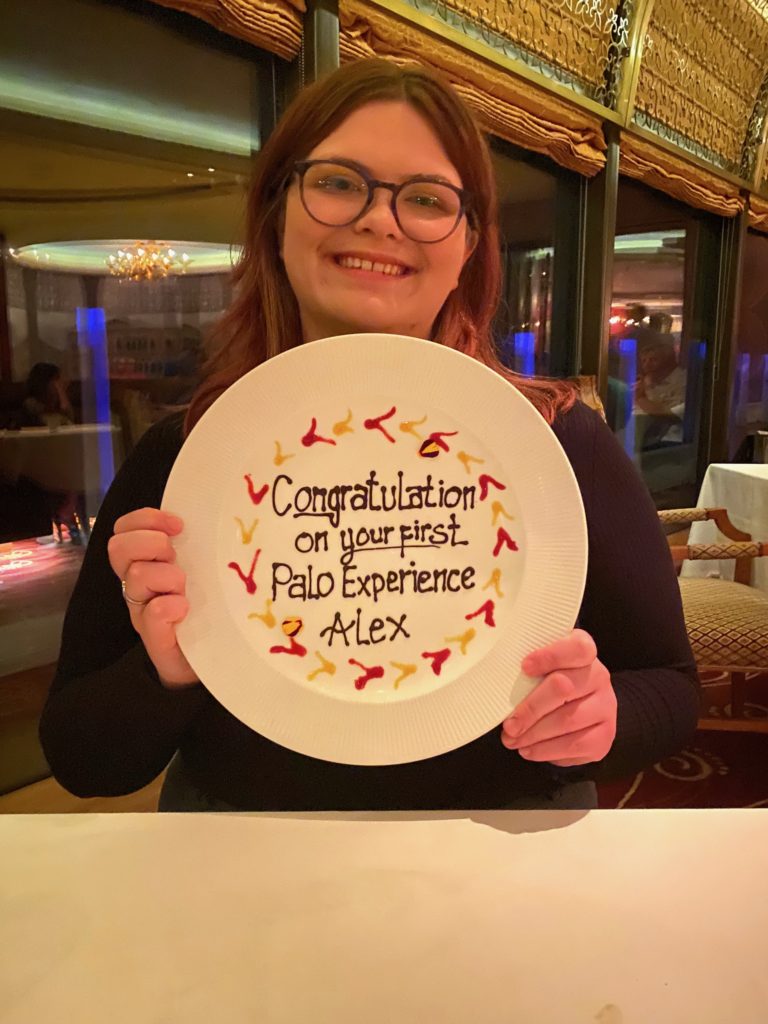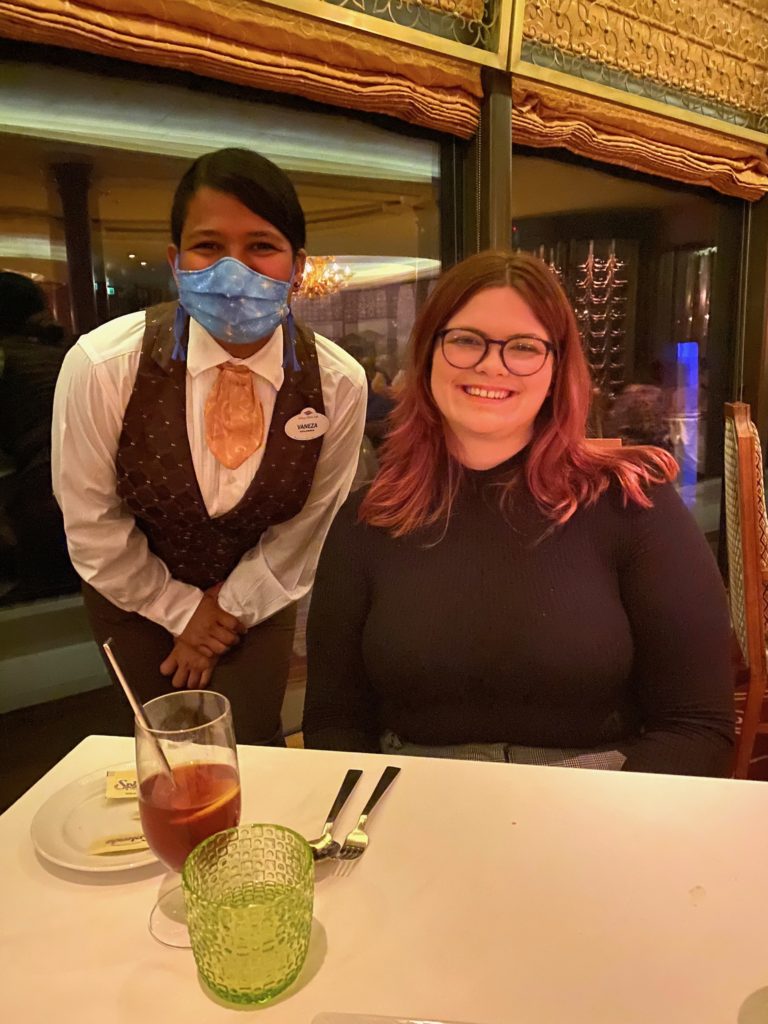 What was even more special is that during part one of our back-to-back, we were talking with our regular dinner server about our great dining team on our eleven day cruise in 2019 (trip report here). We showed him a picture of our serving team and he told us that one of our servers, Vane, was now a Palo server. He told us to request her as our Palo server which we did. It was so great seeing her again. I am not kidding when I tell you that she remembered us – she even remembered we were Table 42 and that she brought my daughter Sophie apples and peanut butter with her dinner every night for 11 days. She was so happy to see Alexandra again and she asked me to bring Sophie up to Palo so she could say hello. Here is a picture of Vane and the girls from 2019 and again in 2021! What a wonderful evening.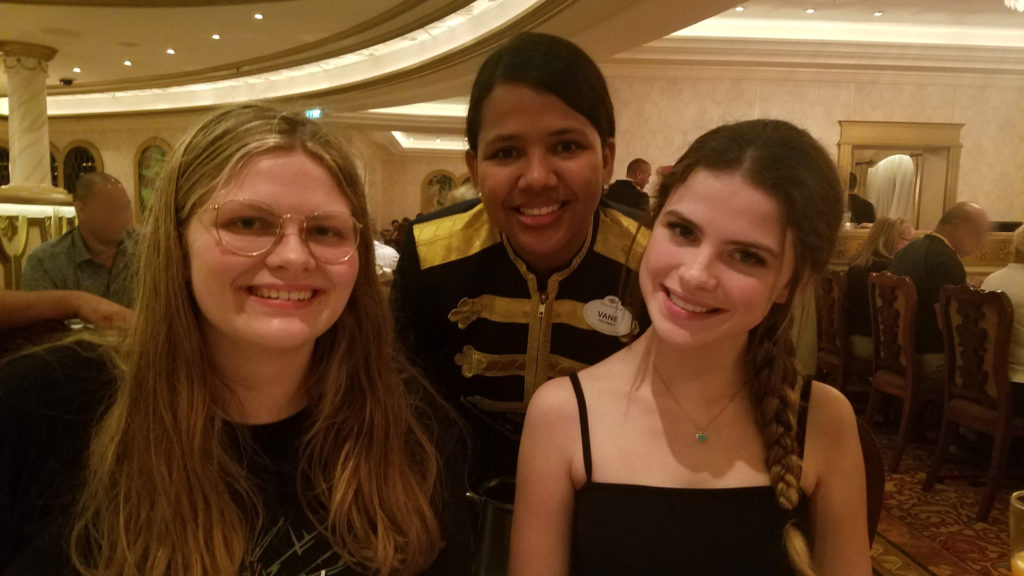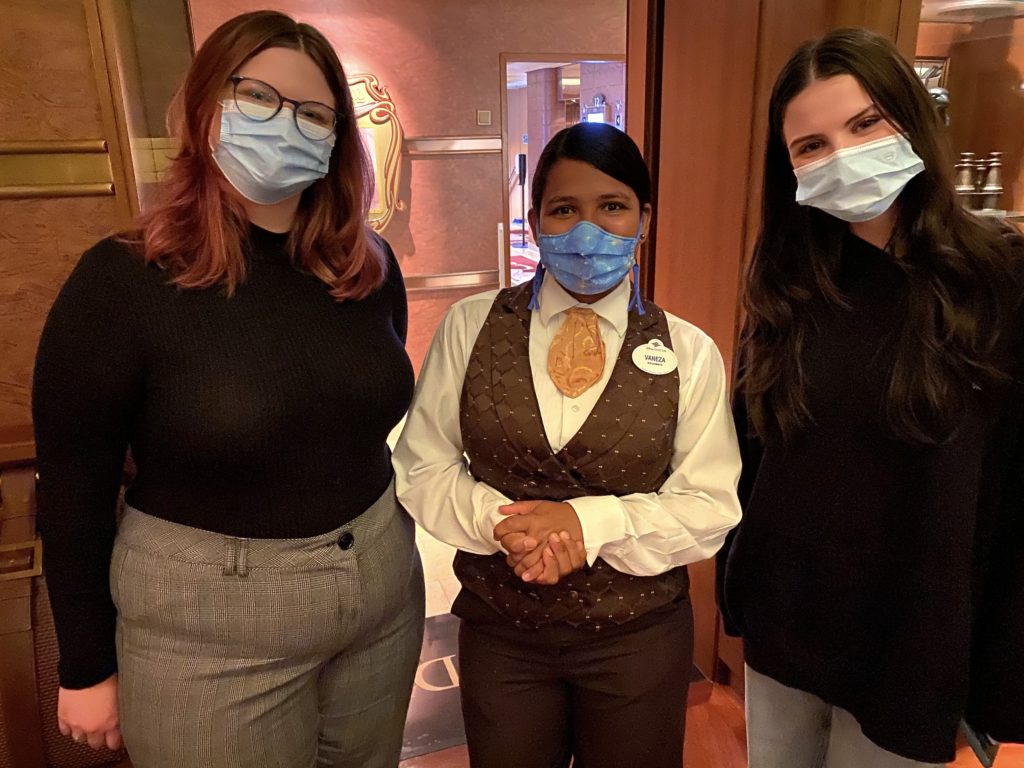 Up Next: Exciting time at sea and on Castaway Cay!