If there's one thing Disney Springs is known for besides the shopping, it's the FOOD.
Delicious meals made by James Beard Award-winning chefs and a variety of treats that have gone viral on the internet grace the menus of the dozens of restaurants in Disney Springs. So with all of those options, how do you decide which restaurant you should visit?
There are SO many restaurants in Disney Springs, and each one may be just right for a different kind of guest. Here's the full list of Disney Springs dining spots and who we think should visit each!
Blaze Fast Fire'd Pizza — This is a great option for pizza lovers, especially if you have a group of people with different tastes. Here, everyone can customize their own personal-sized pizza to fit their liking.
Chef Art Smith's Homecomin' — One of the most popular spots in Disney Springs, here you'll find Southern comfort food. It's a great option for picky eaters or for guests who want a large, satisfying meal of classic eats.
chicken guy — Looking for something cheap that's a crowd pleaser? Chicken Guy would be a great choice! They're also known for having a wide variety of delicious sauces, so condiment fans will want to check this out.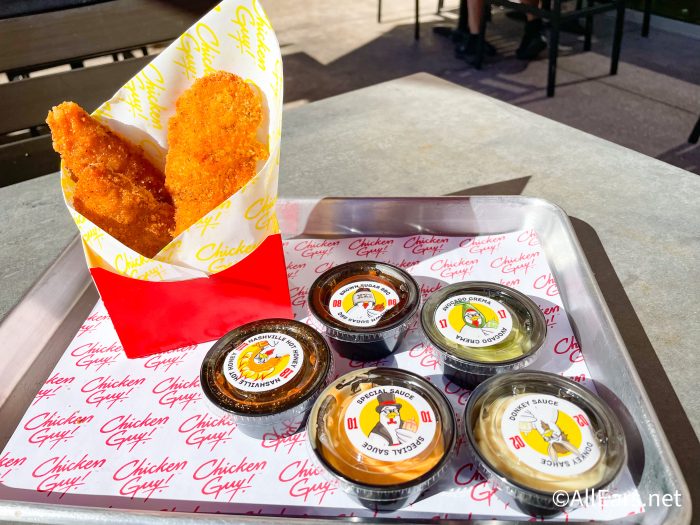 CityWorks — If you want that classic beer and sports bar-type environment for a night in Disney Springs, City Works should be your go-to.
D Luxe Burger — This is a simple quick service burger spot, but it's done better than what you'll find in the theme parks. Mobile Order is included here, so it's a great stop if you don't want to wait in line.
Earl of Sandwich — This chain restaurant offers a simple sandwich option where you really can't go wrong. If you're looking for something familiar that you can eat at home as well, this might be your best bet.
Enzo's Hideaway — If you're hoping to spend the big bucks on a nice meal in a unique underground spot, then Enzo's Hideaway is perfect for you. The environment and atmosphere really sell this one.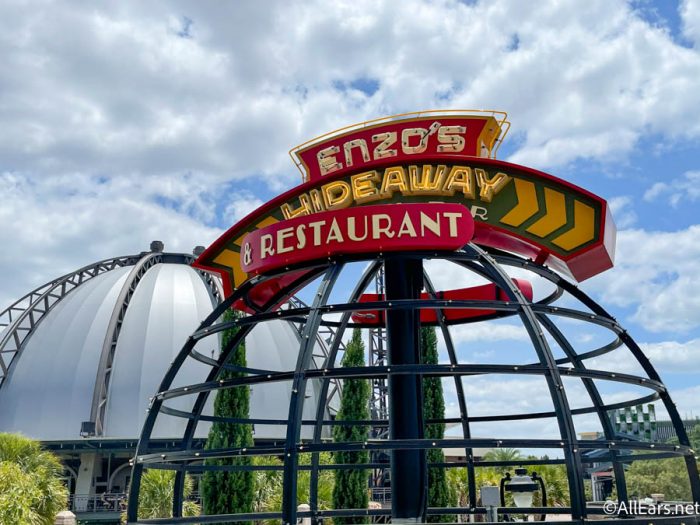 Everglazed Donuts & Cold Brew — Want a one-stop shop where you can grab lunch AND dessert? Everglazed is made just for that! It's also where you should head to try something unique…like a donut grilled cheese.
Frontera Cocina — Here you'll find upscale Mexican food, and it's really the only option of that kind in Disney Springs.
House of Blues — At House of Blues, you can have both dinner AND a show! So, it's pretty easy to get in here without a reservation.
Jaleo by Jose Andres — If you're an adventurous eater or you want a meal that's served tapas-style in a lively atmosphere, consider this restaurant for your next trip.
Jock Lindsey's Hangar Bar — This one is a MUST for Indiana Jones fans, or for those who can't get enough of that "themed bar" environment.
Maria & Enzo's — Want Italian food but you don't have a reservation? Try Maria & Enzo's. Here, there's usually a fair amount of last-minute availability.
Morimoto Asia — If you're looking for upscale Asian cuisine, Morimoto Asia is your main option in Disney Springs. (And it's also a pretty delicious one!)
Paddlefish — For those who like their meal served with a spectacular view, try Paddlefish. This large boat has an excellent view of both Disney Springs and Saratoga Springs Resort.
Paradise 37 — Try going here if y

ou're on a budget, you don't have a reservation, or you're traveling with a large group with a variety of appetites and preferences.

Pizza Ponte — Want pizza by the slice? This should be your first stop in Disney Springs. You can order Sicilian-style pizza, pastries, and wine here.
Planet Hollywood — Families with kids who would love to listen to karaoke songs during their meal, or guests who are movie buffs and want to check out some cool memorabilia would probably like this restaurant.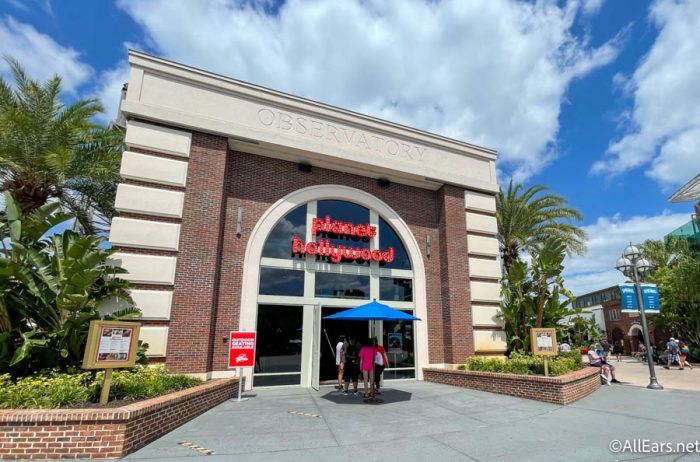 Raglan Road —

Great Irish entertainment in the evening, as well as some classic eats from the UK can be found here.

Rainforest Cafe — This spot is great for families with kids who want a really well-themed environment.
Splitsville Dining Room — If you want to kill two birds with one stone and get some exercise in before or after your meal, this is the place to go. Here, you can enjoy a round of bowling as well as some yummy eats.
STK — Sometimes you just want a straightforward fancy steakhouse experience, and if that's you, go to STK.
Terralina Crafted Italian — Want some straight-up delicious Italian food? Terralina earns our recommendation!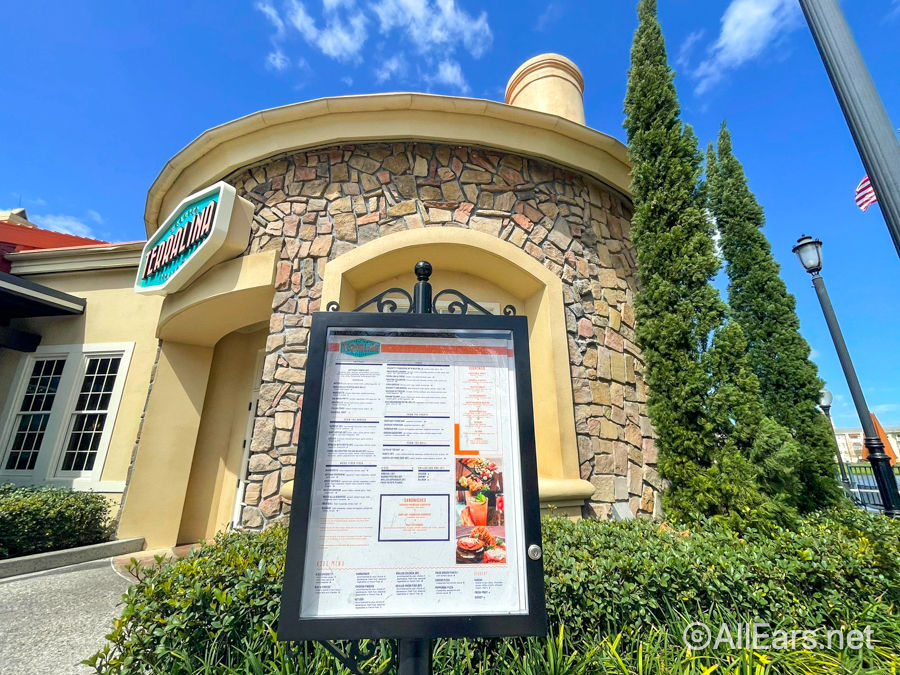 The Boathouse — The Boathouse is great if you need somewhere to celebrate a special occasion or you're just looking to eat some top-notch seafood.
The Edison — Here you'll get a swanky, steampunk atmosphere that's a bit more adult-oriented than other spots in Disney Springs.
The Polite Pig — When it comes to barbecue, this restaurant tops the list in Disney Springs. It's also great for a quick meal that's somewhere between counter service and table service.
t rex — If you've got kids or if you're a dinosaur fan, this is a can't-miss for the atmosphere alone.
Wine Bar George — If you love good food and good wine, this is a must-visit. It's one of the highest-rated Disney World restaurants.
Wolfgang Puck Bar & Grill — Plan a visit here if y

ou love gelato, you're into celebrity chefs, or you just want a variety of fine cuisine.
Those are all the restaurants that you can currently visit in Disney Springs! We didn't include snack stands on the list, but there is a variety of those as well that would make the perfect post-dinner treat. So next time you're planning meals for an upcoming Disney World vacation, make sure to check out this list to choose the restaurant that's the perfect fit for you!
Stay tuned to AllEars for more news and updates from Disney World, as well as all the best advice for your upcoming trip.
The 10 Best Disney World Hotel Restaurants — Click Here!
Join the AllEars.net Newsletter to get the free list of the Best Magic Kingdom Snacks! Click here to get started!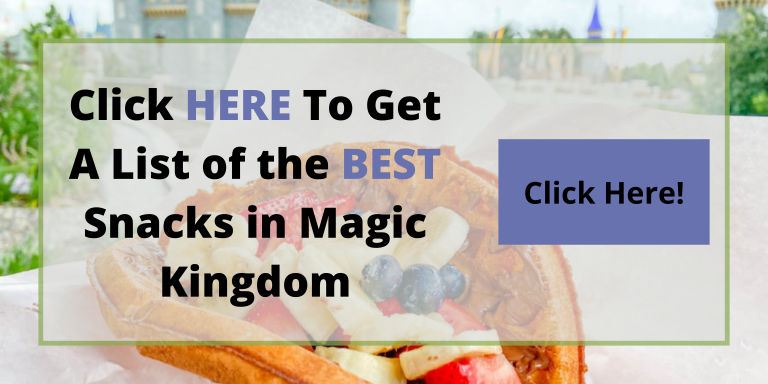 What's your favorite place to eat in Disney Springs? Tell us in the comments!