LATEST VIDEOS
LIVE – Just Mousing Around Tonight!
JUST MOUSING AROUND
LIVE – JUST MOUSING AROUND
Do you want to see where to purchase authentic items and fun souvenirs from each country? Check out our World Showcase shopping guide.
World Showcase Pavilions
Epcot is one of my favorite Disney Parks. There are so many shops and wonderful areas to explore. However, most people don't take the time to check out all the World Showcase has to offer. In this article, we explore shops in each pavilion. I hope this makes it easier to find your next Disney treasure. We're going to start in Mexico and make our way around the World Showcase Lagoon in a clockwise direction.
Mexico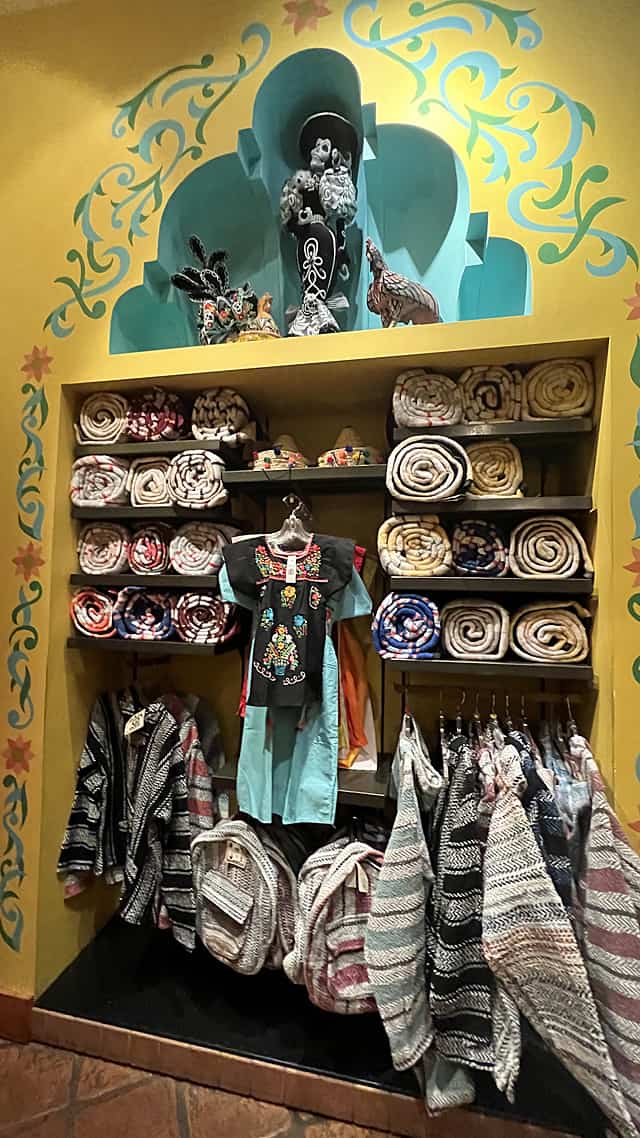 Walking through the open air market, you'll find Carts filled with vibrant assortments of leather goods, glassware, pinatas, ceramics, and so much more. Not only that, but you may catch Coco other Encanto Merchandise as well as authentic clothing and accessories. It's a very large area that is fun to window shop.
At La Princesa de Cristal look for Arribas Brothers crystal and glassware, cut crystal, blown glass and crystal figurines. You may even catch artisans making these items. Next to La Princesa de Cristal, you'll find La Tienda Encantada. This authentically inspired Mexican gift shop sells jewelry, accessories, and handcrafted items.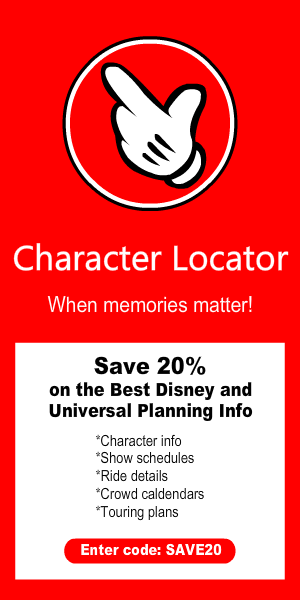 Across from the pavilion on the World Showcase Lagoon side, look for El Ranchito Del Norte shopping area. Here, guests shop for collections from the various stores in the indoor plaza. However, this shop is temporarily unavailable.
Last, the Ring Carver's kiosk is located adjacent to La Hacienda de San Angel. Guests can purchase personalized rings. Read our complete guide to the Mexico Pavilion HERE.
Norway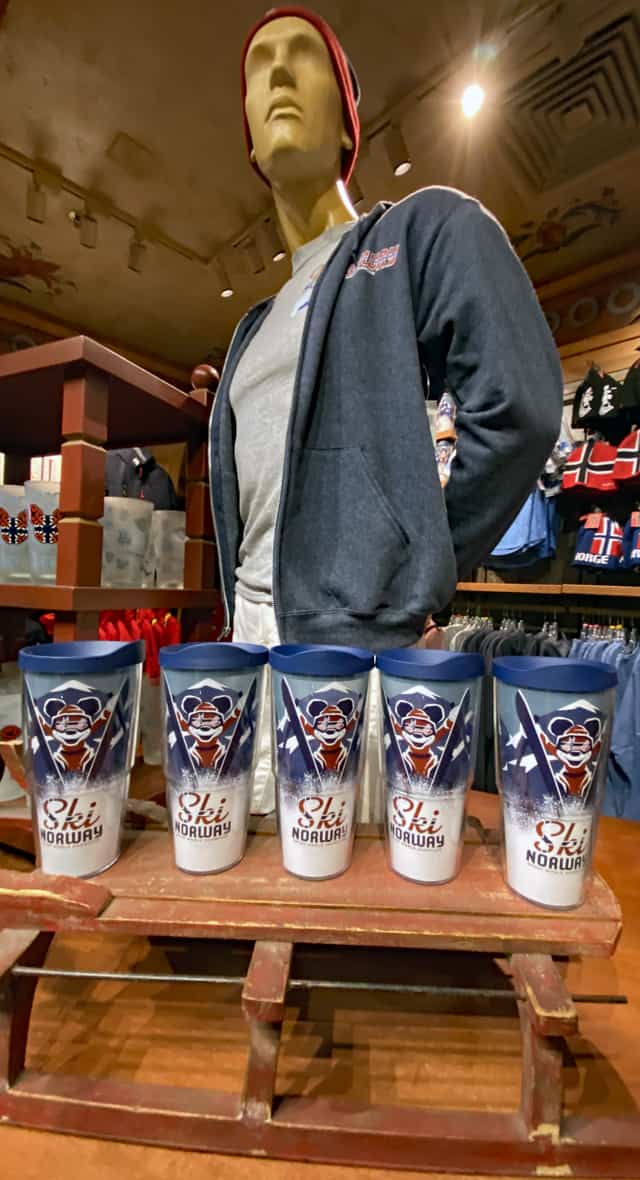 Located at the exit of the Frozen Ever After attraction, check out the cool shop here. Where else can you pose with a life size troll? At the fjording, you can shop for Norwegian clothing, collectibles, jewelry, Frozen merchandise, toys and more! Put on a Viking helmet and purchase Norwegian fleece. This shop has a series of interconnected rooms.
My favorite item here is the beloved Geir Ness fragrance, Laila. It's such a refreshing fragrance! I (Susan) just fell in love with it. My husband uses the Geir Ness men's fragrance. So, this shop features Helly Hansen Outer wear and hand knit Norwegian wool sweaters by Dale of Norway. These items are pricey so plan accordingly.
In addition to the viking ears available here, check out more World Showcase ears available HERE.
China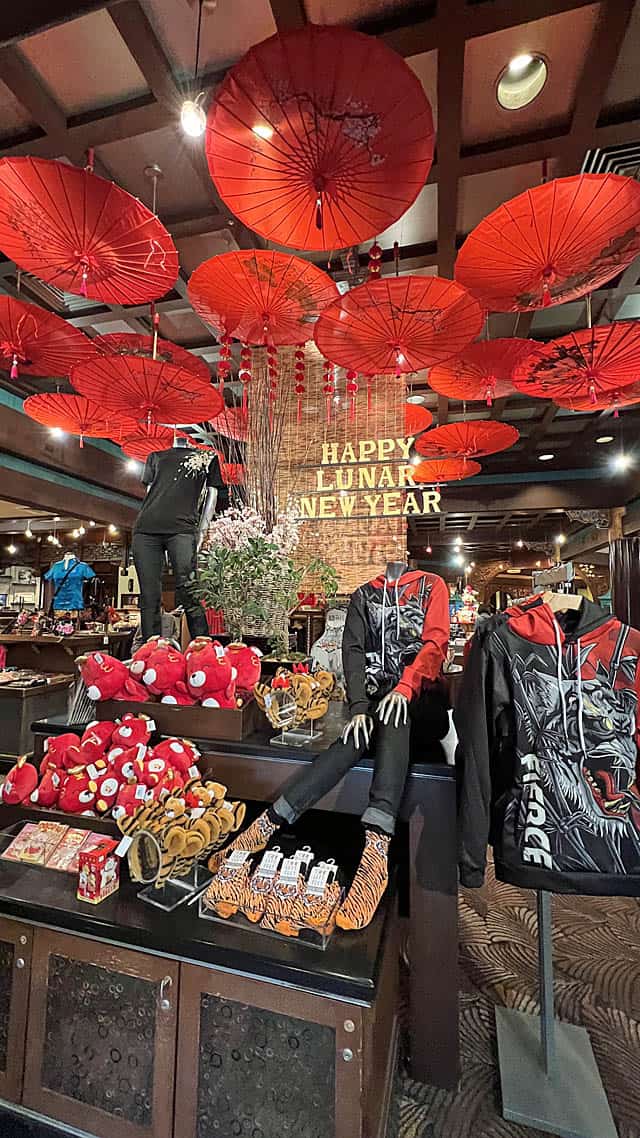 If you're in a hurry or don't want to explore the larger store, House of Good Fortune, check out the kiosk on the main World Showcase Lagoon pathway. Although it's a small location, they stock a variety of goods.
For a more immersive shopping experience, try the House of Good Fortune. It's one of the largest World Showcase stores and carries a wide assortment of authentic Chinese souvenirs. Here, shoppers find lanterns, clothing, jewelry, teapots and cups, statues, trinkets, and snacks.
In addition, during January and February, guests can purchase Lunar New Year merchandise. All year round, purchase fans in China to cool off from the Florida heat.
Germany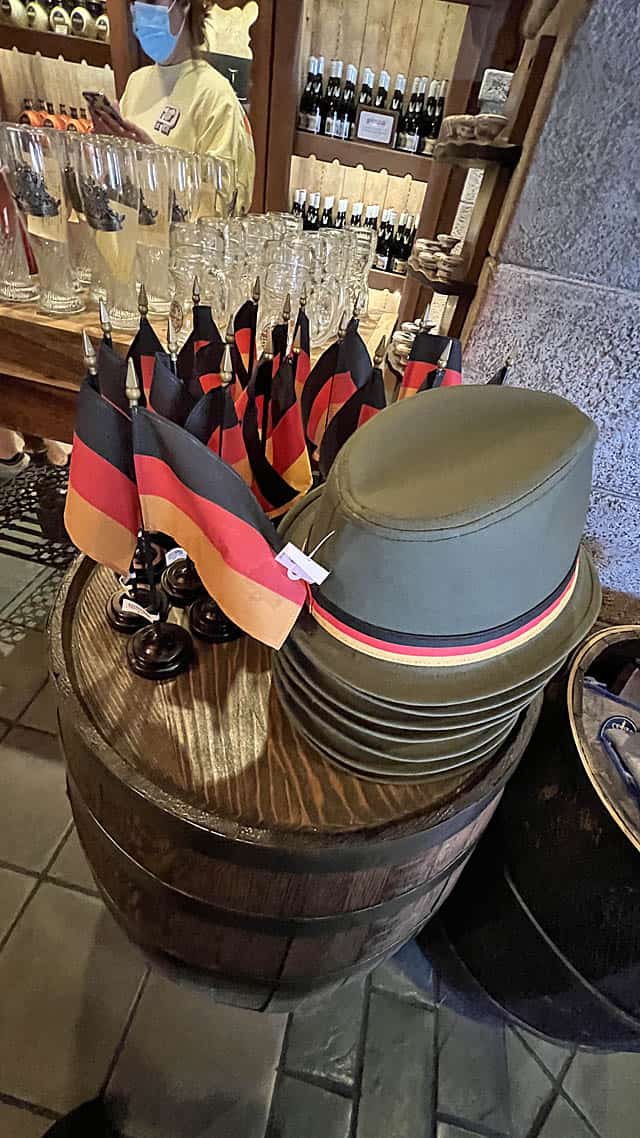 caramel cuisine is filled with delicious caramel-themed treats. My favorite is the freshly made caramel popcorn. Germany Pavilion has eight different shops. In The Department storelook for glassware, soccer apparel and accessories. However, this location is temporarily unavailable. The teddybear is such an adorable location and name. I miss shopping here for pins, apparel and accessories. Hopefully it will reopen soon, but as of now, it is temporarily unavailable.
At The Christmas Corner, it's Christmas 365 days a year! Year-round, shoppers will find an assortment of Disney Parks and German inspired ornaments and other Christmas decorations. And don't forget to look for the famous pickle tree! On the main World Showcase Lagoon path, be sure to check out the glass art kiosk. Shoppers will be delighted here and there Art work in crystal with fine crystal and glassware. So at Art work in crystalyou can check out glass steins, ornaments, and home decor items.
As the name implies, look for gifts, steins, and housewares at stone house. folk art sells authentic German clocks and crafts. Unfortunately, this is another shopping location that is temporarily unavailable.
Italy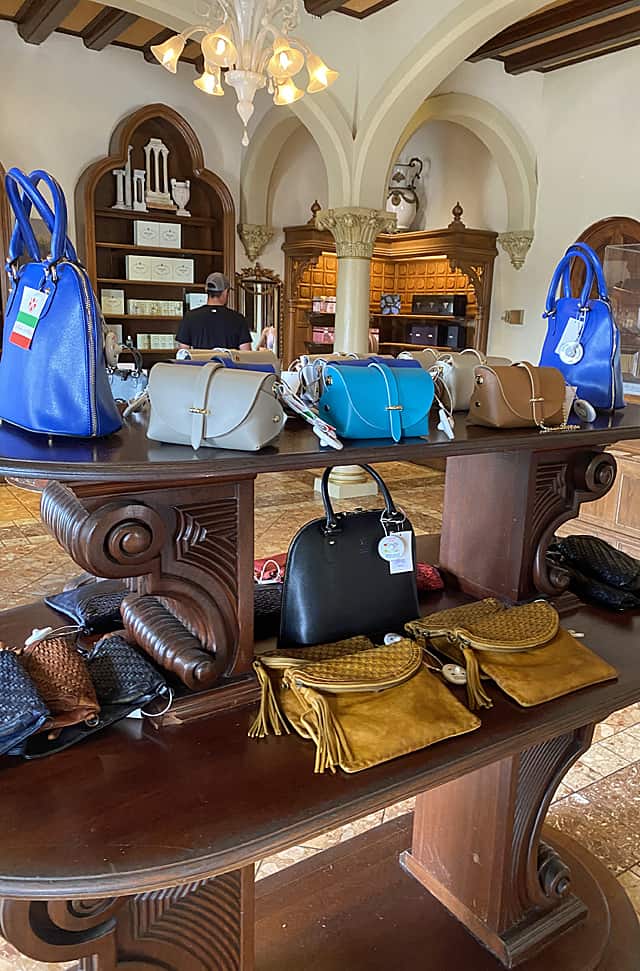 Like other World Showcase Pavilions, these shops have a variety of authentic products from Italy. There are some items created especially for Italy Pavilion including apparel with the "That's Amore" shirt with Mickey and Minnie Mouse and drinkware. II Bel Cristallo sells fine Italian merchandise including Murano glass, jewelry, chic handbags, clothing and accessories. This shop also carries fragrances by Prada, Acqua di Parma, Bvlgari and Valentino.
In La Bottega Italiana, Guests will find cookware, decorative items, Italian food and apparel. La Gemma Elegante features dazzling handmade Venetian masks. Last but not least, Enoteca Castello is connected to La Bottega Italiana. It sells a variety of Italian wines that can be purchased by the glass or bottle. The shop also offers snacks and kitchenware.
America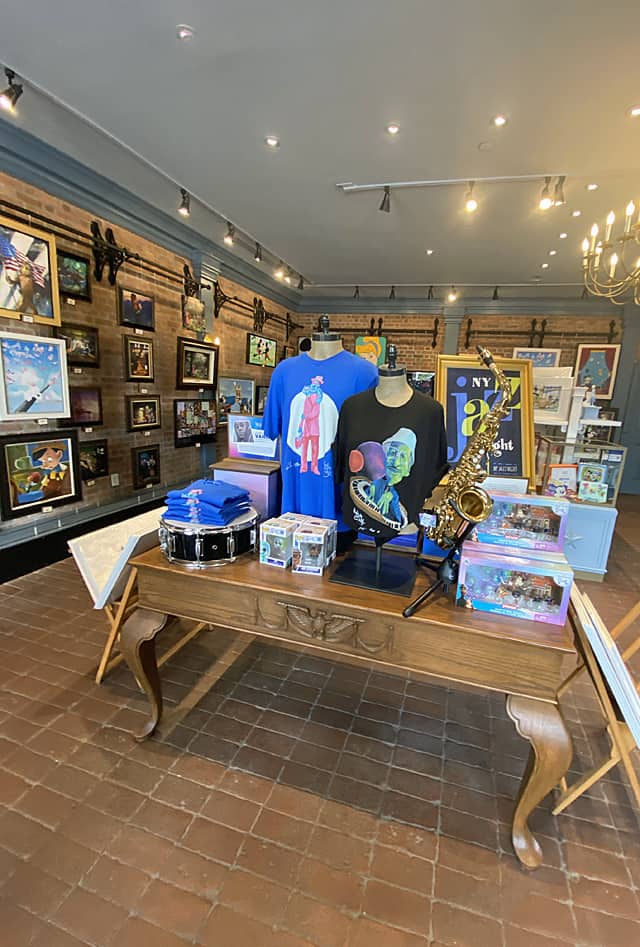 Many World Showcase pavilions have multiple shops. However, America only has one, the Art of Disney. Shoppers here will find traditional Disney artwork mixed with patriotic pieces. Not only that, but you'll also find jewelry, limited-edition prints, figurines and the popular Disney Classic Collection.
Also, they have a wide selection of Alex and Ani bracelets.
Japan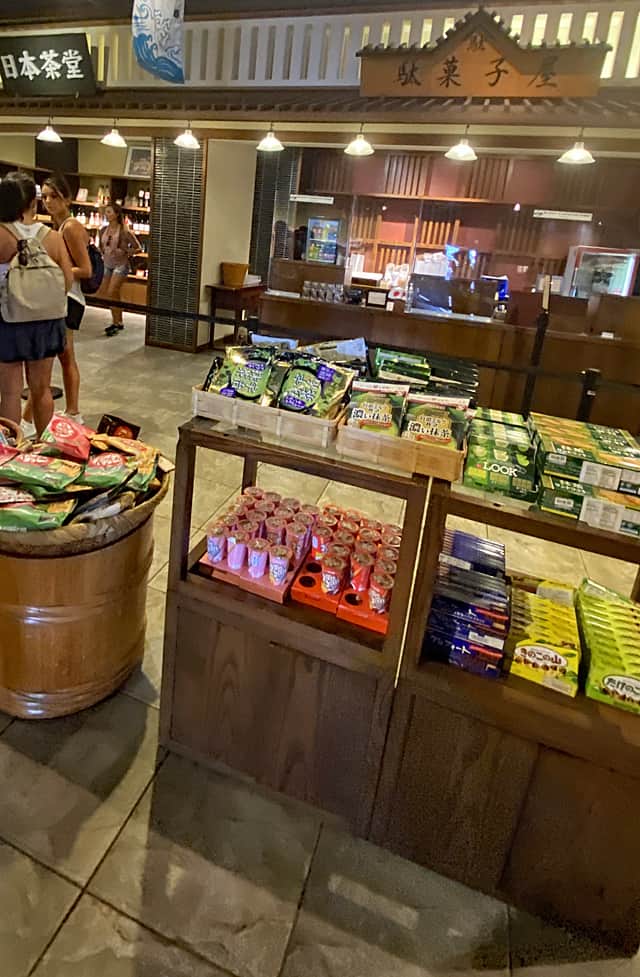 At Japan's Mitsukoshi Department Storeyou'll find stunning décor, featuring red ceilings with exposed wood beams. The Mitsukoshi Department Store is wildly popular. In addition to the unique apparel, such as kimonos, Japanese handbags and scarves, an entire area within the store is devoted to snacks and candies.
You'll also find a sake bar at the Mitsukoshi store where you can try a variety of samples. The Mitsukoshi Department Store is located on the ground floor of the Japanese Pavilion, which resembles an Imperial ceremonial hall. It extends the length of the pavilion.
Morocco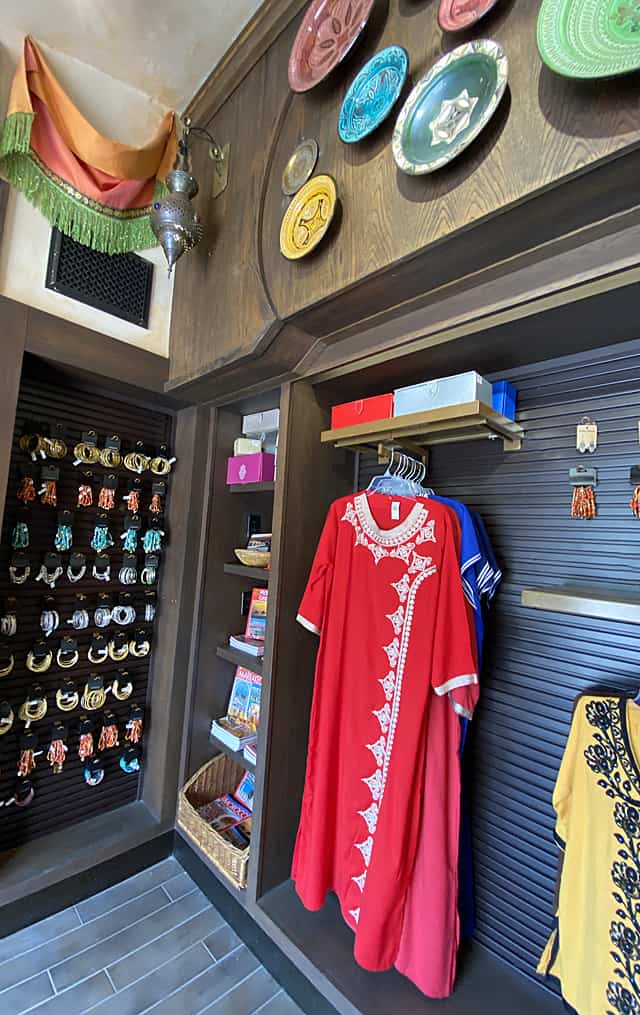 Like in Morocco, guests at this pavilion shop in an open-air marketplace winding through the pavilion. Not only that, but shops here make you feel like you're on a far away journey. Casablanca Carpets looks bare now since it is temporarily unavailable. However, when open, handmade Berber carpets are displayed beside beautiful prayer rugs. Also found here were wall hangings, home decor items, throw and floor cushions.
At Marketplace of the Medina, visitors find a collection of interconnected shops. There are beautifully adorned lamps, ornate jewelry, and decorative Thuya wood boxes. This location is temporarily unavailable.
Adjacent to Spice Road table, look for Souk Al Magreb on the main World Showcase Lagoon path. It contains gifts with the Moroccan flag, wine, spices, tea sets and beautiful pottery. Recently, we've spotted more Jasmine merchandise available here.
Tangier Traders offers a variety Moroccan themed clothing, jewelry, accessories, and gifts. At The Brass Bazaar shoppers find authentic Moroccan brass pots and homewares. However, both of these locations are currently unavailable.
France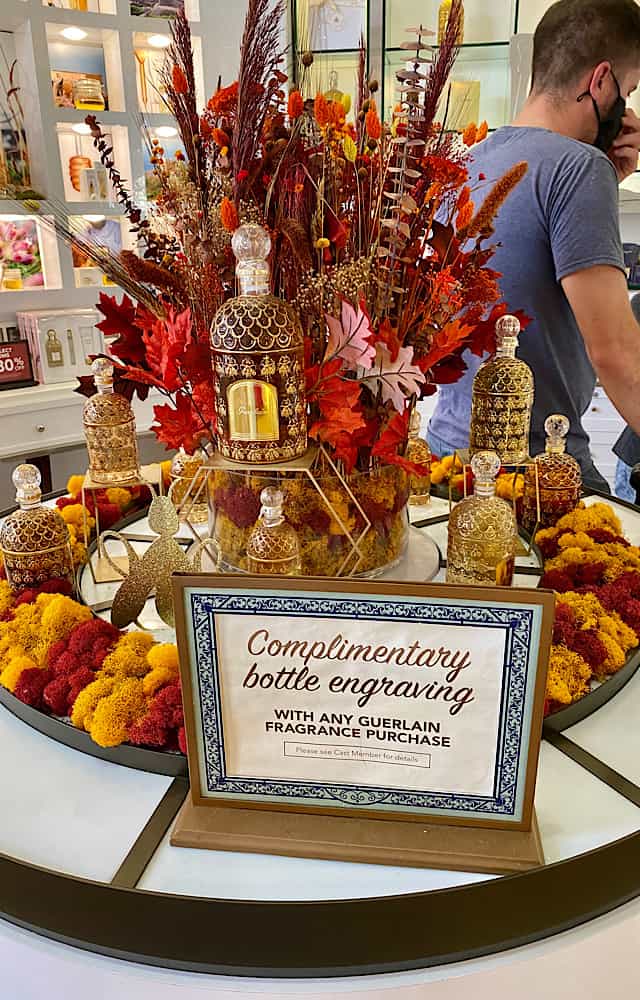 Whether you love authentic French perfume, wine, and clothing or are looking for Disney-themed items featuring the France Pavilion, there's something for everyone here. At La Maison du Vinyou'll find Maxim's de Paris fine chocolates, cookies, Marat D'Avignon kitchen linens, E. Barret and Company soaps, and Emile Henry cookware. Wine and champagne can be purchased by the glass and by the bottle.
In this charming Les Vins de France, you'll feel like you've stepped into a wine cellar. Here, guest can purchase wine by the glass or bottle. As the name suggests, shoppers at Souvenirs de France Find typical French clothing and accessories. Souvenirs de France is located in front of Les Halles Boulangerie-Patisserie and is the largest shop at the France Pavilion.
Choose from over 70 different French fragrances at La Signature. When I (Susan) walked in, it felt like I was in an upscale boutique rather than at a theme park. Also, from a nearby entrance, shoppers will find a variety Guerlain makeup and perfume for sale
L'Esprit de la Provence has the most adorable French-themed Disney apparel and accessories. Step into another designer shop, Plume et Palette, for French bags and fragrances from Le Tanneur, Dior, Kenzo, Thierry Mugler, Givenchy and more.
United Kingdom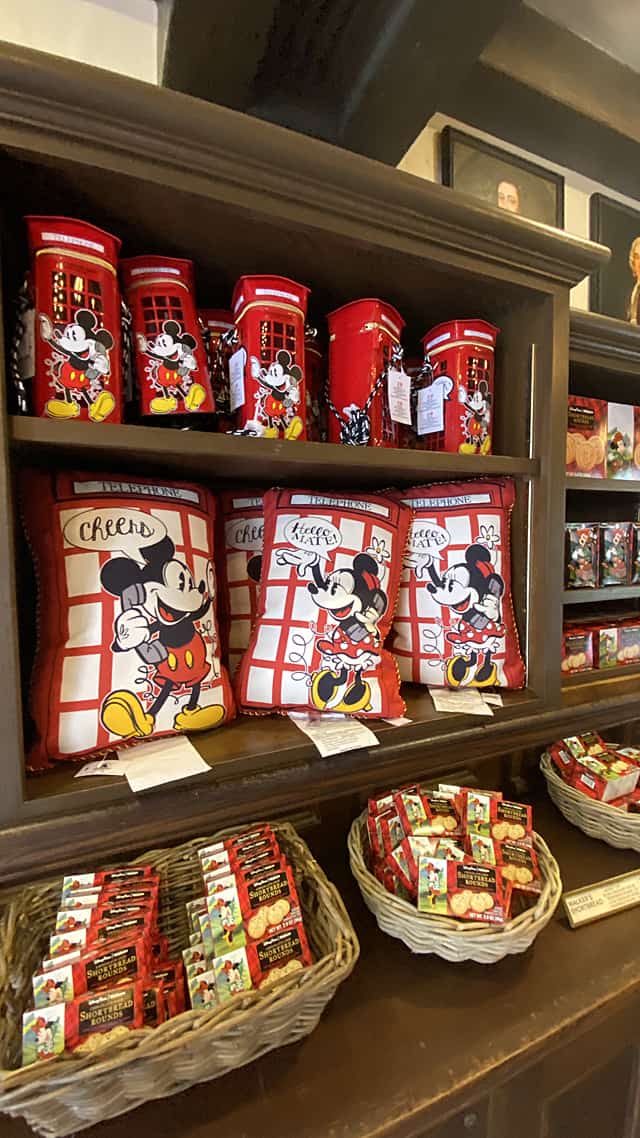 At the Crown and Crest, shoppers will find UK crest mugs, tea, toys, and clothing. Also, look for your family coat of arms on a plaque along with Rose and Crown merchandise. The wildly popular British Invasion music is represented here selling The Beatles, Led Zeppelin and more.
Lords and Ladies is located across from the Rose and Crown. Here, shoppers will find soaps, fragrances, body creams, powders and apparel. My favorite perfume in the entire world, Daisy Sapphire by Yardley, is sold here. Then, hop over to the Sportsman's Shoppe for a large variety of authentic British merchandise. Here, guests find items based on the popular Doctor Who television series, the Beatles, and golfing items.
Looking for the perfect British tea or tea pot? Then be sure to stop at The Queen's Table other The Tea Caddy. Both of these quaint shops have napkins, linens, and everything you need for an afternoon spot of tea. At the toy soldier, look for miniature toy soldiers, shields and swords. Before Disney closed in 2020, this was the location for the Kidcot Activity Center. However, this location is temporarily unavailable.
Canada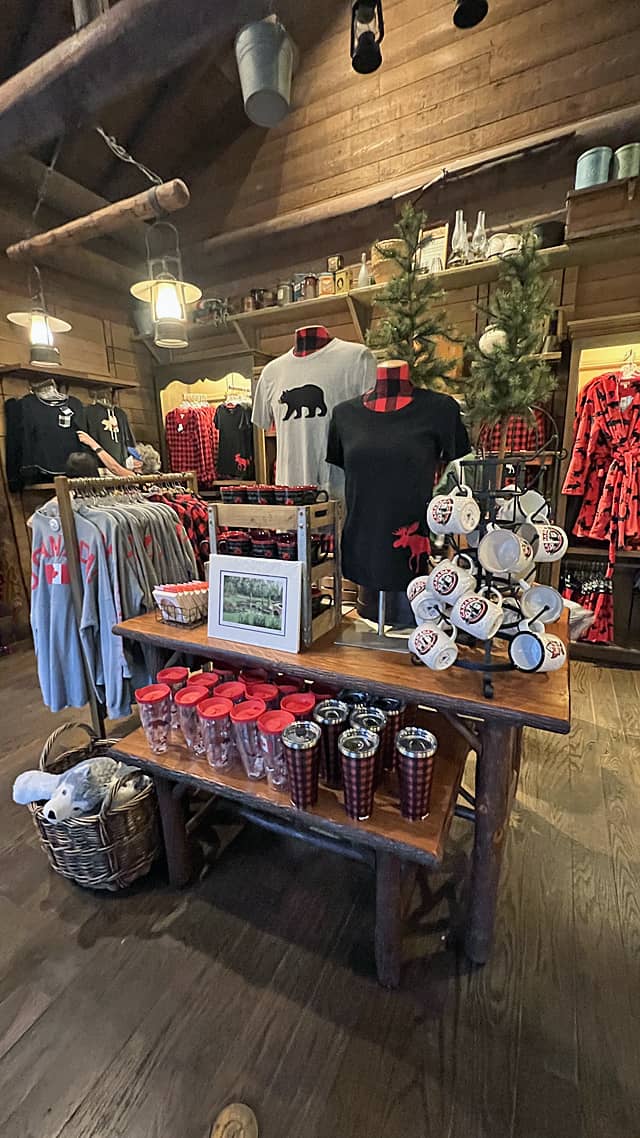 the Northwest Mercantile has a variety of Canadian items available. First, check out the handmade ornaments. Then, shop for authentic clothing, Ice Wines, fragrances, soap and body care items with clever names like "Beaver butt soap." Plush forest creatures and maple products are plentiful here. Check out our Canada Pavilion guide HERE.
I love this store. Where else can you "walk inside" a totem pole? It feels like I should be trading crops or fur here rather than being at a theme park. At the Trading Post, guests shop for hand-carved wood gifts and Canadian Maple Syrup. *The Trading Post is currently unavailable.

Are you planning a vacation? Reach out to our trusted travel agency sponsor Authorized Disney Vacation Planner Mouse Class Travel!