The following review was written by Rachel, who sailed with her family on the Disney Magic in March 2022 on a Marvel Day at Sea sailing that stopped in Cozumel. You can read her full trip report here.
.
When our snorkeling port adventure to El Cielo in Cozumel was canceled a couple of weeks before we sailed (they said it was no longer available), I set out searching for a new port adventure for our group of 8 – 4 kids and 4 adults. I still wanted to see if we could snorkel and visit the sand bar near El Cielo (which means heaven in Spanish) so I started researching other group tours. In the process, I came across Deluxe Private Boats that operates out of Cozumel very close to the cruise dock. And in the end, I am SO glad we chose a private tour vs a group tour – as you will see, the personalized service and time spent at each location was designed just for us – and it was amazing.
I found Deluxe Private Boats through Trip Advisor. I know reviews can be hit or miss there, but I have found several gems (restaurants, tours, etc.) that way and this proved to be one of those. They have very good reviews. Then I had to contact the company to make sure they could accommodate the times we needed since we were only in Cozumel for one day on a cruise. Obviously we have limited time ashore. I received an email back promptly saying they could absolutely accommodate our needs. They were very easy to communicate and work with. I specifically said we wanted to snorkel and we wanted to visit El Cielo. I paid a deposit and we were confirmed.
The day we arrived in Cozumel, we found the taxis near the port and gave the name of the marina that was in our confirmation email (Fonatur Marina) and our taxi driver knew exactly where to go. Because the Disney Magic docked at the downtown port, our drive was about 10-15 minutes (there was some moderate traffic).
When we arrived at the marina, we paid the rest of our balance (in cash – there was a fee to use a card) and were immediately walked over to our boat and introduced to our 2-man crew. One would be our guide and the other would drive the boat.
They held out a bucket for all of our shoes before we boarded and we got them back when we arrived back at the marina that afternoon. This is just one of the ways they care for the boat and it showed. It was in brand new condition and fit our group of 8 perfectly with plenty of room.
Upon boarding the boat, they already had a beautiful fruit tray with a spicy dip for us and offered us water. The guide gave us a brief run-down of what to expect – what stops we would be making – and then we set out.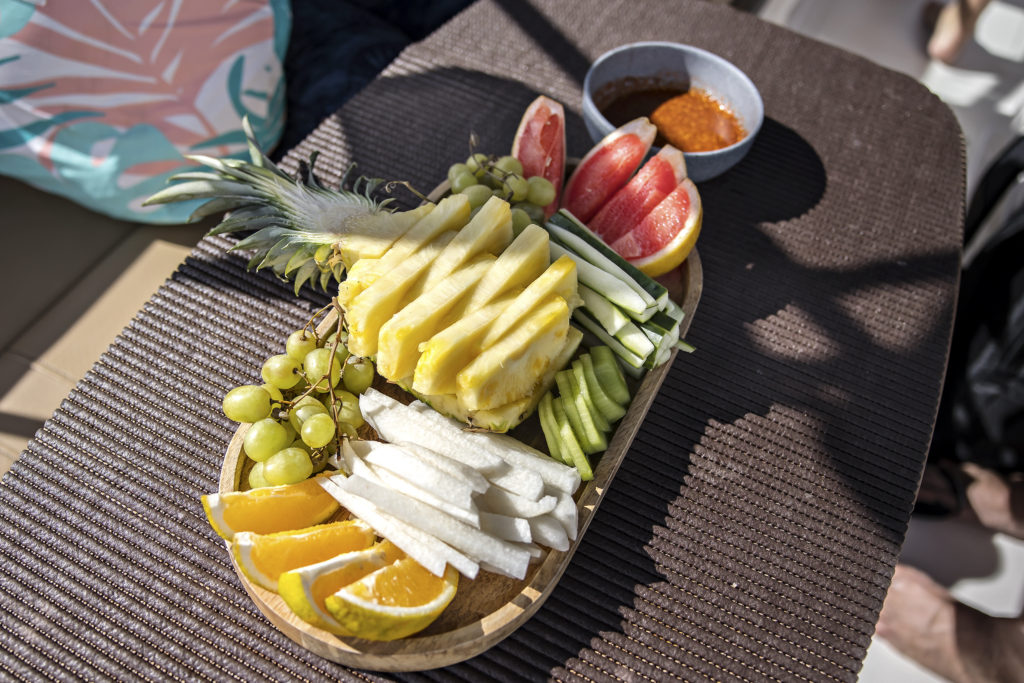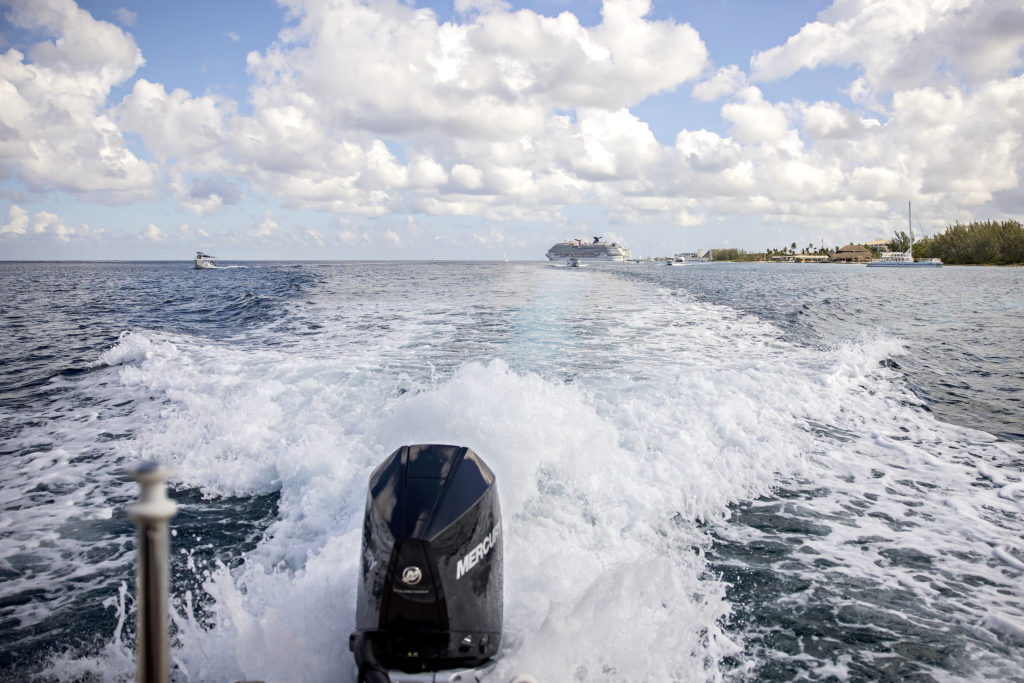 I had chosen their 28′ Sea Ray, which has a max passenger load of 8 people (plus 2 crew). It had shade (a must) and a bathroom (unexpected, but nice!).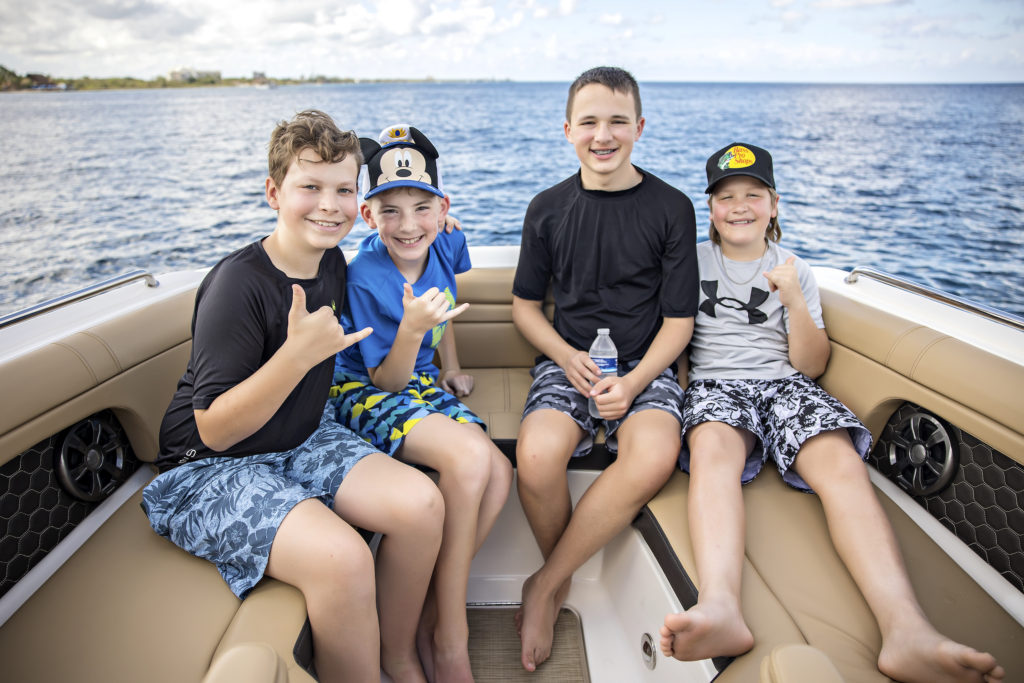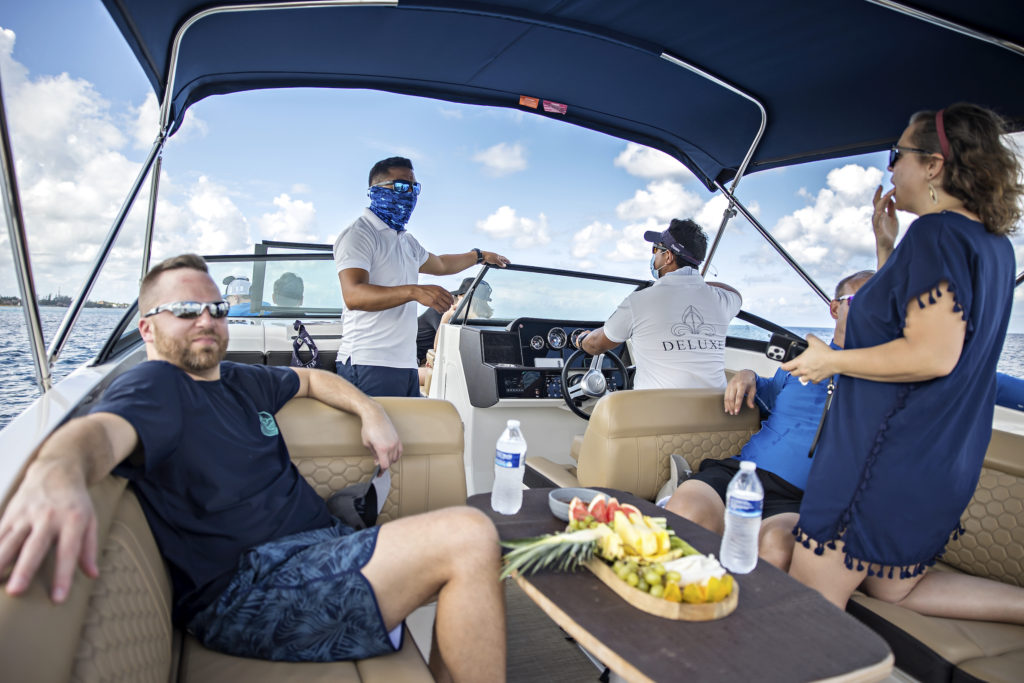 We motored for about 30 minutes along the shore of Cozumel before arriving at our first snorkel stop. They usually like to take their tours to another location but our guide told us that the water was too choppy there on this particular day. So, we were snorkeling at a slightly deeper reef, but the water was calmer.
We had all brought our full-face snorkel masks, which we prefer. But the boat comes with full snorkel gear (regular-type masks) for everyone. We did use their fins. The guide gave us a couple of rules and what to expect at this location. One by one, we dove in.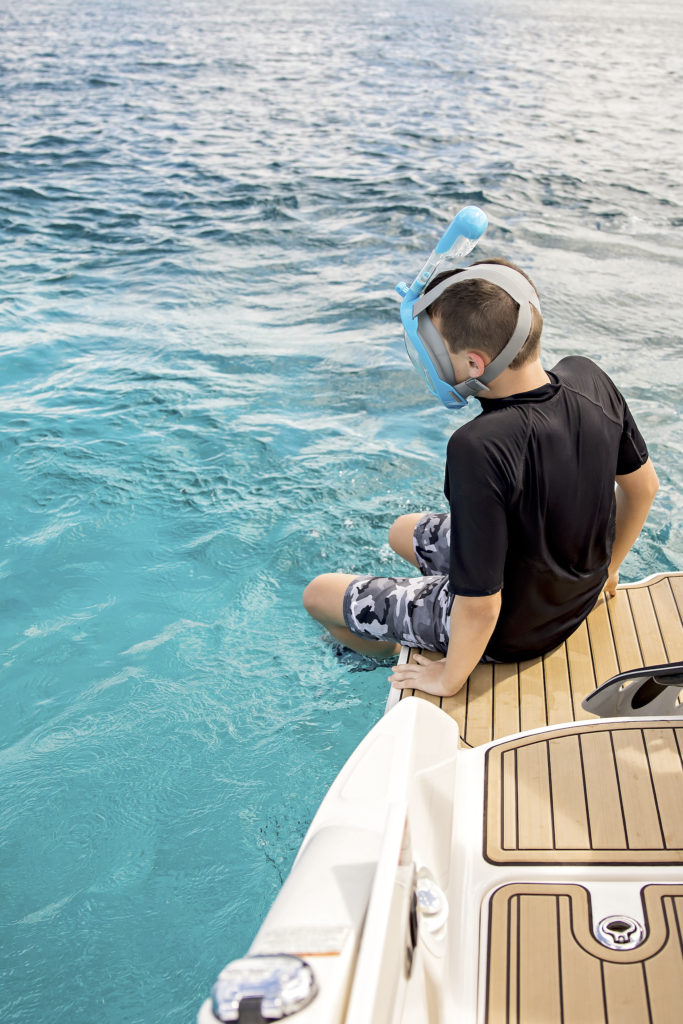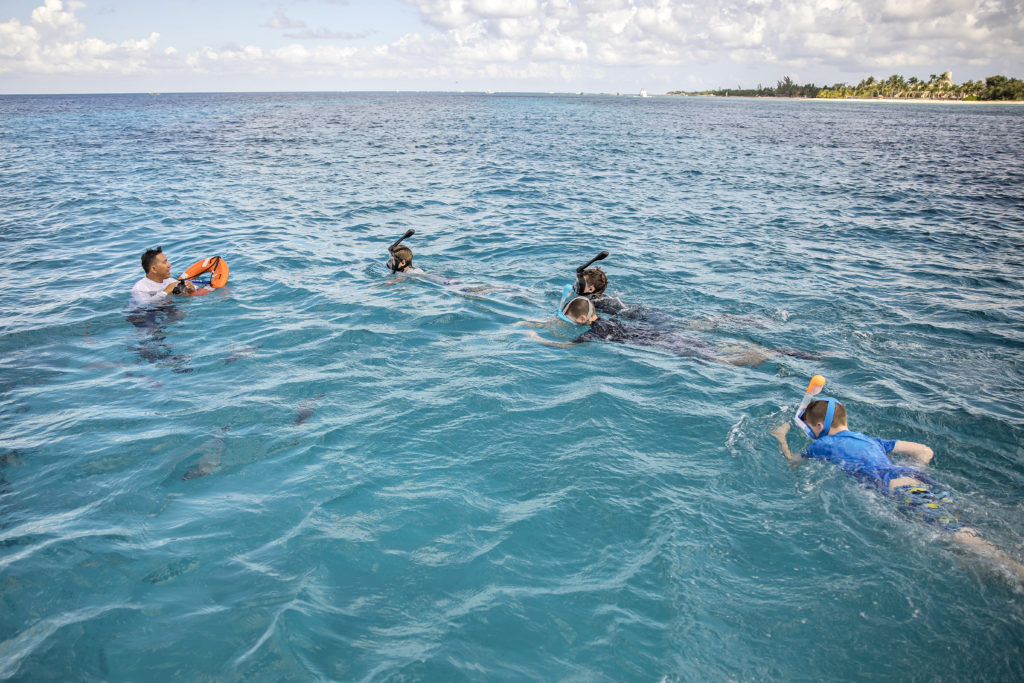 In this location (which was about 20 feet deep) there were fish ALL around us near the surface as well as all around the coral on the ocean floor.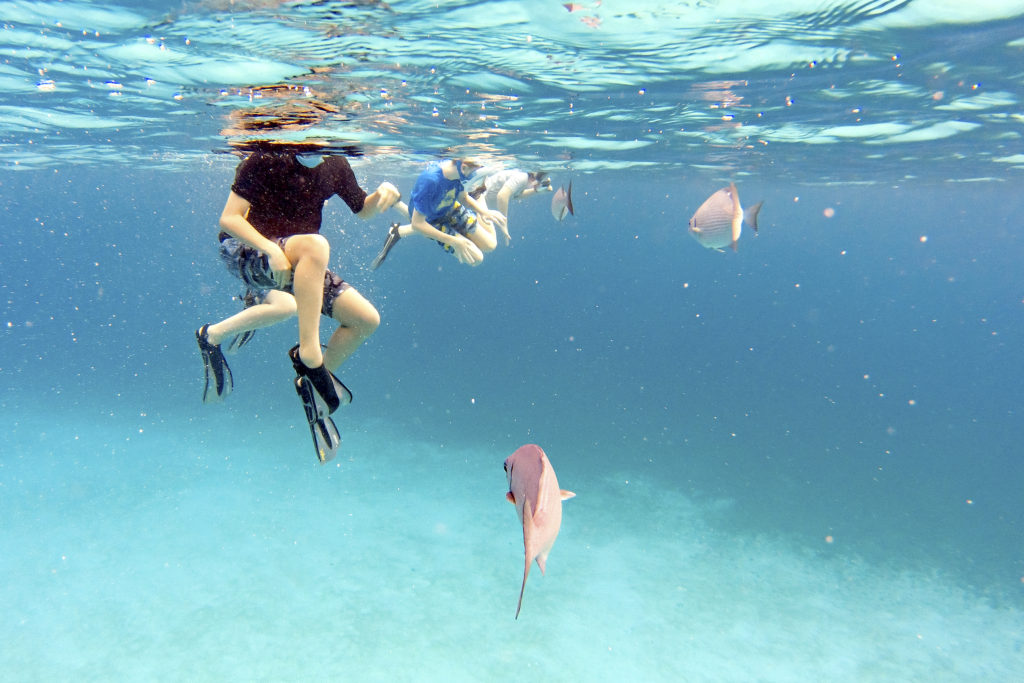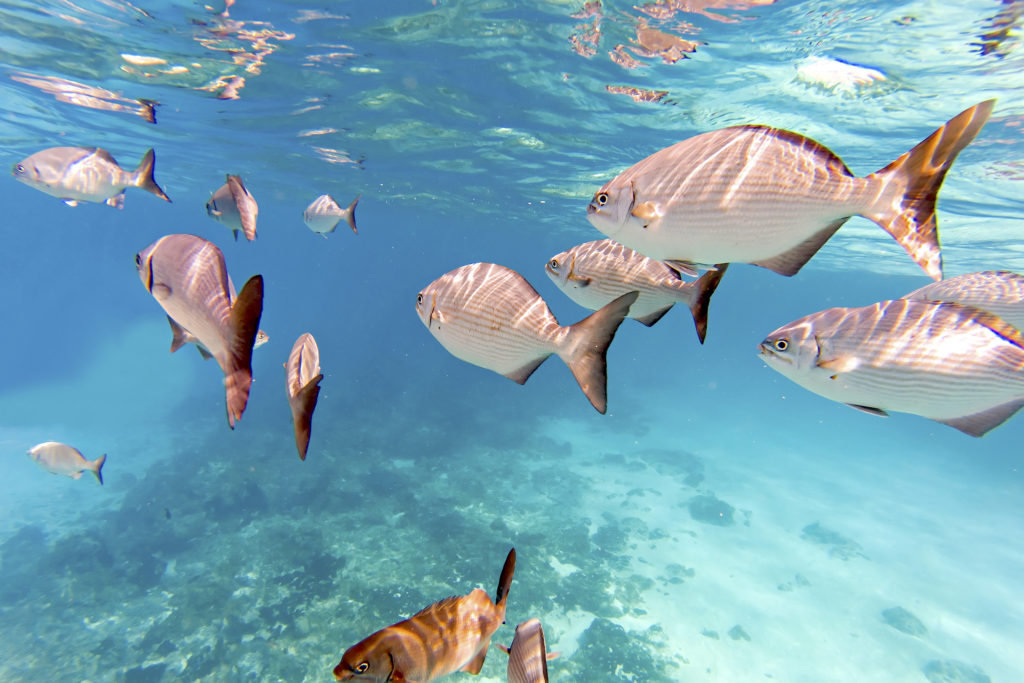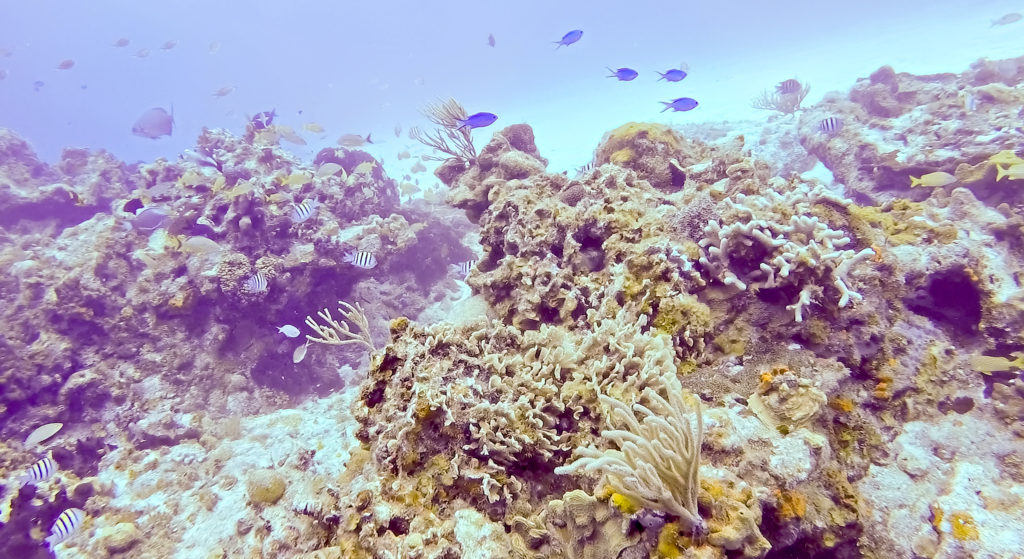 Our guide took my GoPro from me and took photos of our snorkeling group. I love this because it freed me up to just enjoy myself and also because I'm hardly ever in any photos! He was completely familiar with all the GoPro settings and got some great shots for us. He also dove down to get some footage and photos of a HUGE Eagle Ray that was on the floor of the ocean.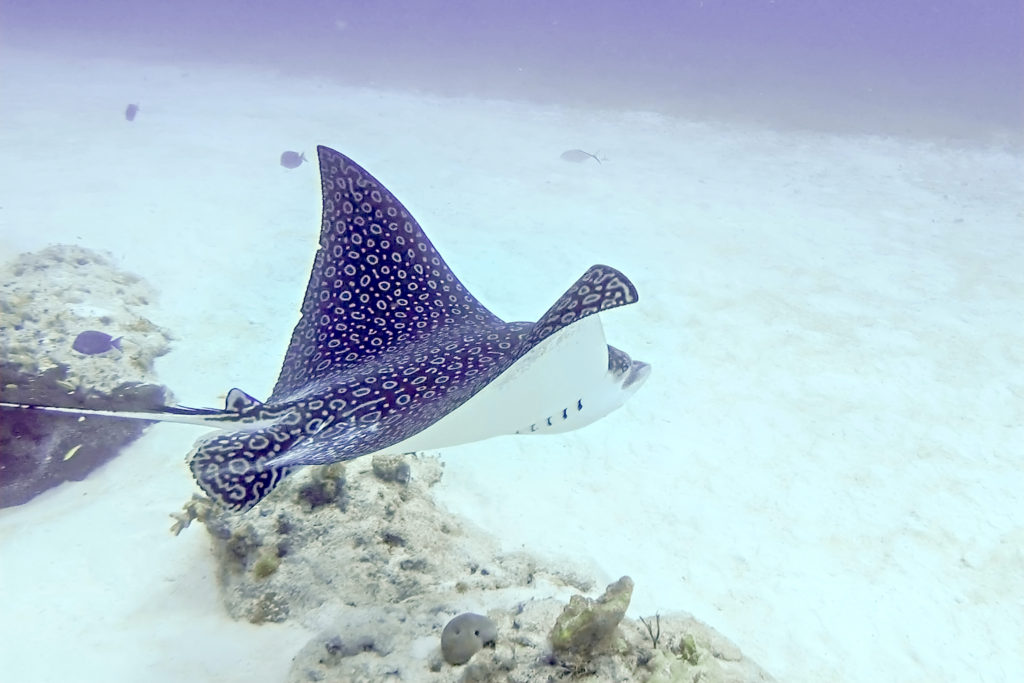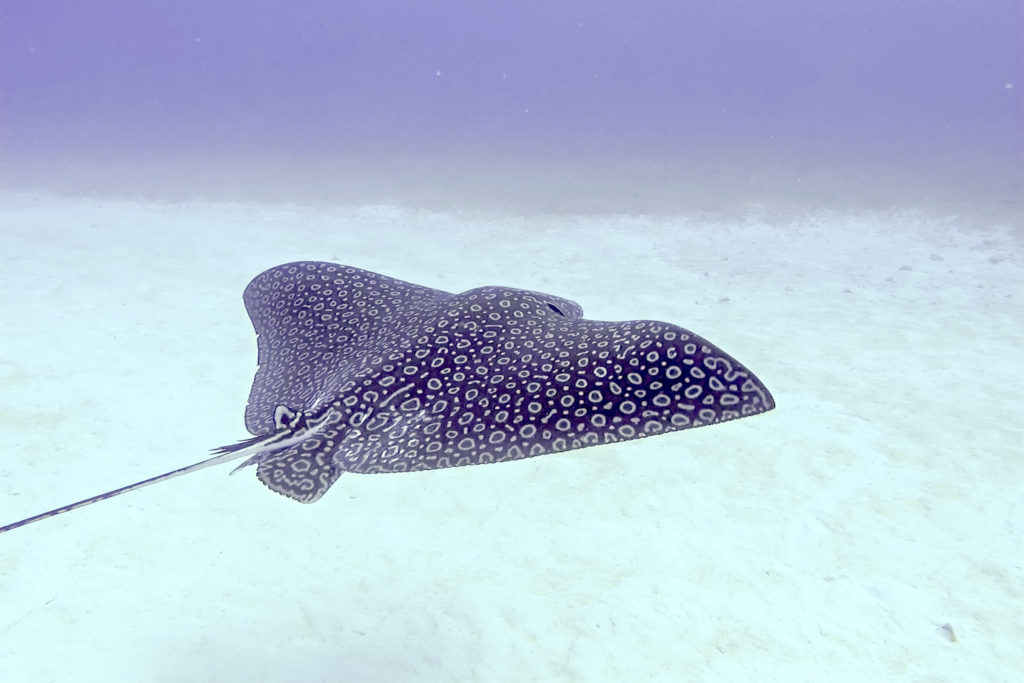 After about 15 minutes in this spot, he called us to gather around and the driver brought the boat back over for us to climb aboard. Onto the next snorkel location!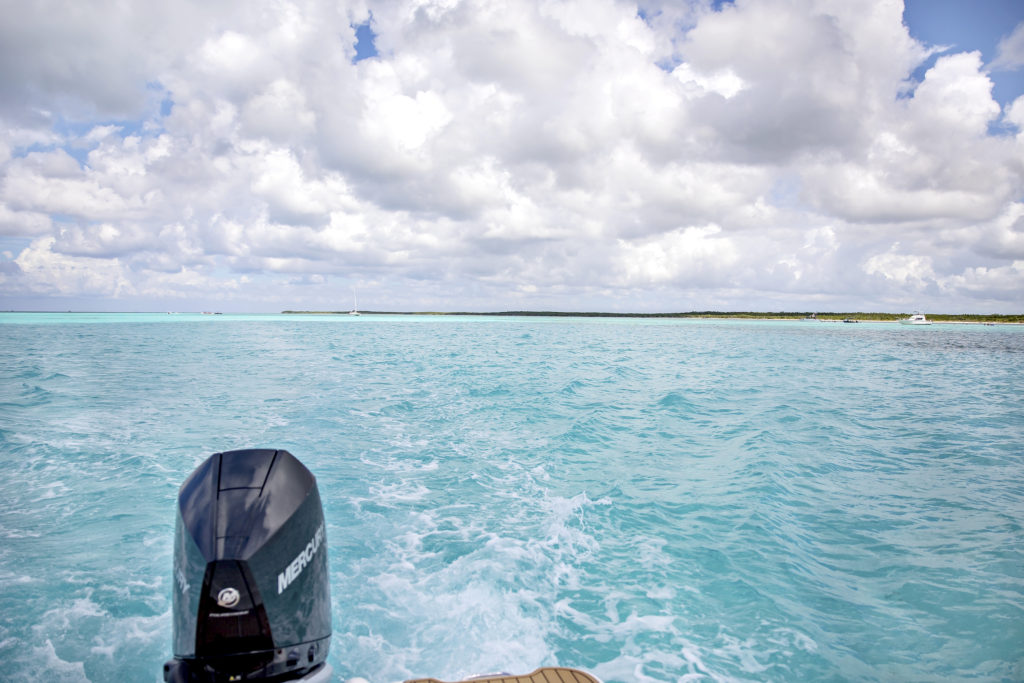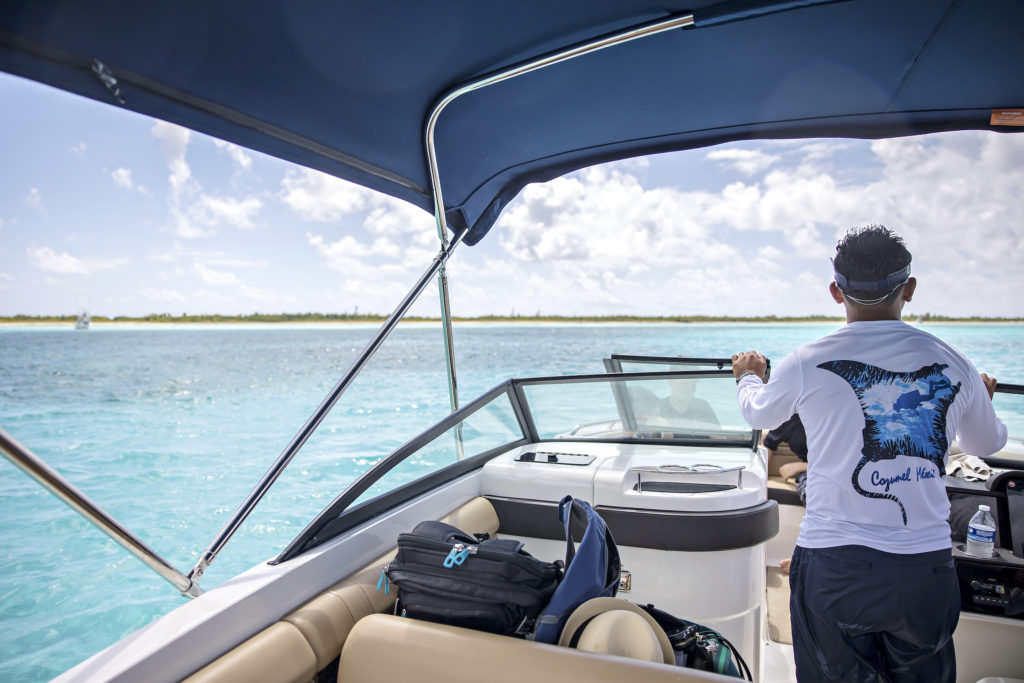 This location was very shallow with a soft, sandy bottom…and starfish! Not just one or two – LOTS of starfish. It was so cool to see them stretching out into the distance on the ocean floor. Our guide was careful to tell us not to touch them, but we could dive down and get a closer look.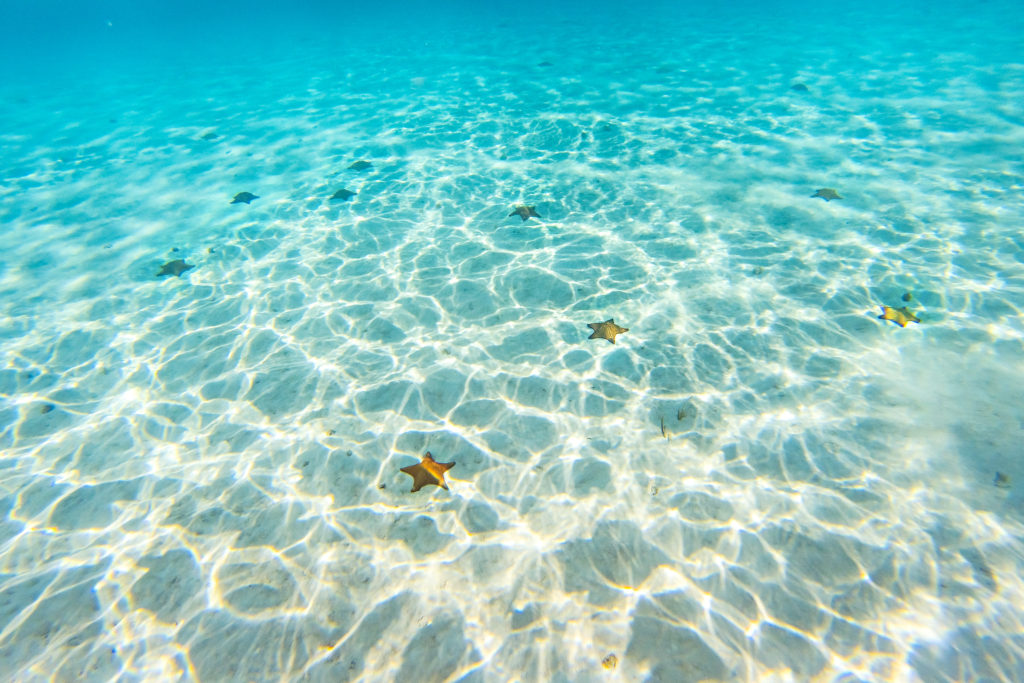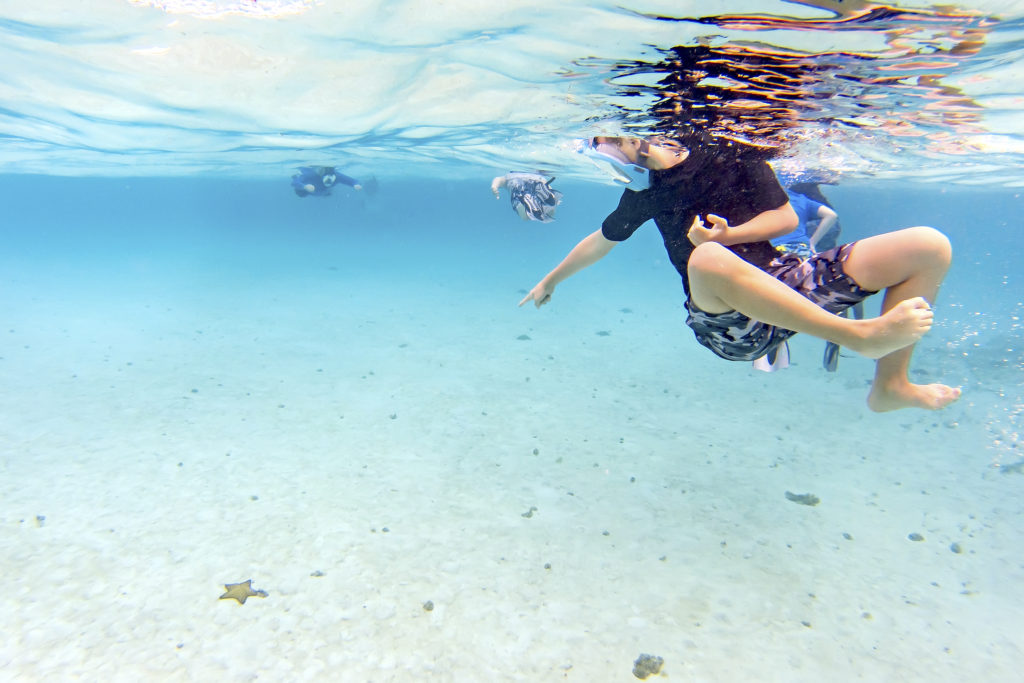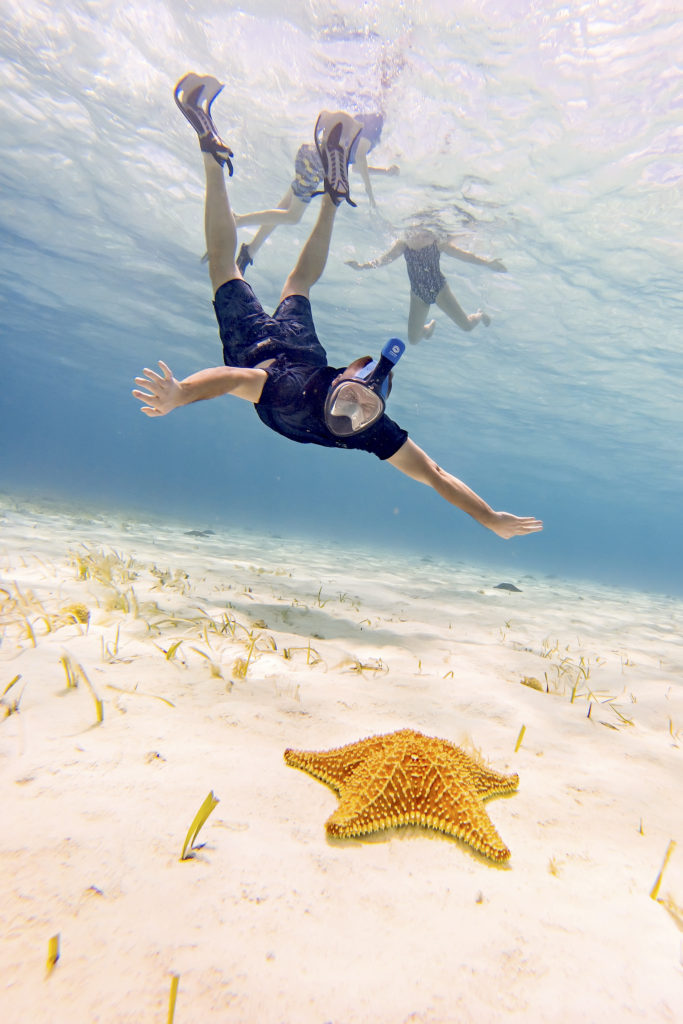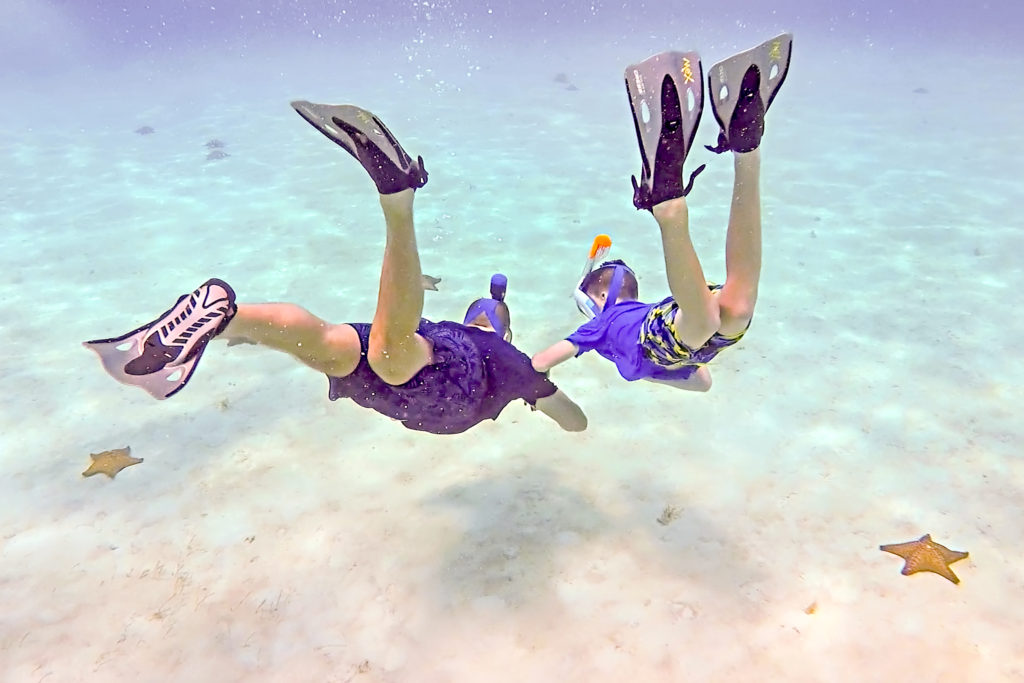 Even though the starfish were really the only thing (besides a few stray fish!) in this area, we all thought it was so cool to see them that close and as many as there were out there. From this location, we boarded the boat and again but only motored for about 5 minutes closer to shore before anchoring in the soft, shallow sandy area – away from all the starfish.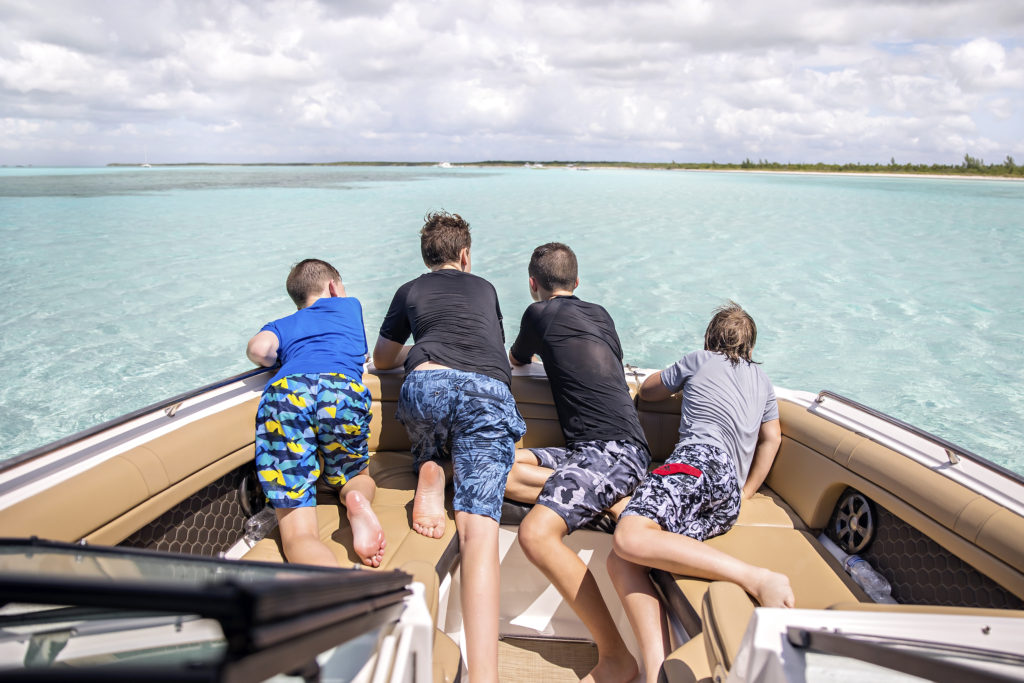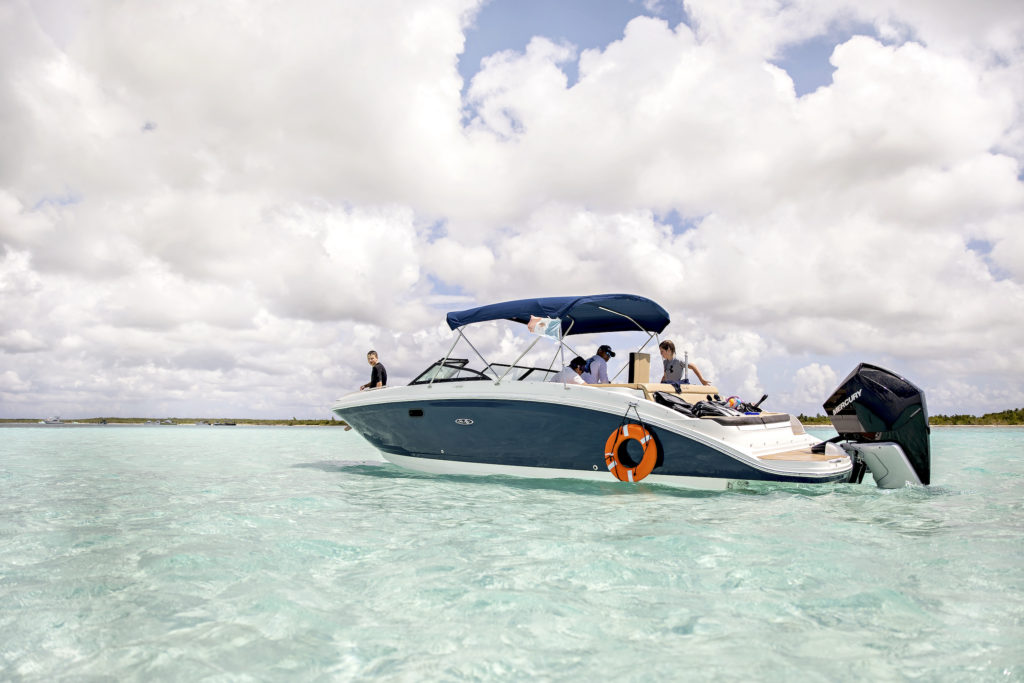 We all got out into the water, which was only about 4 feet deep – perfect for wading or playing. The crew got out a ball for our boys to play with and they set about tidying up the boat and making us custom drinks. The adults had mojitos, margaritas, and pina coladas – hand mixed. The kids were too busy to drink anything at this point, but they were offered non-alcoholic drinks as well. And bottled water was always available.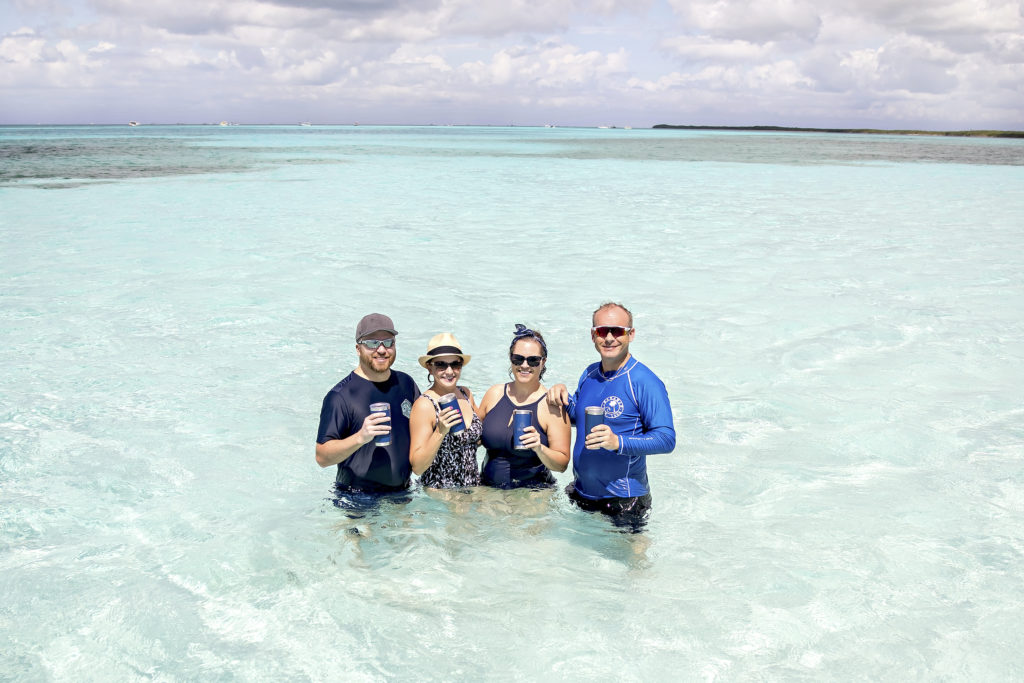 We all had the best time at this spot, which is part of El Cielo. The water is absolutely stunning (the photos do not do it justice) and the swimming can't be beat here due to the shallow water and soft sand. Kids and adults like had a blast!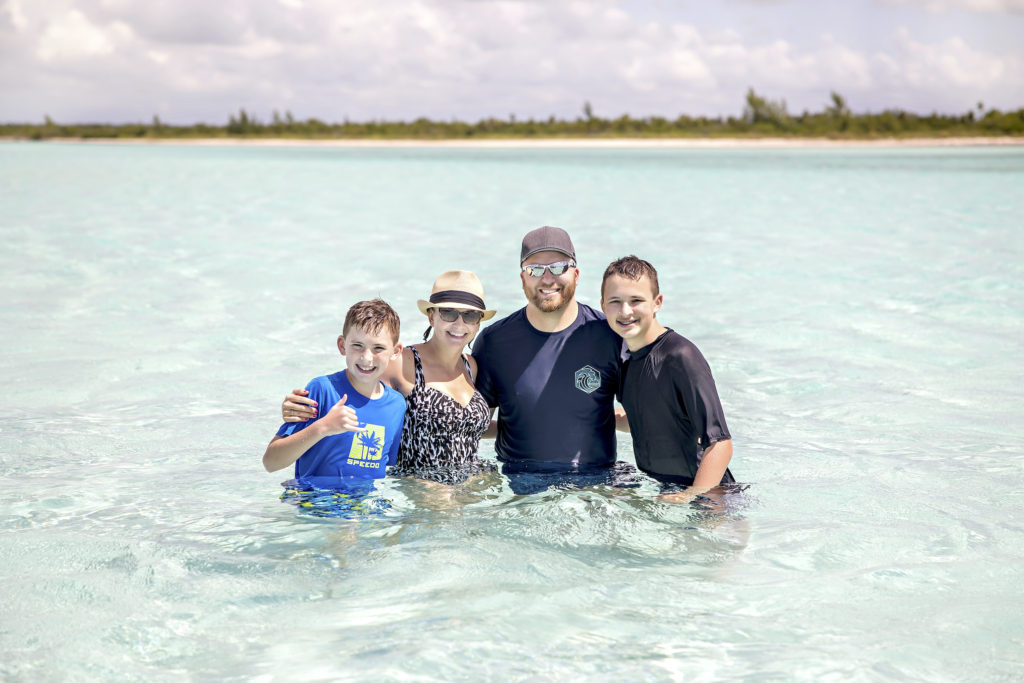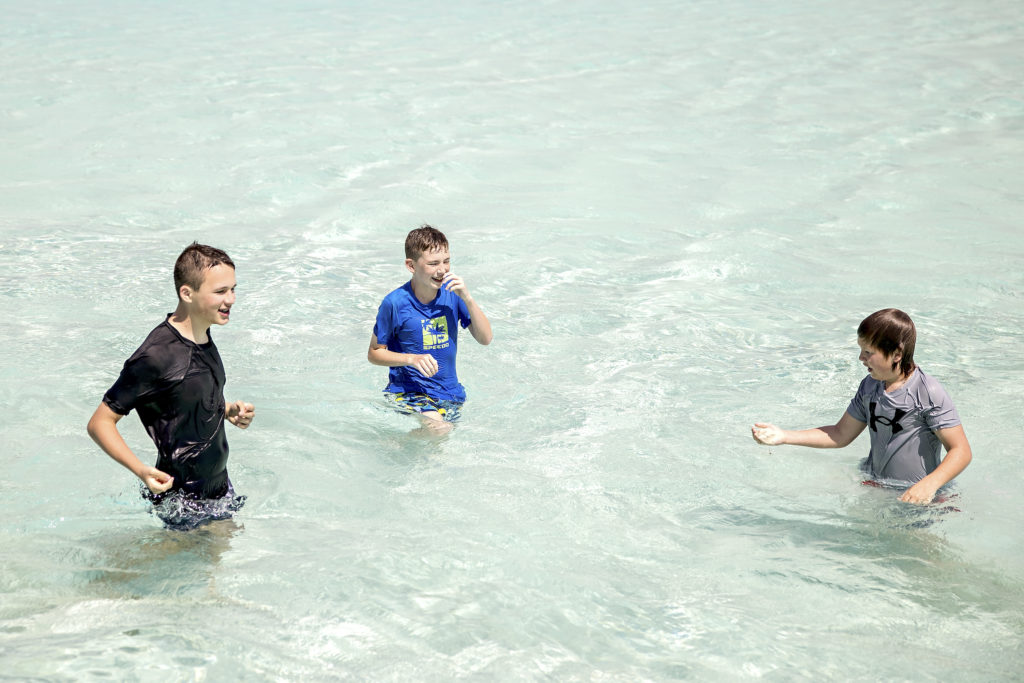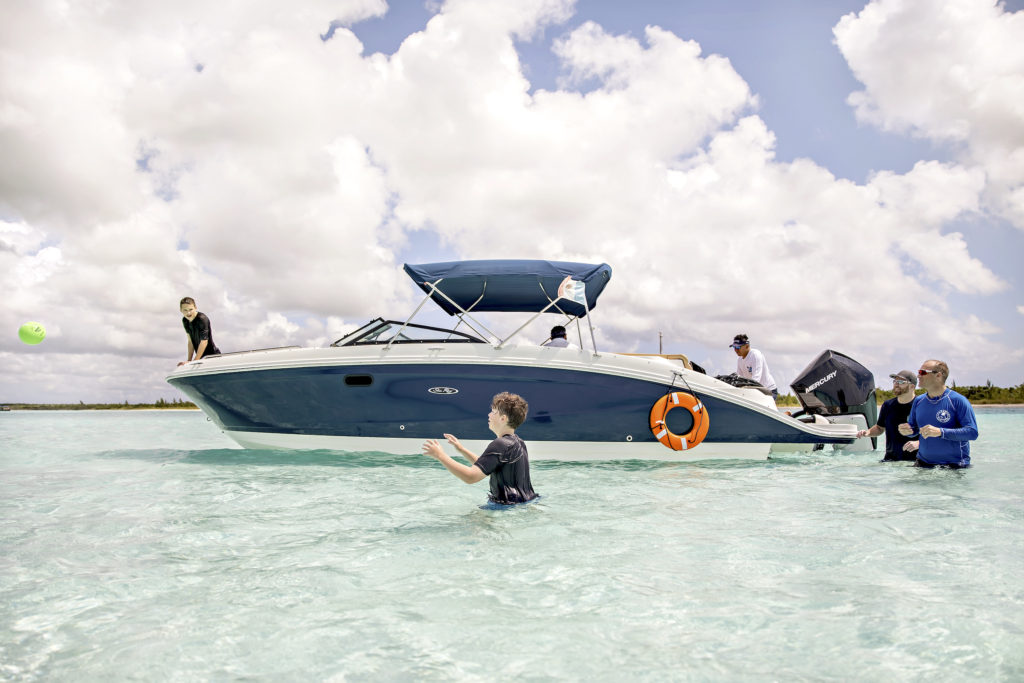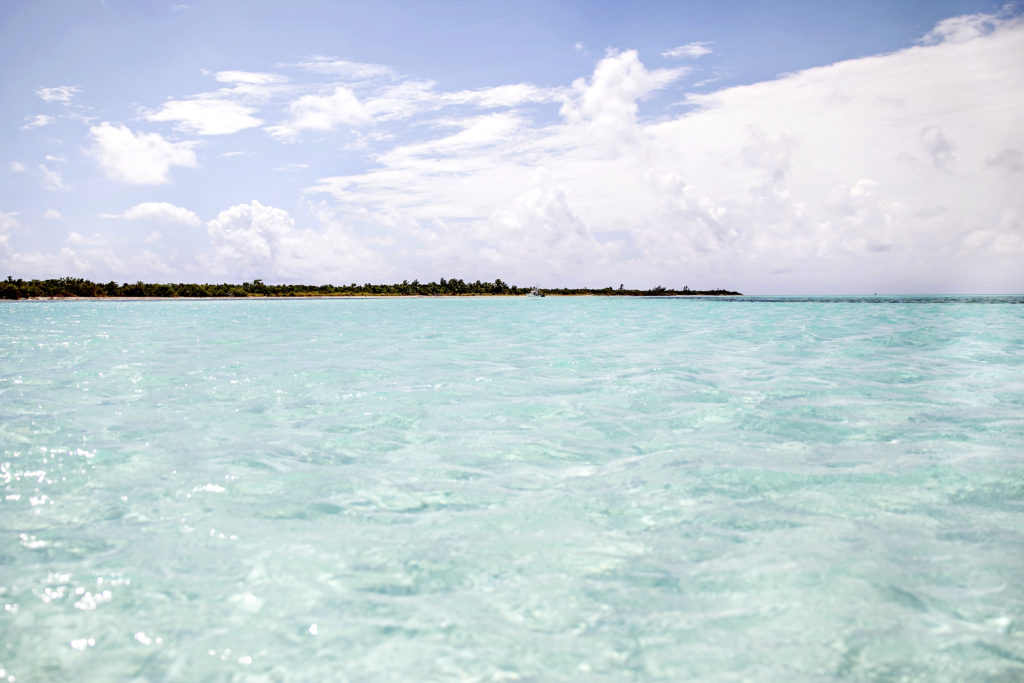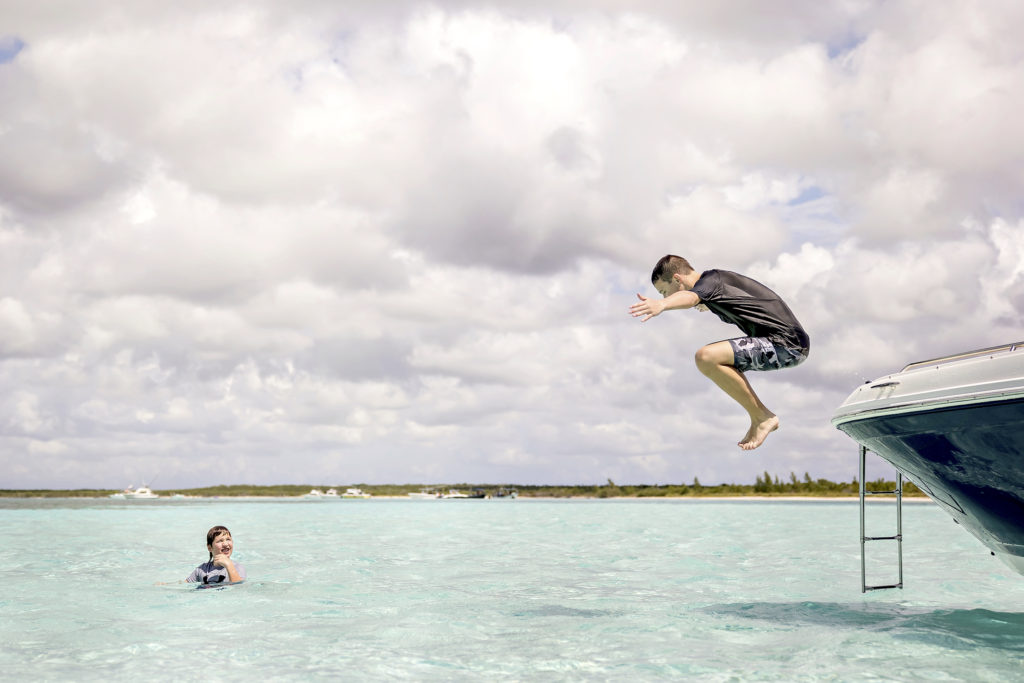 While we were enjoying ourselves in the water, the crew was busy preparing our lunch on board. They made fresh guacamole (excellent), ceviche, chips and dips, and tuna. It was all delicious. They will accommodate any dietary needs if you let them know ahead of time. We didn't have any special needs, but I had collected some snacks (popcorn, cereal boxes, and M&Ms) that the concierge team put together for me that morning to take with us. I was unsure how the kids would like the guac, ceviche, etc. However, while they did tear into the snacks I brought (and we all ate the entire bag of M&Ms), the kids did actually try and enjoy many of the foods the crew prepared.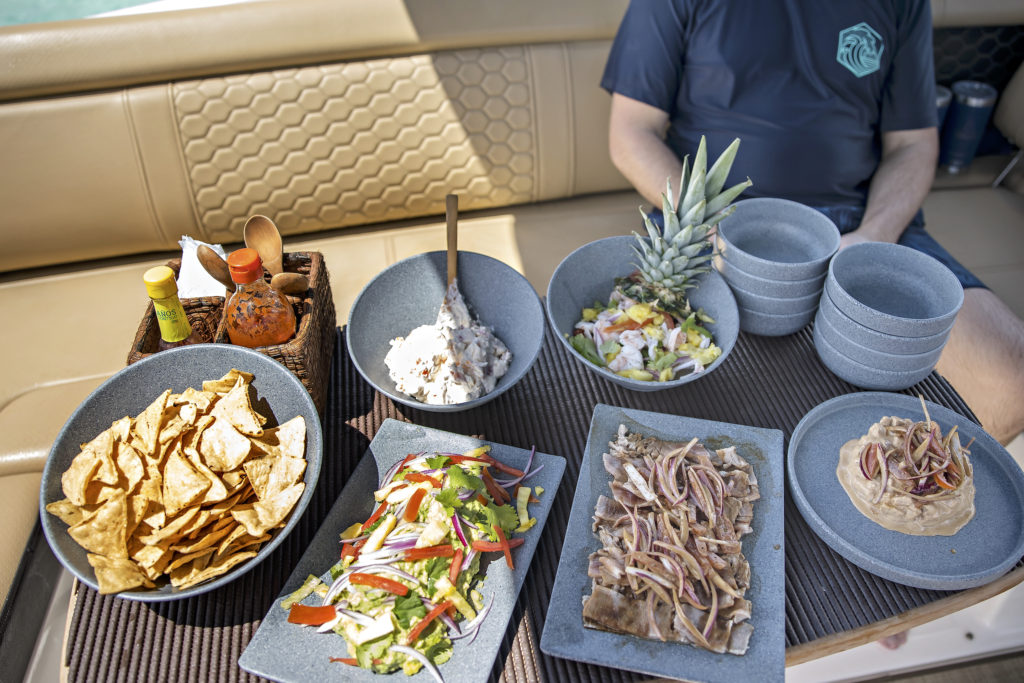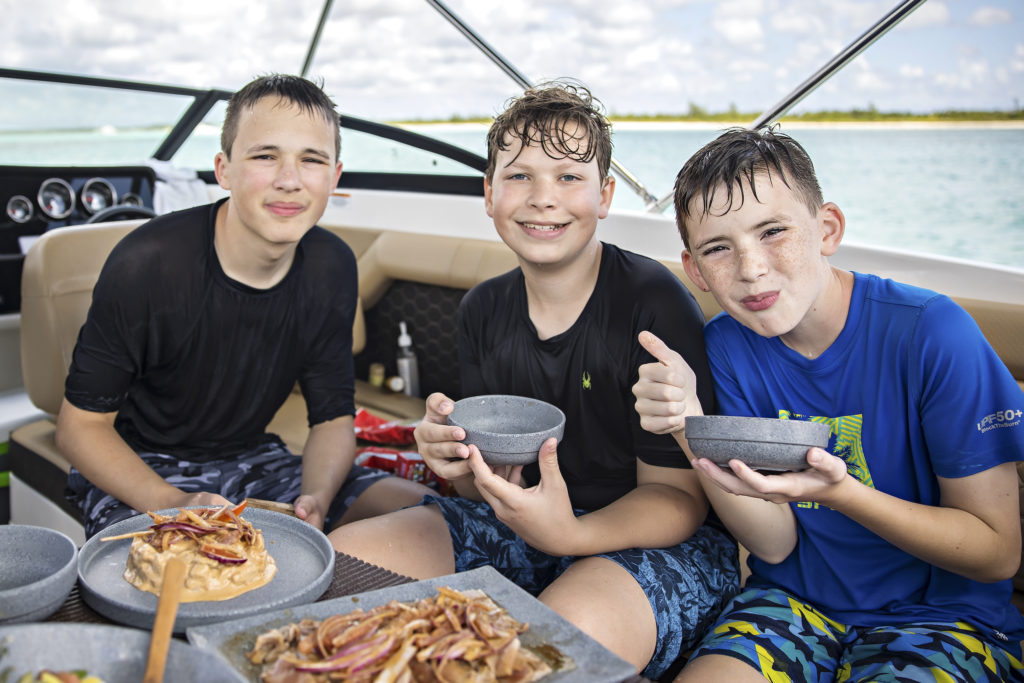 When we had all devoured almost all of that spread, we got back in the water. Our guide told us we had about one more hour before we'd have to head back to the marina. Our tour was almost 5 hours from about 10am – 3pm. We never felt rushed and they gave us ample time at this beautiful location. But during our last hour there we witnessed how lucky we were to have chosen our private tour. There was a huge catamaran with about 50 people on board that pulled up beside us. They let everyone off – for only 15 minutes! Then they loaded up and took off again. That was barely time enough to get photos and enjoy the water.
And here I'd like to mention again how helpful the crew were with taking our photos. They were always willing to take any photos for us and again – this was much appreciated!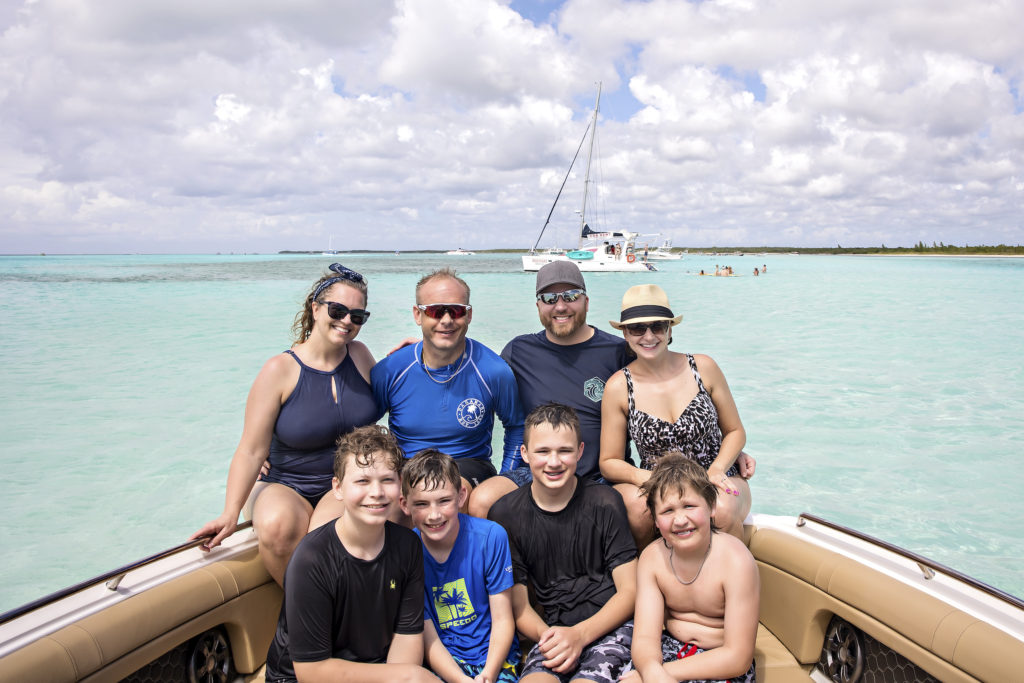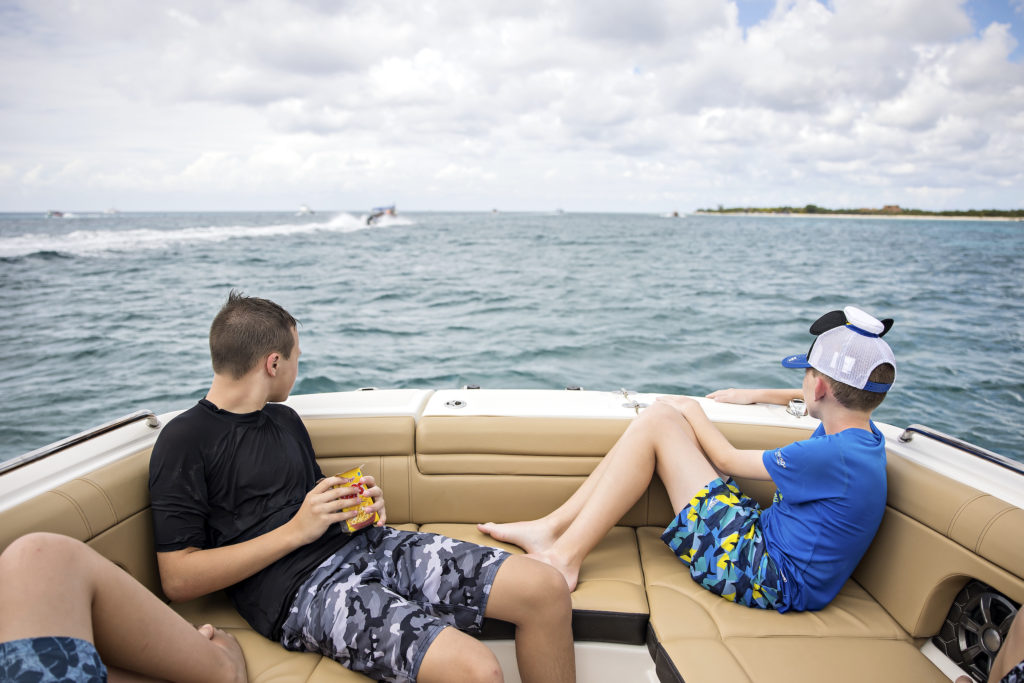 On our way back to the marina, we were all talking about how we'd do this excursion again in a heartbeat. Everything about it was wonderful, tailored for us, and just perfect. And the service didn't stop when we got ashore. There was a fairly long line of other groups our size waiting for taxis. And not many taxis were entering the marina at this time on their own. So the owner of Deluxe Private Boats called us a taxi so we wouldn't have to wait in the hot sun. Every one of the crew and staff was delightful, so helpful and made for the most wonderful day!
.
You can read more port adventure reviews here