The servers at 50's Prime Time Café in Disney's Hollywood Studios are known for treating guests like family…by scolding them, demanding they eat their veggies, and sometimes even spoon-feeding them while making airplane noises. But did you know that there's ANOTHER Disney World restaurant that's known for the servers' wild antics?
The servers at Whispering Canyon Café, located at Disney's Wilderness Lodge, could give those Prime Time servers a run for their money when it comes to playful banter and hilarious interactions. And today, we found out that one of our favorite shenanigans has finally returned to this restaurant!
When Whispering Canyon Café reopened after Disney World's closure in 2020, some of the shenanigans were dialed back a little to make room for the new health and safety procedures.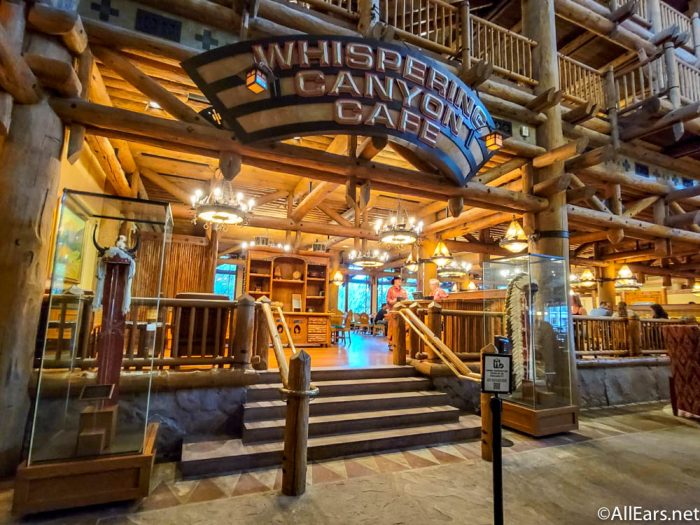 While the servers still delivered on snarky comments and fun guest interactions, there wasn't quite so much horseplay around the restaurant. And we mean that literally — there used to be little wooden ponies that guests could ride around the restaurant!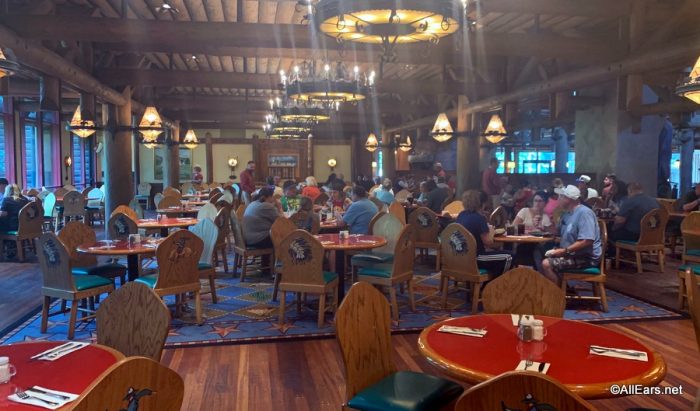 Today, we returned to this café once again to check on the antics and find some delicious barbecue while we were at it. During our meal, we were delighted to find out that one of our favorite quirks about this restaurant has returned! It happened when we needed some ketchup…and those who have been to this restaurant know exactly where we're going with this!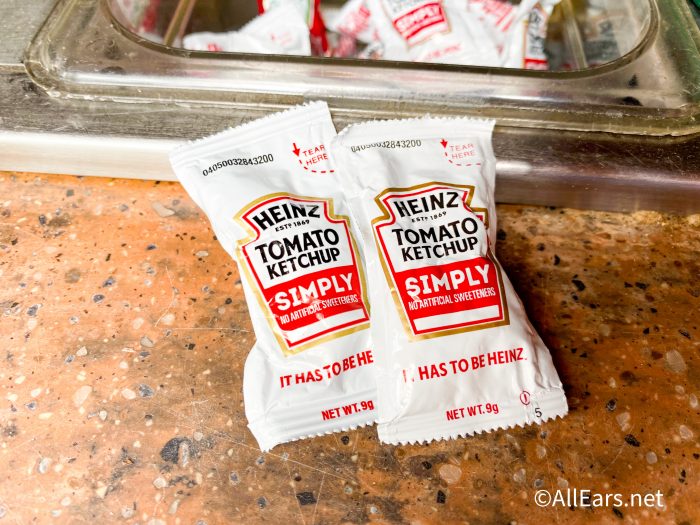 Before the closure, one of the most famous antics at this spot was what happened when you asked your server for ketchup. Instead of bringing you a single bottle for your table, the server will have you shout together with them, "We need ketchup!" Then, whichever table has the ketchup at the time will bring it ALL to you! You'll end up with about a dozen bottles of ketchup at your table. Then it's your group's responsibility to run the ketchup to the next table that asks for it.
When you ask for ketchup and get ketchup with a side of ketchup, with a side of ketchup, with a side of ketchup, with a… 😂

Only at Whispering Canyon Cafe at Wilderness Lodge 🐻🌲 pic.twitter.com/kCMvoaesna

— AllEars.Net (@AllEarsNet) March 29, 2022
This delightful exchange hasn't been happening since the restaurant reopened in 2020, but today it's finally back! When we asked for some ketchup, we were certainly brought enough for the table.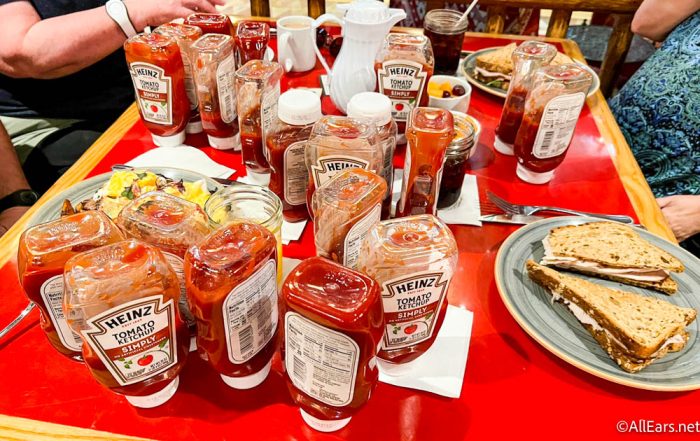 And that wasn't the end of the shenanigans here! While we were there, a server yelled at the whole restaurant to be quiet because someone at their table was on the phone. Then another server yelled for the guest to please order a pizza for them before they hung up. A third joined in and requested that the call be put on speaker so we could all say hello!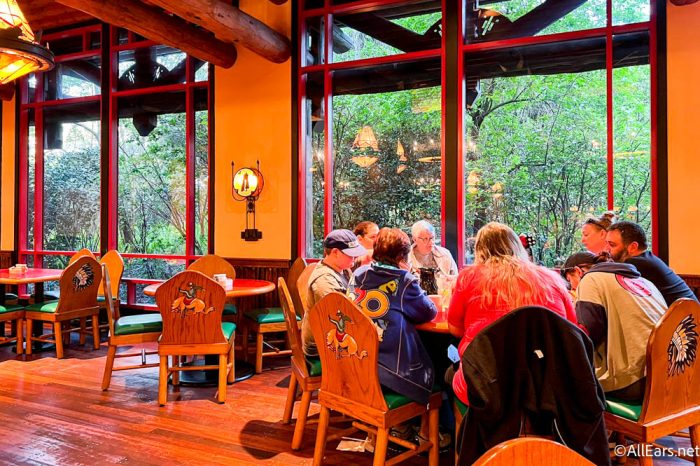 We also overheard a guest at a different table who had a lot of questions about the menu. When the server was repeating back everyone's orders, they said the rest of the group's orders like normal and then ended with the guest who had questions by saying "…and a 3-page essay for an entrée."
And if you ask for enough refills, your server might just get fed up with you and bring out a gallon-sized mason jar filled with your drink of choice! There are also tiny mason jars for those who just want a little bit to drink. Our server went ahead and brought us both, just in case.
It's safe to say that you should be prepared for some hilarious antics the next time you visit this restaurant! Unfortunately, the wooden pony rides weren't back when we visited. But we'll be on the lookout for those to return!
And the food is just as tasty as the shenanigans are wild. We had the Burnt End's Nachos for $12and they were just as delicious as we remembered!
Nachos for breakfast? 👀

Don't mind if we do 🤤

Burnt End Nachos at Whispering Canyon Cafe 🐻🌲 pic.twitter.com/cTTMuiPXJm

— AllEars.Net (@AllEarsNet) March 29, 2022
As a bonus, this spot still has the EARidescent Sip-a-bration drink, which many restaurants seem to have run out of recently. This is a non-alcoholic specialty drink that arrived last year for Disney World's 50th Anniversary.
All in all, we had a great time at Whispering Canyon Cafe. If your group isn't a fan of shenanigans during your meal, this might not be the restaurant for you. There used to be little cards you could put on your table to let your server know you didn't want to participate in the antics, but our server told us today that they don't have those anymore. So you've got to be prepared to be called out and pulled into the fun when you visit!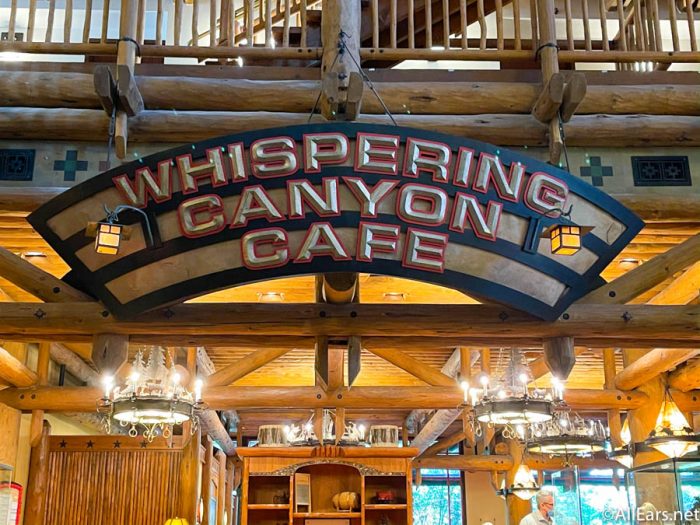 Keep following AllEars for more of the latest news from Disney World.
Check out reader reviews of Whispering Canyon Cafe here.
Join the AllEars.net Newsletter to get the free Cheat Sheet for Disney's Wilderness Lodge & Animal Kingdom Lodge! Click here to get started!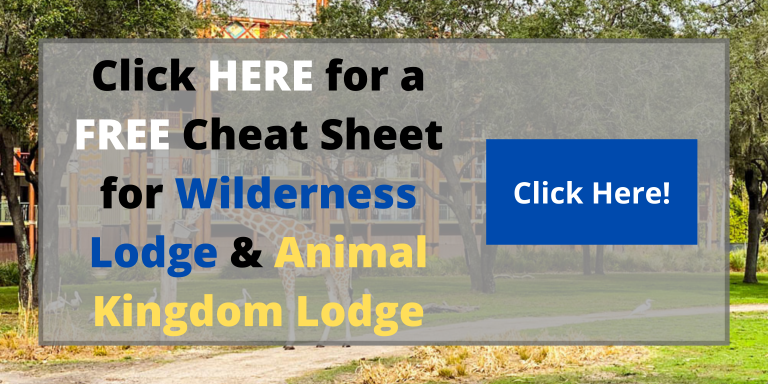 Have you eaten at Whispering Canyon Cafe at Disney World? Let us know what you thought in the comments!