The soul of Disney World lies in the magic and entertainment that guests experience on a daily basis in the parks. It might sound cheesy, but there's something special about seeing Mickey Mouse float by in a parade, or watching Tinker Bell fly over the Magic Kingdom. For a while, these experiences were unavailable, but Today marks the return of a fan-favorite parade at Disney World.
It's finally happening! The beloved Festival of Fantasy parade is back in the Magic Kingdom for the first time since 2020. Like so many of you out there, we've been waiting for this moment for a long, long time, and it feels good to say that regular daytime parades are officially back in Disney World!
We arrived early today (March 9th) to secure our spot for the return of the Festival of Fantasy parade!
WE ARE READY! 🎉 Festival of Fantasy parade is returning today and we have secured our spot and counting down the minutes! pic.twitter.com/9lL77n7EG0

— AllEars.Net (@AllEarsNet) March 9, 2022
While we waited, we spotted a PhotoPass photographer with a special prop to celebrate the parade's return.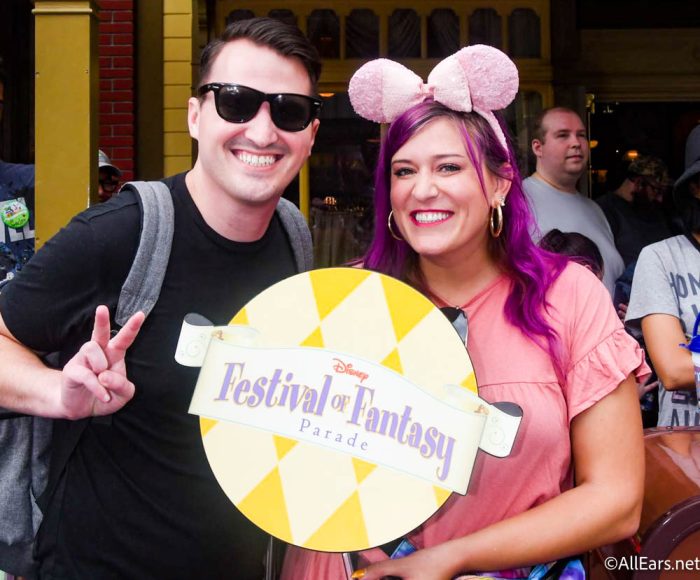 Finally, the music started, the crowd cheered, and off in the distance, we saw the first parade float coming through the hub. We're not crying, you're crying. It may have been two years since we've seen the Festival of Fantasy parade at Disney World, but we still remember all the lyrics! The parade began with the Grand Marshals…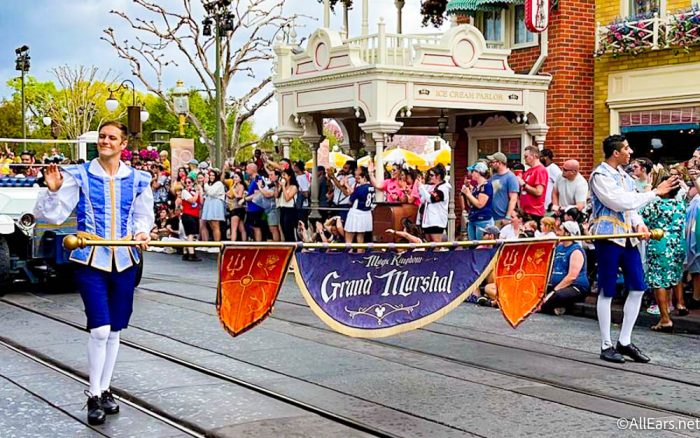 …which were Disney World Cast Members! Since the 50th Anniversary celebration is meant to highlight the amazing Cast Members, it seems very fitting that they'll be the Grand Marshals for today's parade!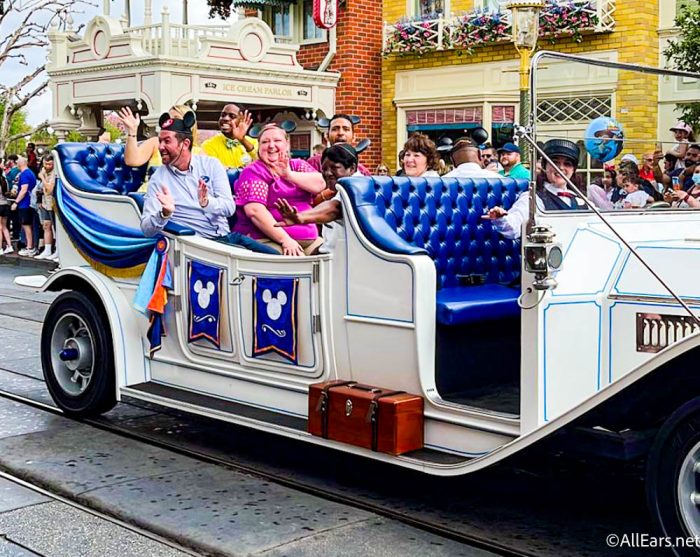 The first parade float is the Princess Gardens float.
Festival of Fantasy Parade kicks off with the Princesses! 👑✨

Have you seen this parade before? pic.twitter.com/LXbc6082MB

— AllEars.Net (@AllEarsNet) March 9, 2022
Here, you'll see Belle…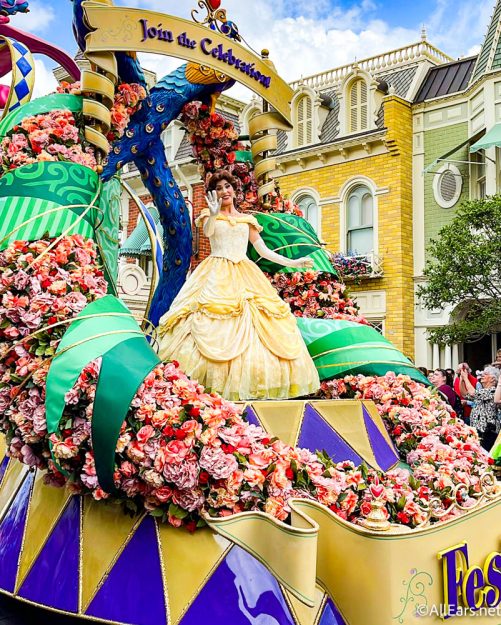 …Cinderella…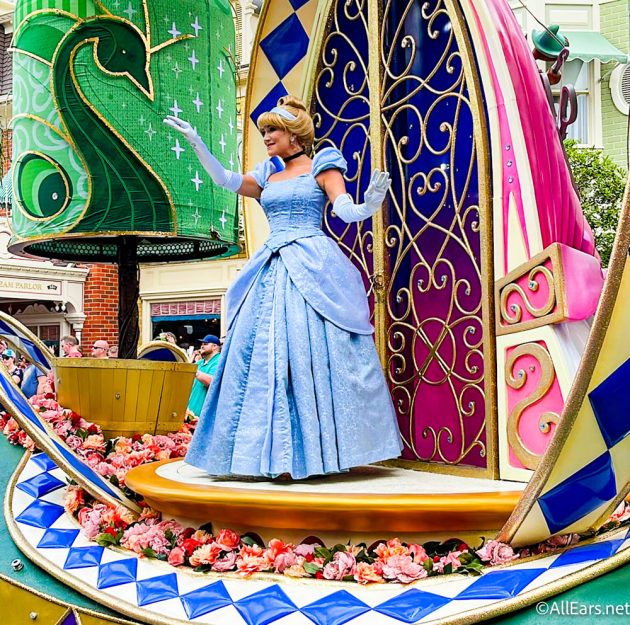 …Tiana…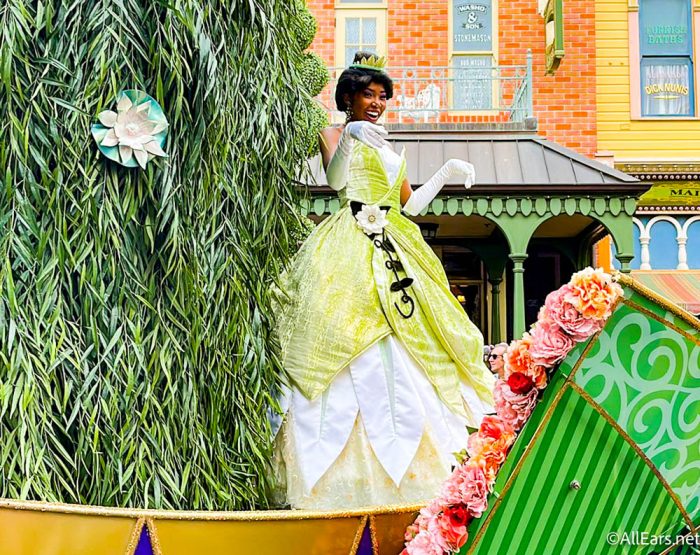 …and Elsa in their royal gardens!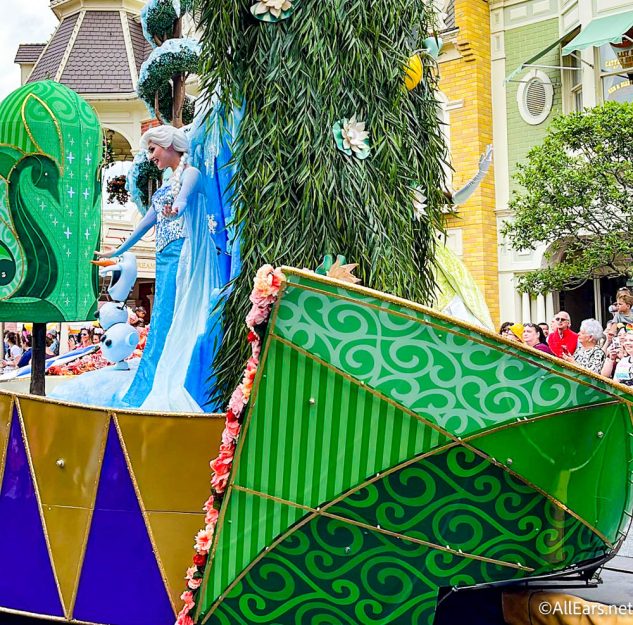 Does the mime give you a hint about the upcoming characters on the next float?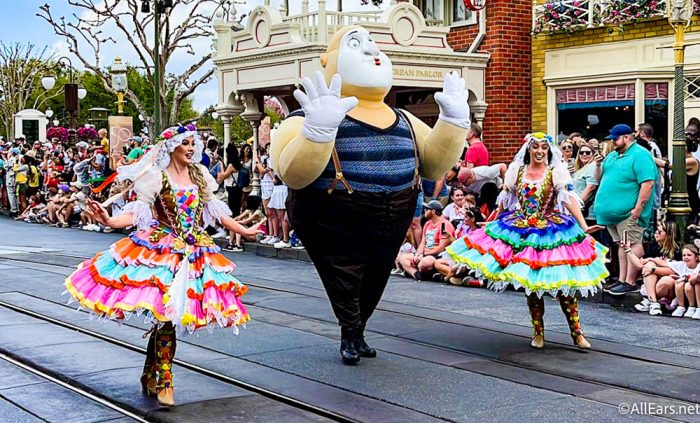 the Tangled-inspired float is next, complete with the Snuggly Duckling thugs and Flynn Rider swinging from axes on the majestic boat.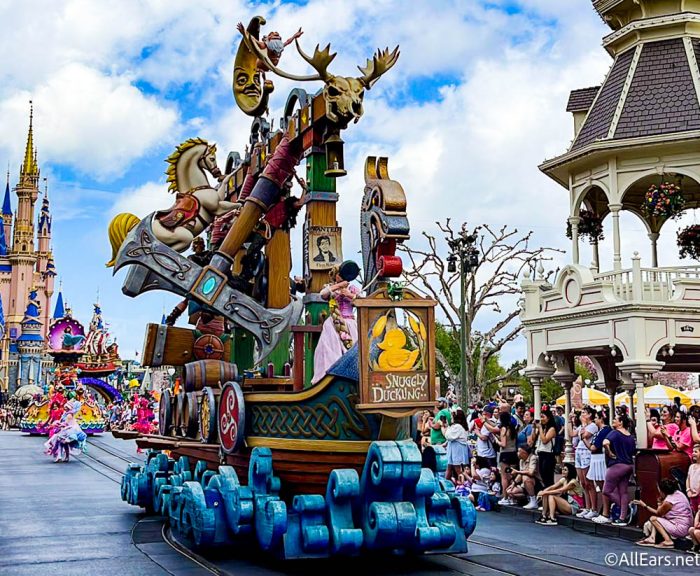 And we spotted Rapunzel at the helm!
Dancers dressed like colorful fish introduce the Little Mermaid float.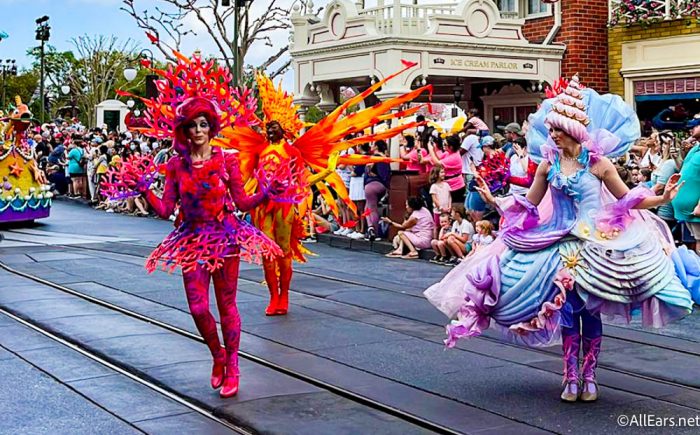 Ariel arrives in her whimsical chariot pulled by some fish! Don't miss Flounder, who's swimming away at the top of this float.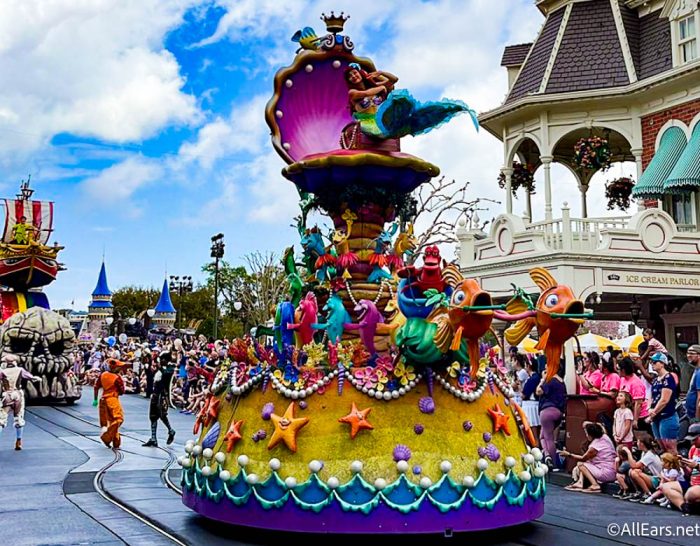 Following Ariel are the Lost Boys, joined by Wendy!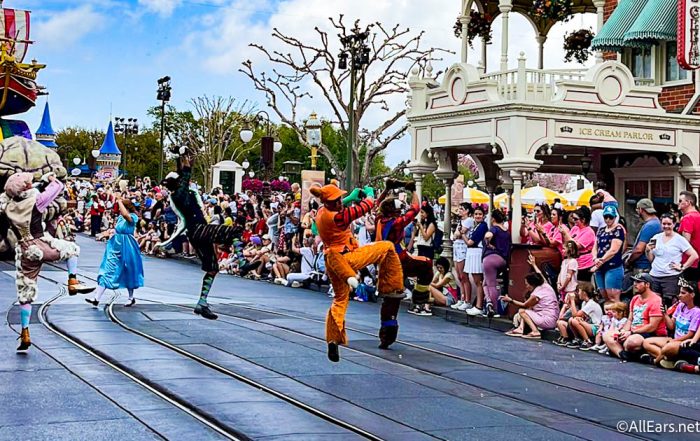 the Peter Pan float looks scary at first with the huge skull rock, but it's quickly followed by a ship sailing off to Neverland on a rainbow!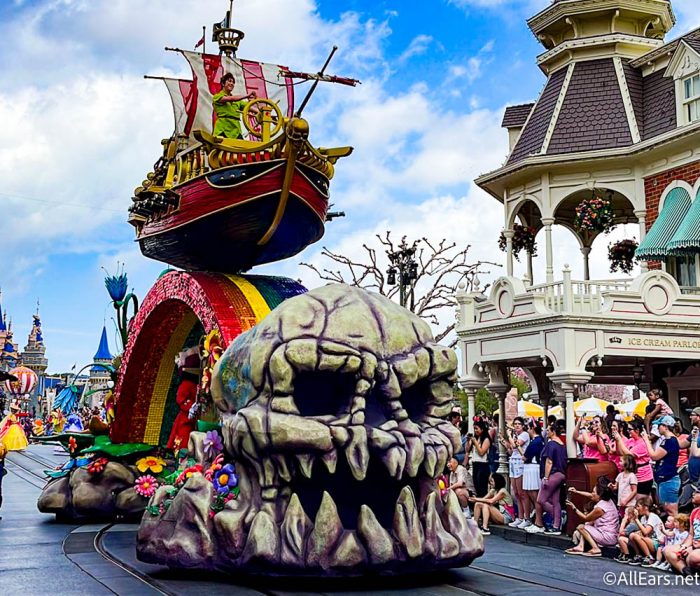 Catch Peter Pan, Tinker Bell, and Captain Hook on the float, with the Smee following close behind.
Peter Pan, Captain Cook, Tinker Bell, and of course – Smee have all joined the party as well 🐊⚓️🏴‍☠️ pic.twitter.com/TJdGF6aeZr

— AllEars.Net (@AllEarsNet) March 9, 2022
Prince Phillip and the three fairies from
sleeping beauty
arrive next, and you know what that means!
One of the coolest floats in the parade is back! The Maleficent Dragon is prowling through the Magic Kingdom in all her villainous glory.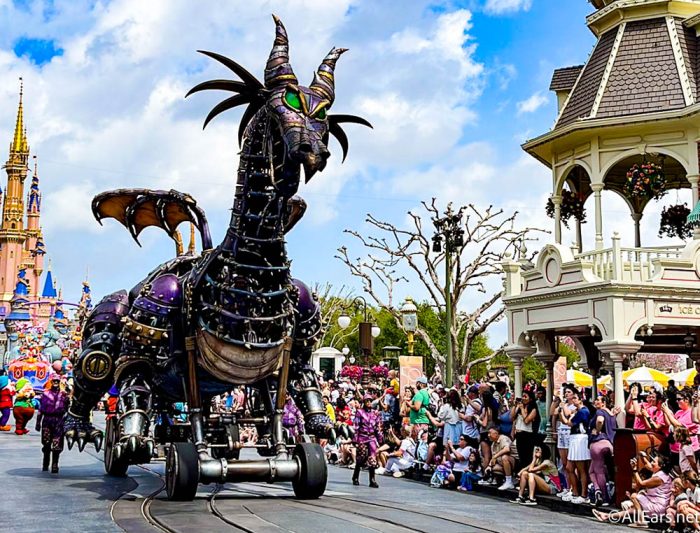 This dragon actually breathes fire, which is one of the coolest effects in this parade.
Our favorite fire breathing dragon is BACK!! 🔥 pic.twitter.com/dWRYTptZMe

— AllEars.Net (@AllEarsNet) March 9, 2022
Be aware that if the weather isn't cooperating (such as if it's windy out) the fire effect might not happen.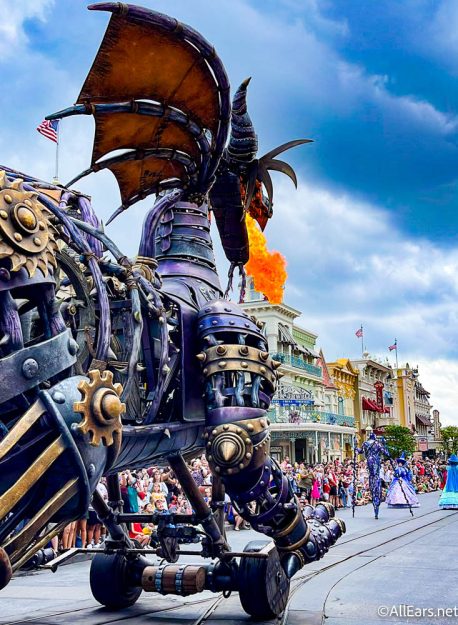 After the steampunk dragon passed us by, we spotted Snow White along with her seven dwarf friends!
Alice and the Mad Hatter are next, followed by Jiminy Cricket! And rounding out the parade is the huge finale, complete with several beloved characters. You'll see Pinocchio on a colorful whale…
…Dumbo on the whale's tail, and Donald following close behind.
Pluto is also part of this big finale!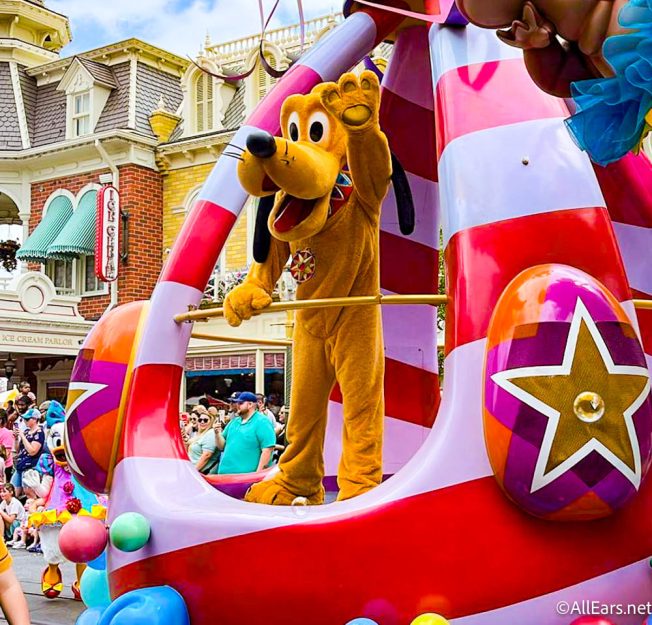 More of the classic characters aren't far behind, with Goofy, Chip and Dale, Daisy, and Minnie Mouse dancing away and greeting guests in their colorful outfits.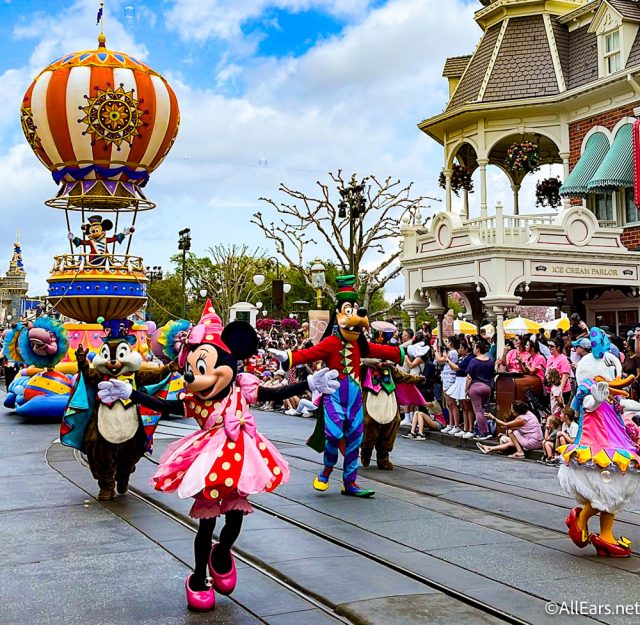 The parade ends with Mickey Mouse waving from his exciting hot air balloon!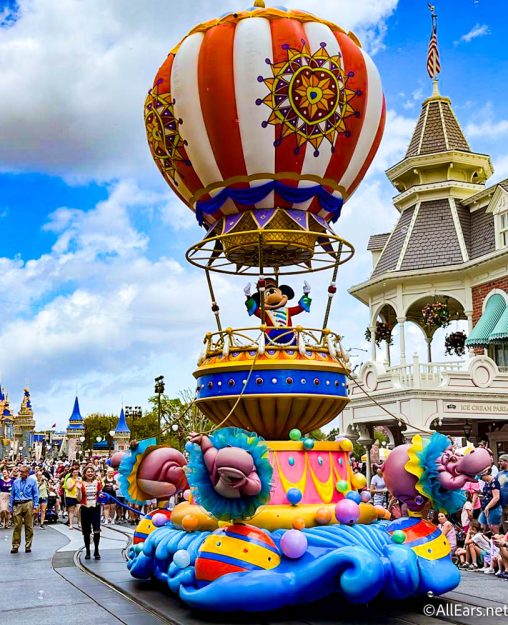 And that's a wrap on the returning parade!
Can't forget about all the classic characters dressed in their dazzling outfits as well!🤩

It has been about 2 years since we last saw this parade float down Main Street, USA and we couldn't be happier to see it back! 👏☺️ pic.twitter.com/pqZbQkHjNY

— AllEars.Net (@AllEarsNet) March 9, 2022
A couple of big differences we saw in this parade compared with the previous Festival of Fantasy parades are that there was usually only one character per area in each float, and the
brave
float was missing.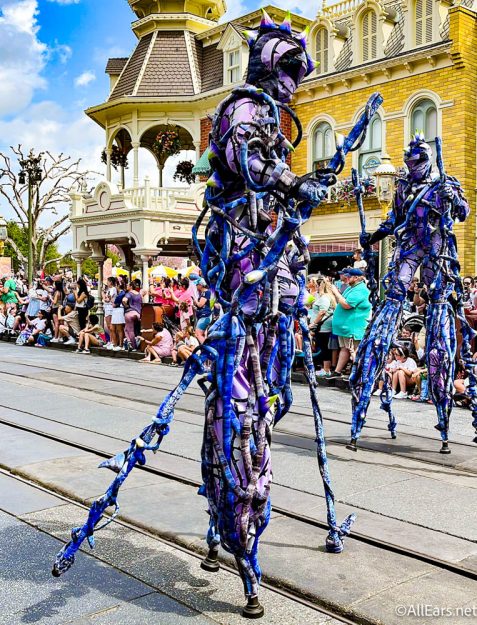 In the past, we've seen Anna and Elsa standing together in the Princess Garden float, and usually Wendy joined Peter Pan in the Neverland ship. But this time, there was just one character in each spot.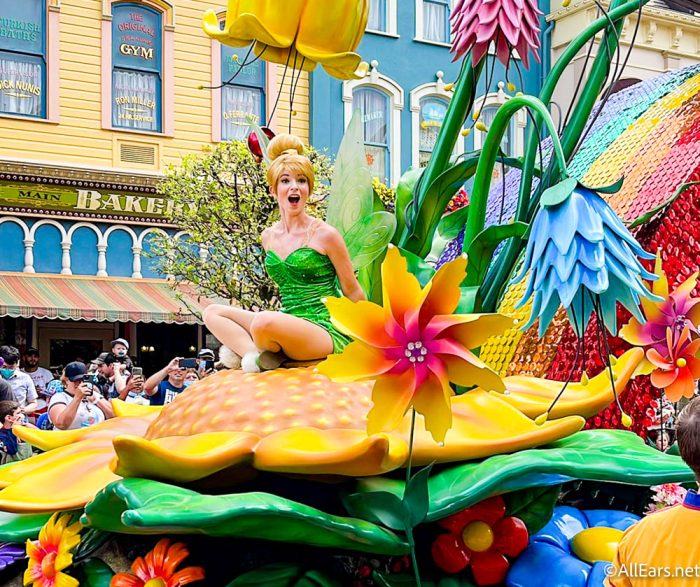 For the first few days of its return, the Festival of Fantasy parade takes place at 11:30AM other 2:30PM. Then, starting on March 14th, the parade will begin at 12:00PM other 3:00PM. Keep in mind that showtimes are subject to change, so check the My Disney Experience app before your visit.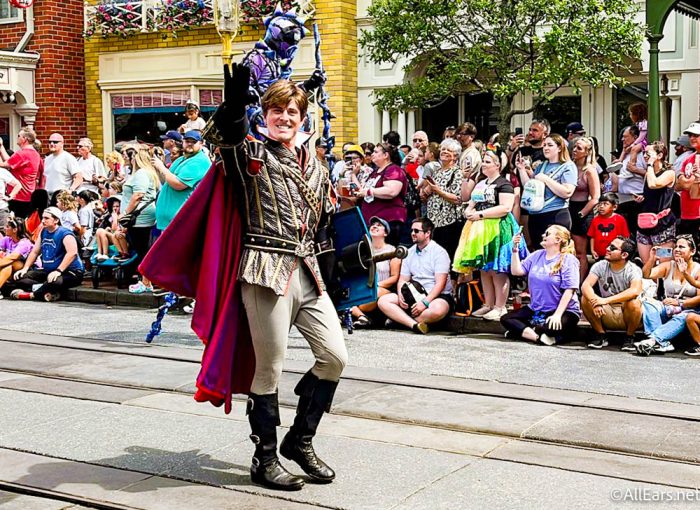 Luckily, guests will have two opportunities to check out the parade, but we recommend finding a spot to watch the show at least a half-hour ahead of the start time (and get there even earlier if you want a prime spot).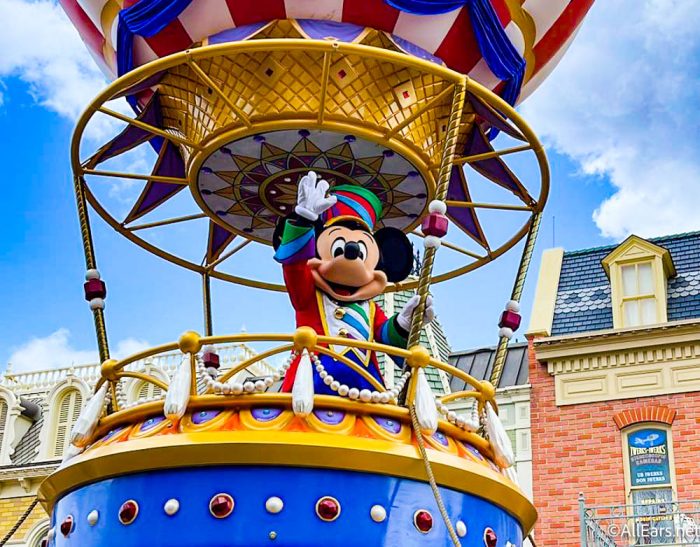 Standing directly in front of Cinderella Castle is a great place to view this parade, but you will have to get here early to get a good spot. You can also watch the parade near the Liberty Bell in Liberty Square or where it steps off in Frontierland. It might be less crowded there, but this is a popular parade and a lot of people are excited to see its return, so almost anywhere along the parade route will have lots of watchers waiting!
We're so happy to see Festival of Fantasy back in the Magic Kingdom! In the meantime, stay tuned for all the latest Disney news and park updates.
Has Genie+ ACTUALLY Made Standby Lines Longer at Disney World?
Join the AllEars.net Newsletter to stay on top of ALL the breaking Disney News! You'll also get access to AllEars tips, reviews, trivia, and MORE! Click here to Subscribe!

Are you planning a trip to Disney World this year? Let us know in the comments!