LATEST VIDEOS
LIVE – Just Mousing Around Tonight!
JUST MOUSING AROUND
LIVE – JUST MOUSING AROUND
Talking Mickey was a guest favorite meet and greet at the Magic Kingdom, and there were many speculations about why Mickey lost his voice. Here is a look back at who was talking Mickey and the memories we hold dearly from this particular meet and greet.
Who is Talking Mickey?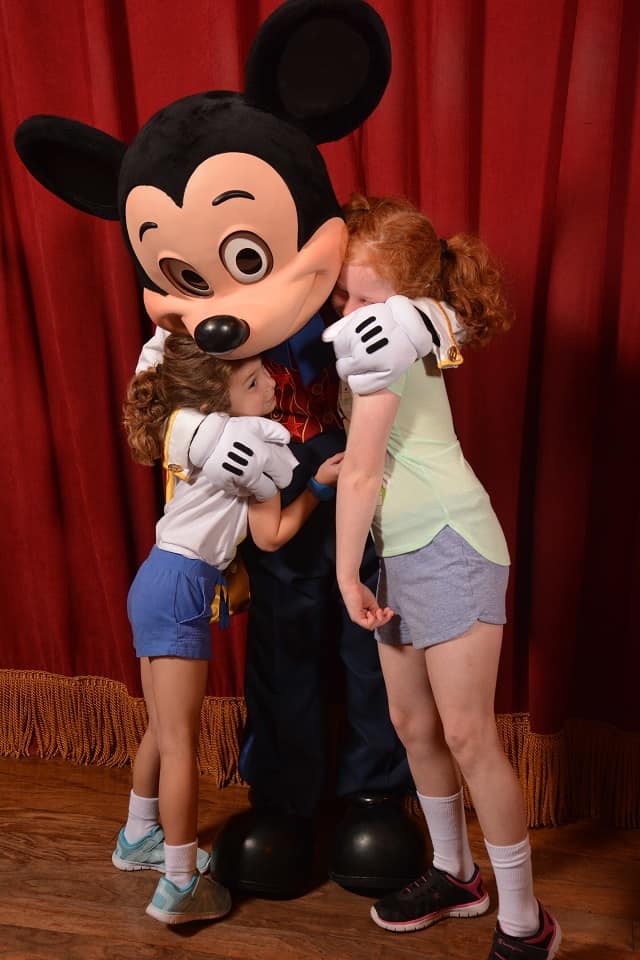 Talking Mickey Mouse was a meet and greet character that first debuted in 2010 at Mickey's House in Towntown at Disneyland. Mickey would meet at unannounced, selected times throughout the day. Interestingly enough, when he debuted, Guests were asked to sign a "no filming" waiver! A year later in 2011, he began to appear at the Town Square Theater in the Magic Kingdom.
Disney is no stranger to imagineering different techniques where characters are able to vocally interact with guests. Examples of this can be seen at Monster's Inc. Laugh Floor, where the entire show is based on guest interaction. It also occurs at Turtle Talk with Crushlocated at Disney California Adventure and at Epcot.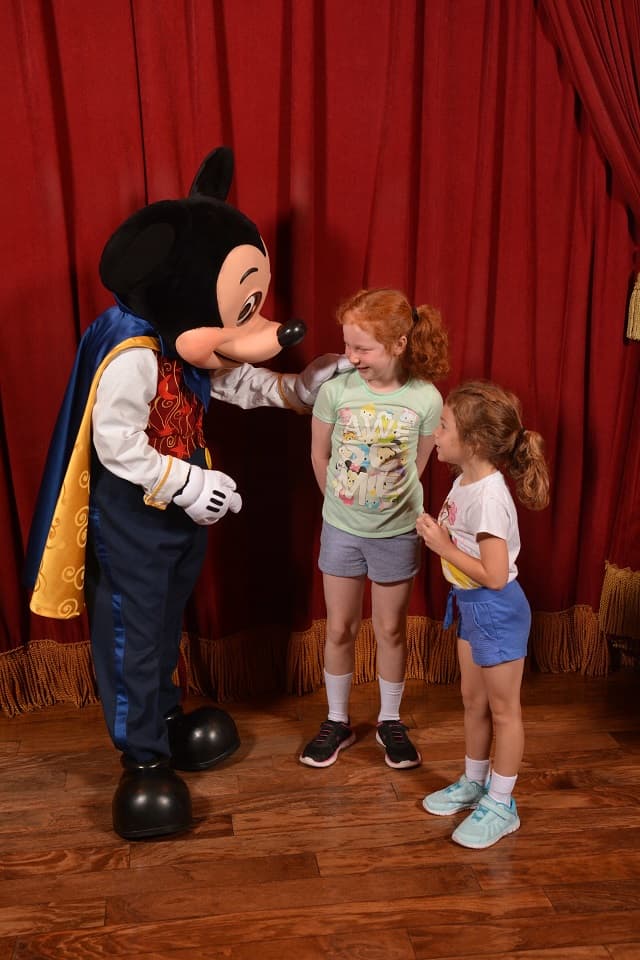 The development and state-of-the-art technology that was incorporated to allow Mickey to "talk" through a pre-recorded track transpired as a seemingly natural meet and greet. The interaction did not feel as a pre-recorded message, but rather flowed so magically and unflawed considering the intimate closeness that Mickey interacted with guests during the meet and greet.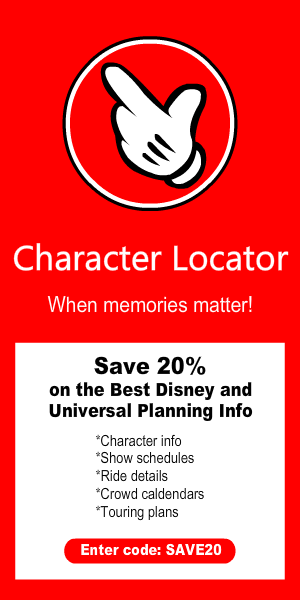 Although Disney has never revealed the magic of how Mickey talks, I can only imagine the articulate and well coordinated teamwork behind this meet and greet. From the Cast Members that are present to the Mickey costume itself – which most certainly was very heavy as the head supports the mechanics of moving the mouth- everything was so well thought out. Even the nose and eyes provided the optical illusion of him being able to speak.
Mickey Loses His Voice
On May 13, 2018, talking Mickey spoke his last words. The story that he once shared with guests was that they were backstage to meet him before he went on stage to perform a new magic show had come to an end. There would be no more humming of songs, roaring like lions, or guests being told that it was "his lucky day" as they were visiting with him.
Although Disney never made a formal announcement why Mickey was lost his voice at the meet and greet, many guests had different speculations. One of them was the heaviness of the costume and how the weight must have been difficult for the Cast Member's head, shoulders and back.
It was also during this time that Disney began testing out new ways of having the traditional meet and greet at Disney parks. The idea was not just a character taking a photo with a guest, but having a small intimate interaction with them as well.
Another speculation was that removing talking Mickey Mouse was cost saving. One would imagine that the cost to create and to maintain the costume would be very expensive. Lastly, many guests have noted that spending time in a lengthy line to meet Mickey was not worth it as waiting times often reached up to 90 minutes, especially during high peak seasons.
This was also at the time that guests were able to book a FastPass for Talking Mickey prior to arriving at the parks and while at the Magic Kingdom. Remember those days?! Therefore, if a guest could not secure the FastPass, then standing in line was the only alternative.
KTP Writers Memories and Experiences with Talking Mickey
maggie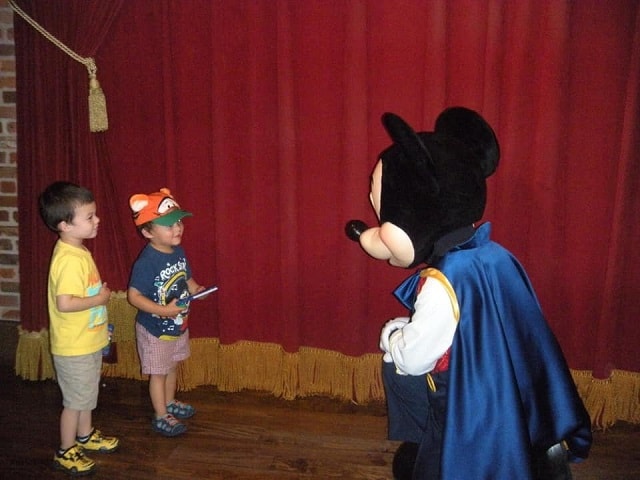 I'll never forget Talking Mickey and just how special this meet was. Some of my favorite memories are with him including the very first time my boys met Mickey. They were 2 & 3 years old. I will never forget how Mickey went down on his knee to be closer to them.
I remember him humming while he signed their autograph books and how he told them jokes and showed them magic tricks was priceless! We certainly miss him talking but I feel like every meet with him is special, talking or not.
Marisol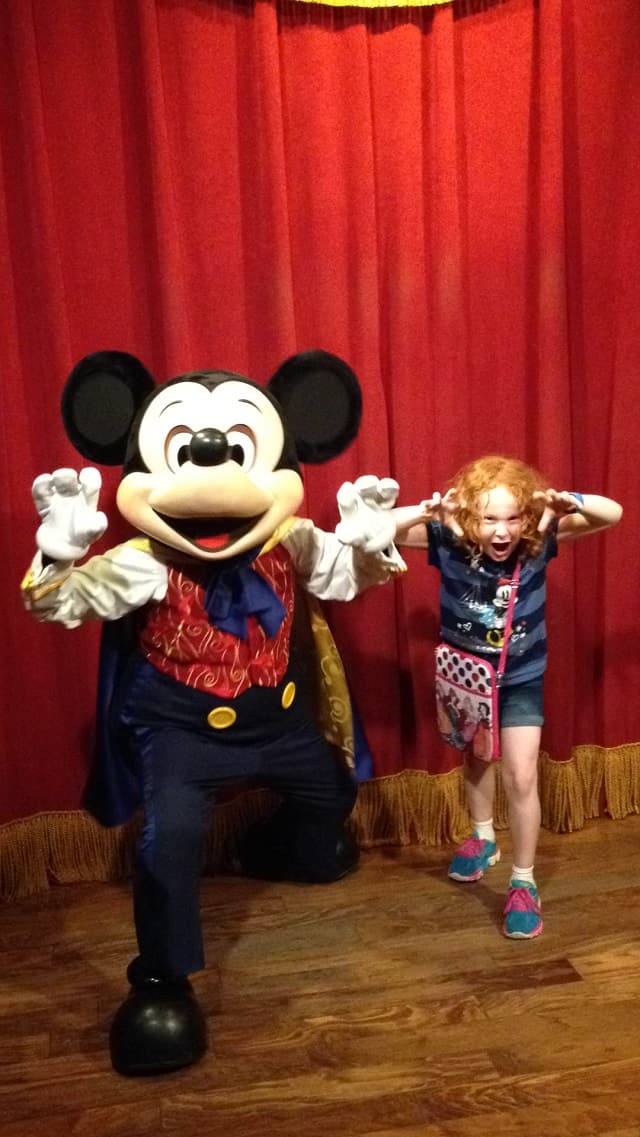 The first time that I met Talking Mickey was in summer of 2015. After watching the Main Street Electrical Parade, my oldest daughter and I walked into Town Square Theater to meet Mickey.
I was immediately blown away with his ability to have a conversation with us. It seemed so flawless and my daughter loved every single second of their time together. Mickey asked my daughter to roar like a lion. His reaction was quite priceless, as seen in the video below!
A couple of years later, when my parents first visited Disney World, we once again stopped to visit Mickey. We never felt rushed as he took his time interacting with my entire family. As the meet and greet was coming to an end, Mickey walked over and gave me a hug. This is when the waterworks began to flow. I kept thanking him for the wonderful memories, and he just kept hugging me. These are memories that I will forever cherish.
Ashley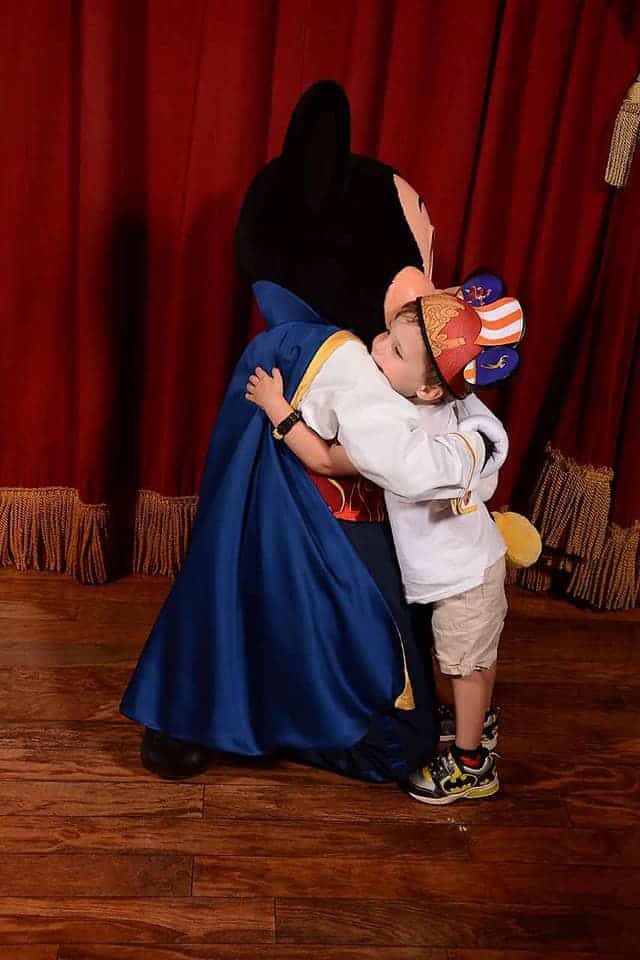 We loved Talking Mickey! Grayson referred to him as the "real Mickey."
Kate
We never got to meet talking Mickey, but it looks and sounds like all who did had an unforgettably magical experience. My little family will probably never get to hear Mickey's voice, but the energy he brings to character meets speaks volumes. We are so excited for the return of Mickey hugs.
Could we see a talking interactive meet and greet again with Mickey Mouse or another Disney character in the near future for guests to enjoy once more? Only time will tell. I'd like to think that he is taking voice lessons in eager anticipation of making his triumphant vocal return.
Do you wish that they would bring back Talking Mickey to the Disney theme parks? What were your interactions and memories of meeting him? Let us know in the comments or join our crew to continue the conversation on Facebook.

Are you planning a vacation? Reach out to our trusted travel agency sponsor Authorized Disney Vacation Planner Mouse Class Travel!