We've been busy exploring all the entertainment, merchandise, and a whole lot of eats and drinks at the 2022 EPCOT Flower and Garden Festival!
So far, we've been eating our way around the 18 food booths that are part of the festival this year and now, we've narrowed down the menus to our favorite eats, treats, and drinks! So, whether you only have time to grab a few items or just you want to try some of the best, here are our top picks!
Best Eats
Taco vampiro
No matter the festival, a dish from the Mexico booth always seems to make its way into our top eats, and the 2022 Flower and Garden Festival is no different! this year, Jardin de Fiestas has brought back our 2021 best eat — the Taco vampiro.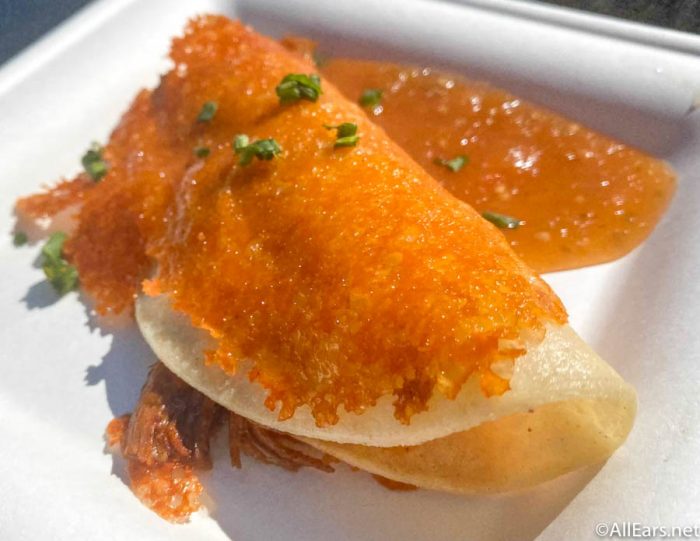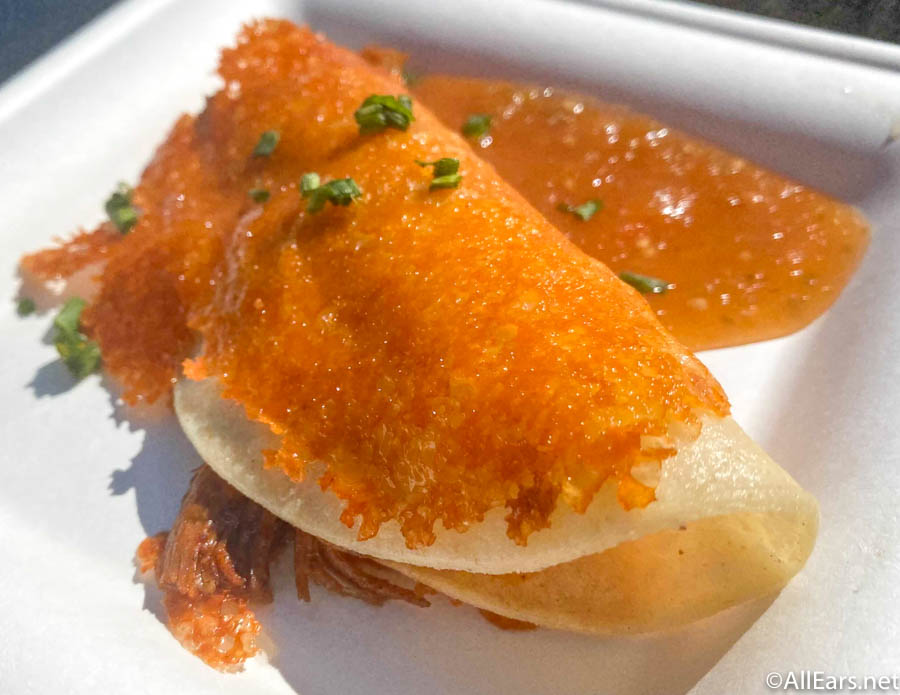 It is barbacoa beef in a corn tortilla with crispy grilled Monterey jack cheese, salsa ranchera, and esquites and costs $7.25. The beef is the real highlight of the dish here, but overall it's filled with flavor!
Frushi
Frushi is BACK at the Hanami booth in the Japan Pavilion and it has wow-ed us once again! This Flower and Garden Festival classic is made with strawberry, pineapple, and cantaloupe wrapped in sweet rice and pink soy wrap one with whipped cream, berry sauce, and toasted coconut.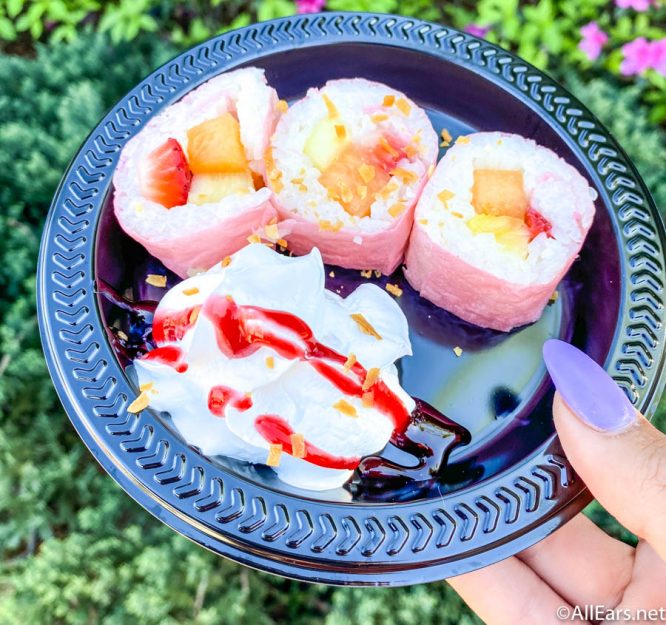 It costs $6 and is the perfect size to give you a much-needed fruity boost mid-afternoon.
Boneless Impossible Korean Short Rib
the Boneless Impossible Korean Short Rib from Trowel & Trellis is also a winner for us once again this year! The dish is $6.75 and comes with cilantro-lime rice, Danmuji slaw, and Kimchee mayonnaise.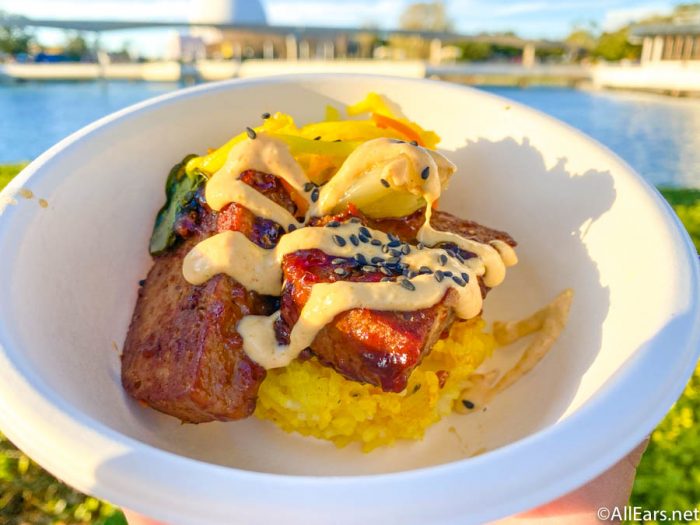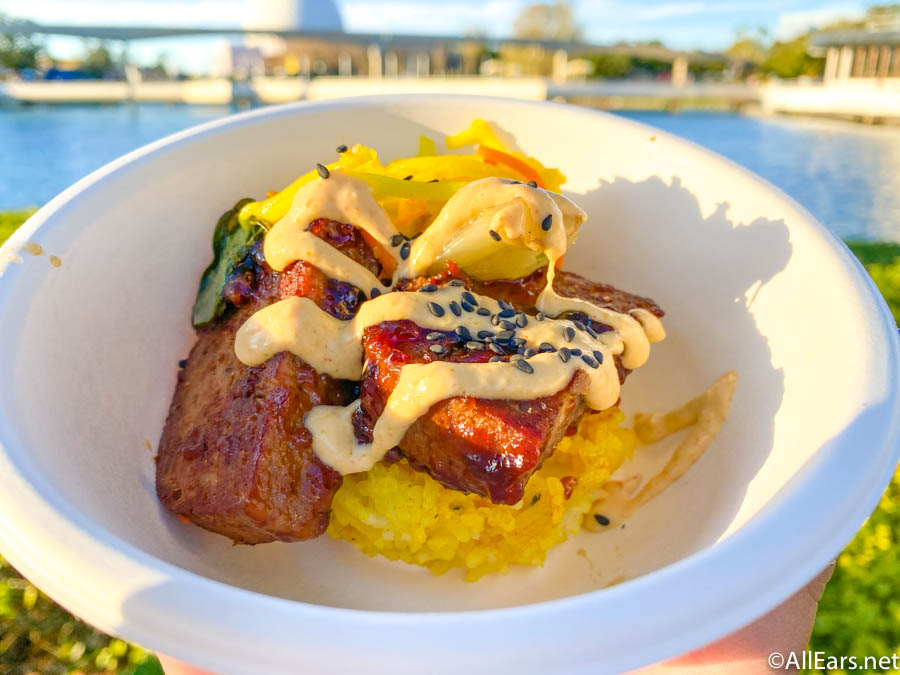 This booth is hosted by IMPOSSIBLE, so everything on the menu is plant-based. But, you won't even be able to tell!
Corned Beef Brisket Hash
the Sunshine Griddle food booth is a consistent winner for us. This year, we loved the Corned Beef Brisket Hashwhich is made with house-made potato barrels, onions, peppers, cheese curds, and a soft-poached egg with Tabasco hollandaise.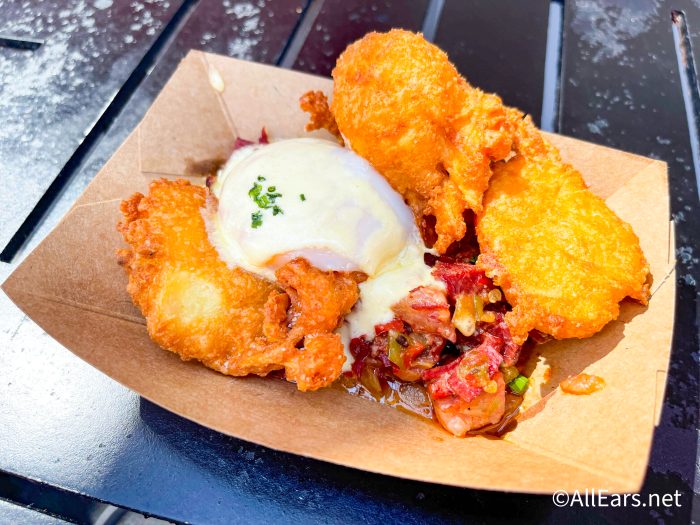 Honestly, we loved pretty much everything at Sunshine Griddle, but the Corned Beef Brisket Hash really stood out! You can try it for $6.25.
arepas
We loved all the arepas at La Isla Fresca — we can't pick just one! Whether you try the arepas topped with melted queso frescothe Arepa topped with shrimp, crushed avocado ají, and tomato sauceor the Arepa topped with chorizothey were all super savory and amazing.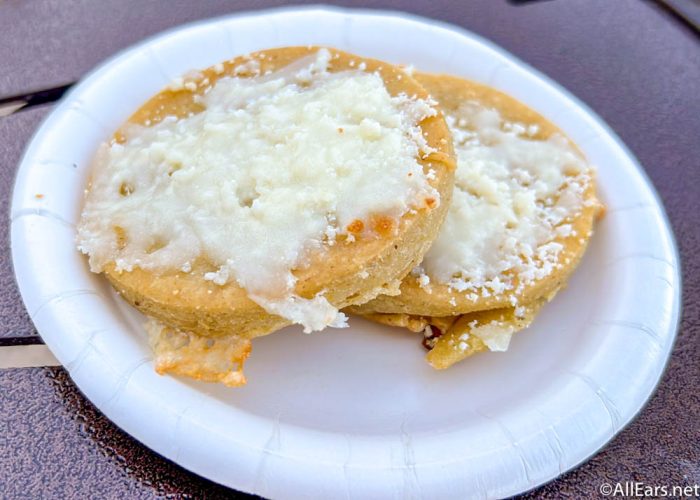 The arepas topped with melted queso fresco are $5the arepa topped with shrimp is $6.75and the arepa topped with chorizo ​​is $6.25.
Lavender Honey Mustard Marinated Chicken Flatbread
the Lavender Honey Mustard Marinated Chicken Flatbread is a returning Flower & Garden Festival snack. It's made with whipped honey-ricotta cheese, marinated vegetables, and goat cheese for $6.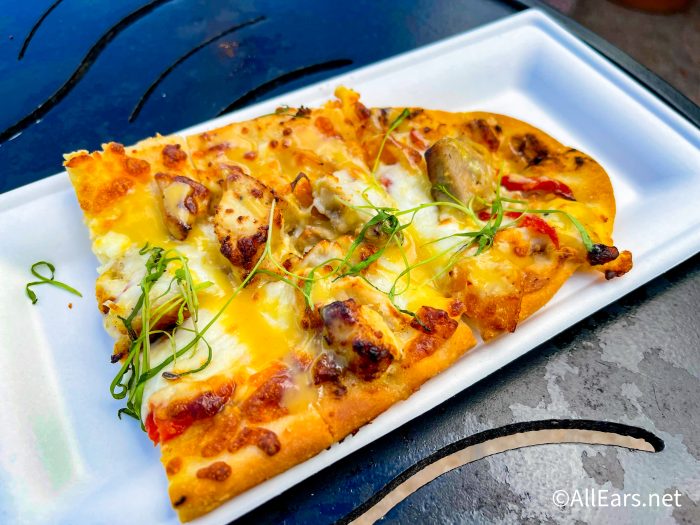 You can find this delicious flatbread at the Honey Bee-stro food booth. Trust us, this is a good one.
Spicy mala chicken skewer
New this year over in the China Pavilion is the Spicy mala chicken skewer for $6.75.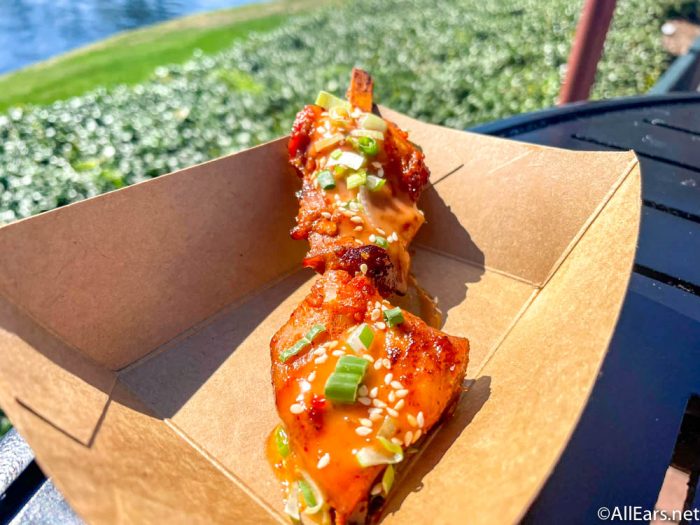 This little chicken skewer is topped with a spicy sauce, sesame seeds, and green onions. Overall, this snack has a medium spice level, so keep that in mind before you order it from the Lotus House food booth.
BLT Scone
the Cider House booth is serving a new BLT Scone that really surprised us (in a good way!!).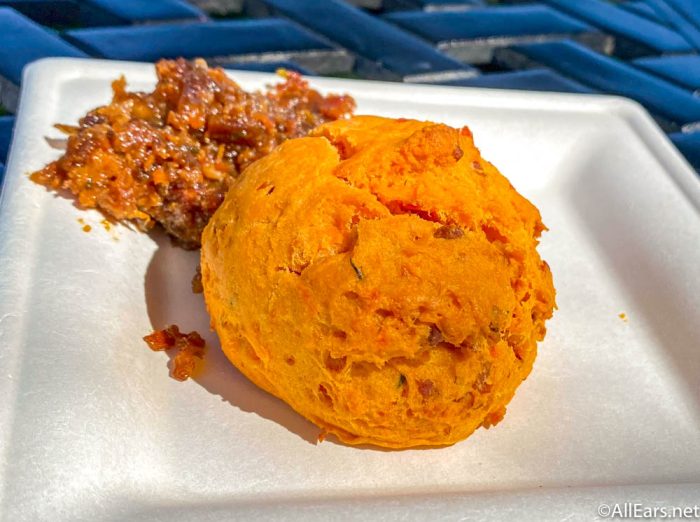 The BLT Scone is made with Nueske's applewood-smoked bacon, sundried tomato, and basil. Try it for $5!
Croissant au Fromage de Chevre, Herbes et Ail Rôtie
The France pavilion rarely disappoints during an EPCOT festival, and this year is no different! the new Croissant au Fromage de Chevre, Herbes et Ail Rôtie, has a long, fancy-sounding name, but all you need to know is that it's a goat cheese croissant with herbs and roasted garlic. Oh yeah, and it's amazing.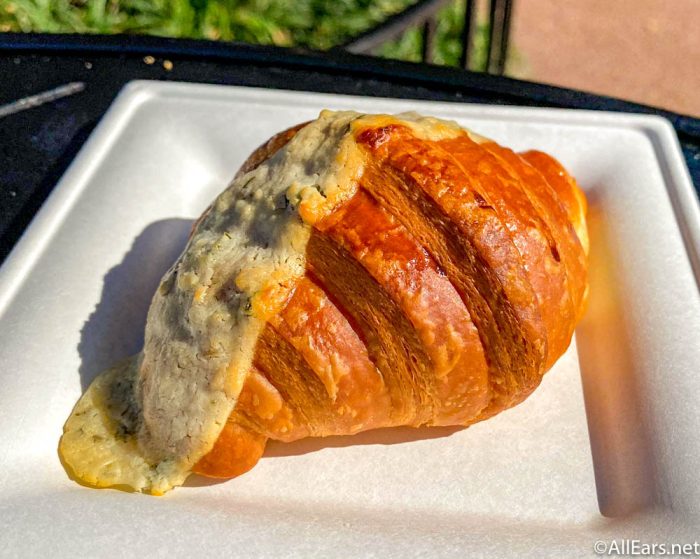 It may not look very pretty, but for $6.75this snack from the Fleur de Lys food booth is well worth it.
Tuna Tataki Bowl
the tuna Tataki Bowl is a returning dish made with spicy yuzu glaze, mango, avocado, and pappadam crisp for $6.25. You can find it at the Citrus Blossom booth.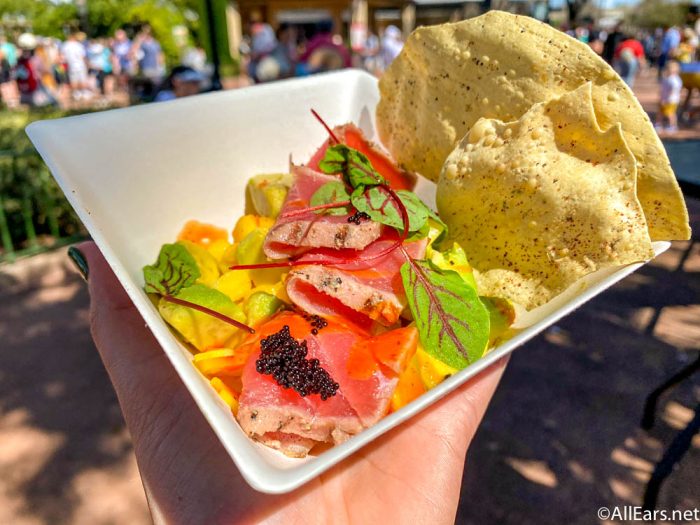 Our little tip for this snack is to try and get a bite with all the ingredients at once — it tastes best when you taste the sauce, tuna, avocado, and mango all together.
best drink
Frozen Desert Violet Lemonade
Another Flower and Garden Festival classic is back at Pineapple Boardwalk — the Frozen Desert Violet Lemonade. This non-alcoholic drink makes our favorites list year after year and that's because it keeps staying good!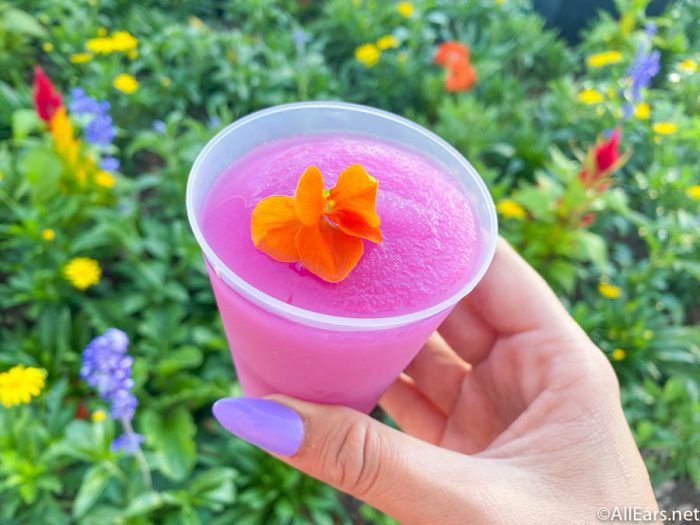 Plus, for only $4.50 the Insta-worthy frozen drink is worth every refreshing sip.
Hibiscus Lemonade Cocktail
Speaking of Instagram-worthy drinks, the Hibiscus Lemonade Cocktail featuring hibiscus gin has also returned to the festival this year and it is just as tasty as we remember!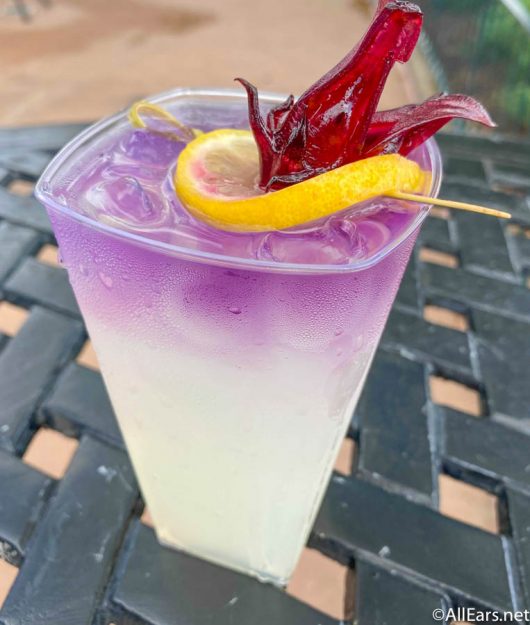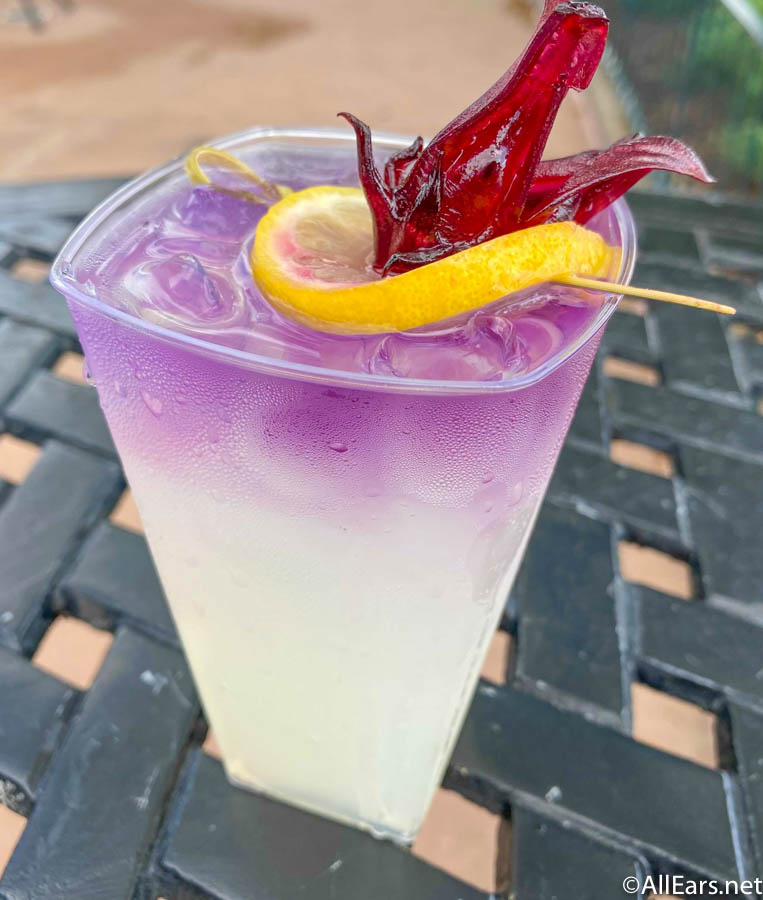 You can try this fruity and sweet drink at the EPCOT Farmer's Feast booth for $11.
Lavender martini
New this year is the Lavender martiniwhich is made with Vodka, lavender, and lemon for $11. It's a light and refreshing drink that we highly recommend!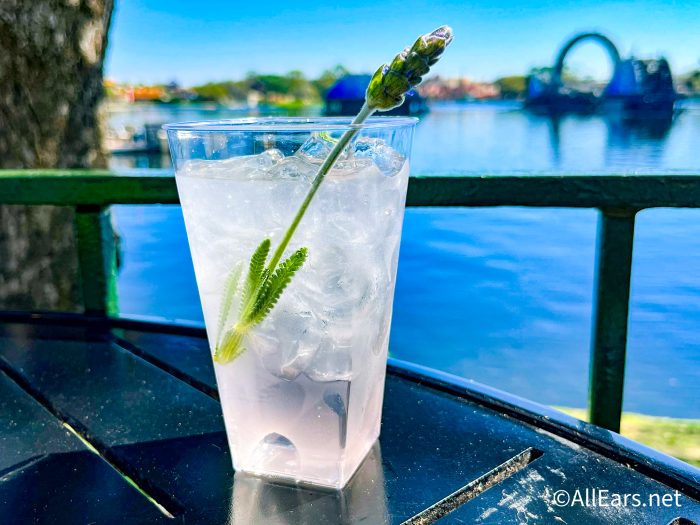 You can find it at the refresh port food spot in the EPCOT World Showcase.
Cider flight
The Cider House's returning beverages include the Pink Lemonade Hard Ciderthe Watermelon Hard Ciderand the Triple Jam Hard Cider, which you can sample in a flight. We've tried these ciders in the past, and we still love them this year!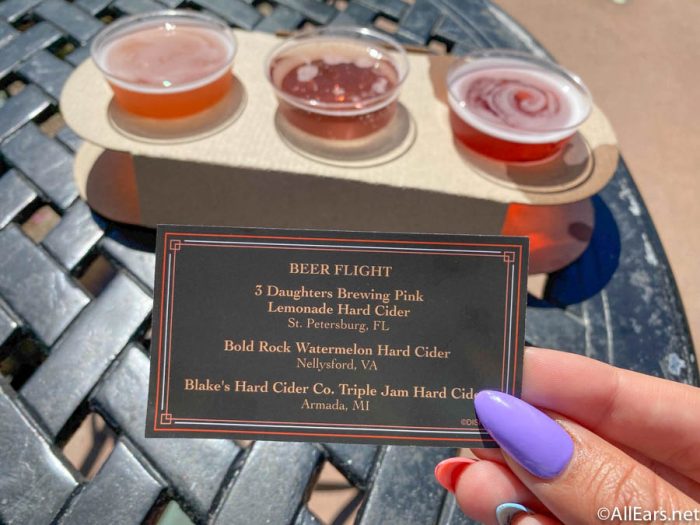 These ciders are available in a flight for $10a 6-ounce pour for $5or a 12-ounce pour for $9.
La Vie en Rose Frozen Slush
the La Vie en Rose Frozen Slush is a returning classic that you can try for $13.50. This drink practically has its own fan club; it's made with Vodka, Gray Goose L'Orange Vodka, St. Germain Liqueur, and White and Red Cranberry Juice!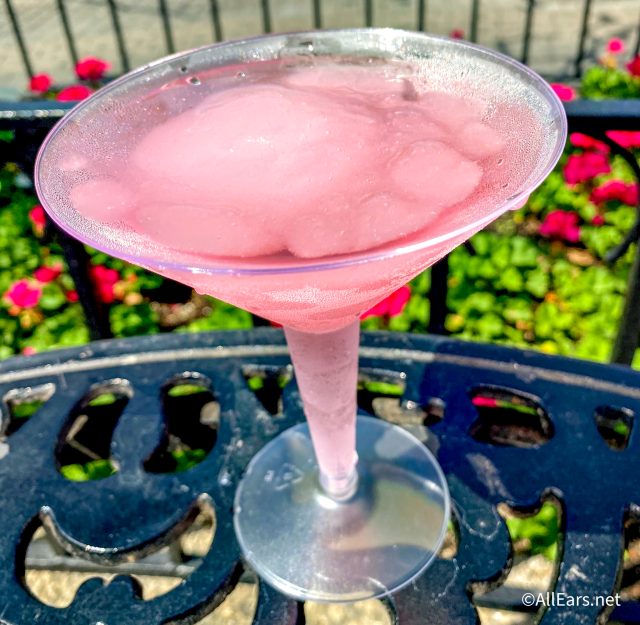 If you've tried the other French slushies in EPCOT, you'll probably enjoy this one, too! You can find it at the Fleur De Lys Booth in the France pavilion.
best beer
Orange Peel Ale
We tried the orange Peel Ale in our sampling from The Citrus Blossom food booth. The Orange Peel Ale really stood out to us; it was nice and light, with a little bit of a bitter kick at the end.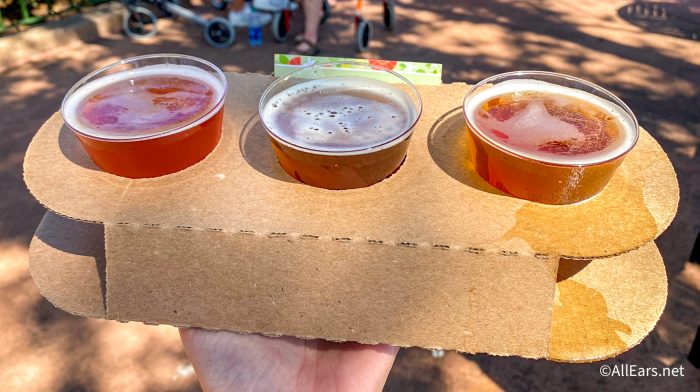 You can try the Orange Peel Ale for $5 for 6 oz. other $9 for 12 oz, or grab a flight and sample three at once!
best dessert
Coconut Tres Leches
Of course, you'll need to like coconut for this one, but the Coconut Tres Leches from La Isla Fresca is a new favourite!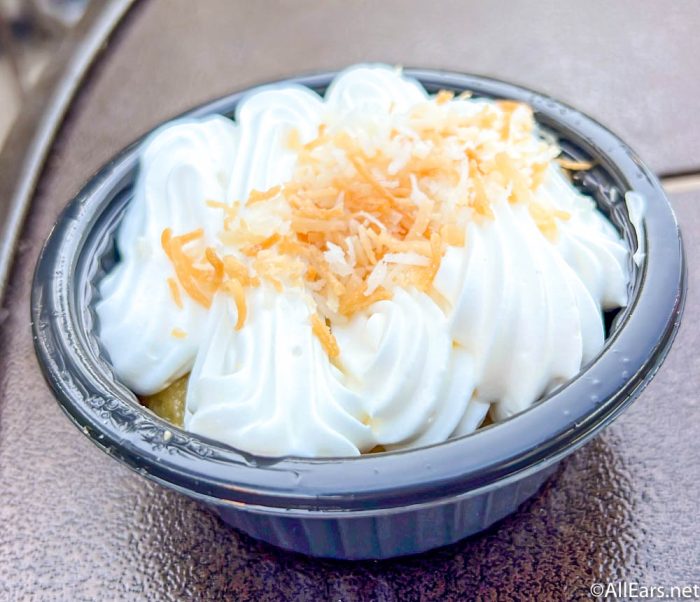 for $4.50, you can try a vanilla cake soaked in oat milk, almond milk, and coconut milk with toasted coconut — it's amazing! This item is also part of the Garden Grace this year.
Best of Garden Graze
The Garden Graze activity is unique to the Flower and Garden Festival and involves eating 5 different foods at 5 different booths and getting a stamp for each one to fill up your festival passport! But which Garden Graze dish is the BEST?
Avocado toast
We're back at the Sunshine Griddle for the iconic Avocado toast! Just look at it for a second. Those flowers are edible!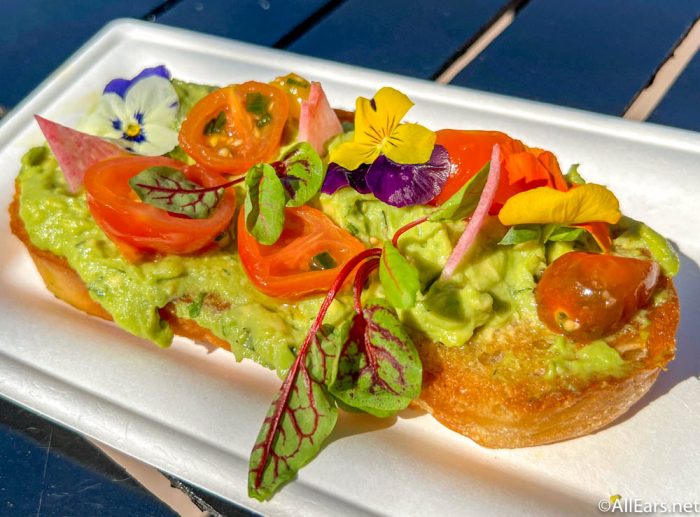 The Avocado Toast is topped with marinated toybox tomatoes and fresh goat cheese on toasted ciabatta. This year, it's $5.75and we cannot recommend it enough.
You can grab all these items plus MORE at the EPCOT Flower and Garden Festival now through July 4th. And, we'll continue to give you a look at everything else happening at the festival during its run through the summer at Disney World so stay tuned!
Learn more about what there is to do at the EPCOT Flower & Garden Festival this year here!
Join the AllEars.net Newsletter to get the free list of the Best EPCOT Snacks! Click here to get started!
What are your favorite eats and drinks at the Flower & Garden Festival? Let us know in the comments!