Disney's brand new Galactic Starcruiser took flight officially last week, welcoming guests on the two-night adventure for the first time!
I was a guest onboard the inaugural flight (as well as a media preview the week before), and I made it my mission to do, see, and most importantly for this article, EAT everything on the Halcyon.
Disney's culinary team literally created over 100 new eats, treats, and drinks for the Galactic Starcruiser — from upscale dining to lounge bites, kid-friendly space foods to new twists on classics, there is a LOT to try onboard.
And while we were very pleasantly surprised by the majority of the food, there are some real stars in the dining room. (See what I did there?)
Here are the top X eats, drinks, and treats on the Star Wars: Galactic Starcruiser!
In no particular order…
1. Spiral Dumplings – Dinner Night 1, Crown of Corellia Dining Room
These little babies are not only fun to look at, but also to eat! They are served as Course 1 during an Evening with Gaya.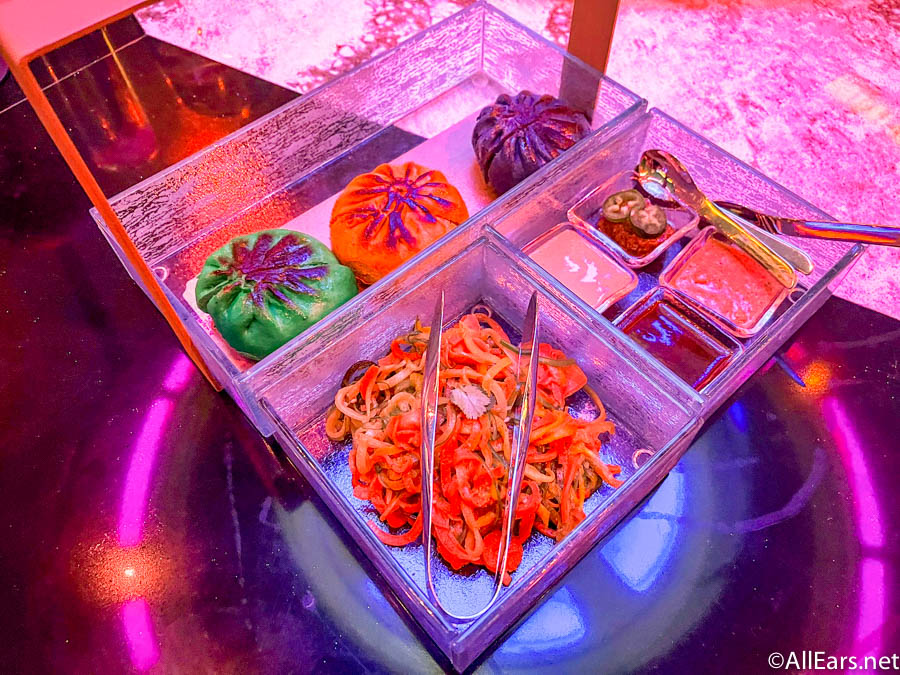 The "Bento Experience" includes three dumplings — Bantha (teriyaki beef), Tip Yip (sweet and sour chicken), and Flora (potato and veggies), plus four dipping sauces and chilled vegetable noodles.
Sauces include:
Kaadu Cream (similar to Yum Yum sauce)
Melanese Curry (a yoghurt curry sauce)
Batu Spice (a spicy, pepper-based sauce)
Barbecue style (a Gochujang BBQ sauce)
These are a create your own adventure tale of flavor! Mix and match the (pre-cut) dumplings with the sauces, add in a little veggie crunch — go nuts! My personal favorite was the Beef Dumpling with the Kaadu Cream AND the Batuu Spice.
Between the unique presentation, the plethora of sauces, and well-cooked buns, this is a must-eat on the Halcyon!
2. Smoked Cheese in Cloche – Sublight Lounge
Head on over to the ship's lounge for our next bite, the Smoked Cheese en Cloche. This domed cheeseboard once again gets high marks for presentation and flavor!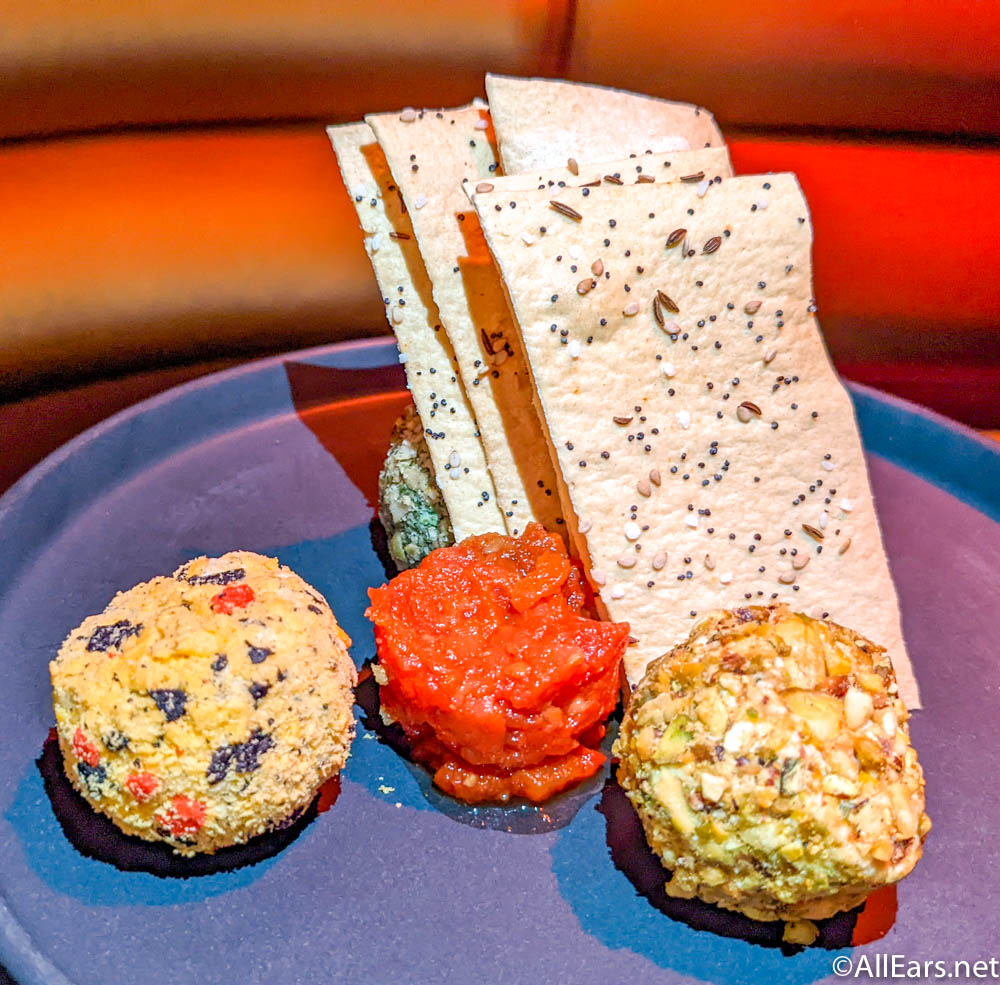 It's served in a smoked glass dome that is removed upon arriving, and it fills the whole lounge with a smokey flavor. The cheeses are a White Cheddar with Bacon and Jalepeño crusted in dried cheddar, a Black Goat Cheese Crusted in Pumpkin Seeds, and a Smoked Gouda with Crushed Pistachios.
This was a perfect snack in between meals or after dinner, with each cheese ball being a unique winner! Plus they go great with our next choice…
3. Mustafar Tuber Chips – Sublight Lounge
While you're ordering your cheese, go ahead and ask for these babies as well. These house-made kettle chips are topped with Sriracha and charcoal vinegar and served with Sriracha aioli.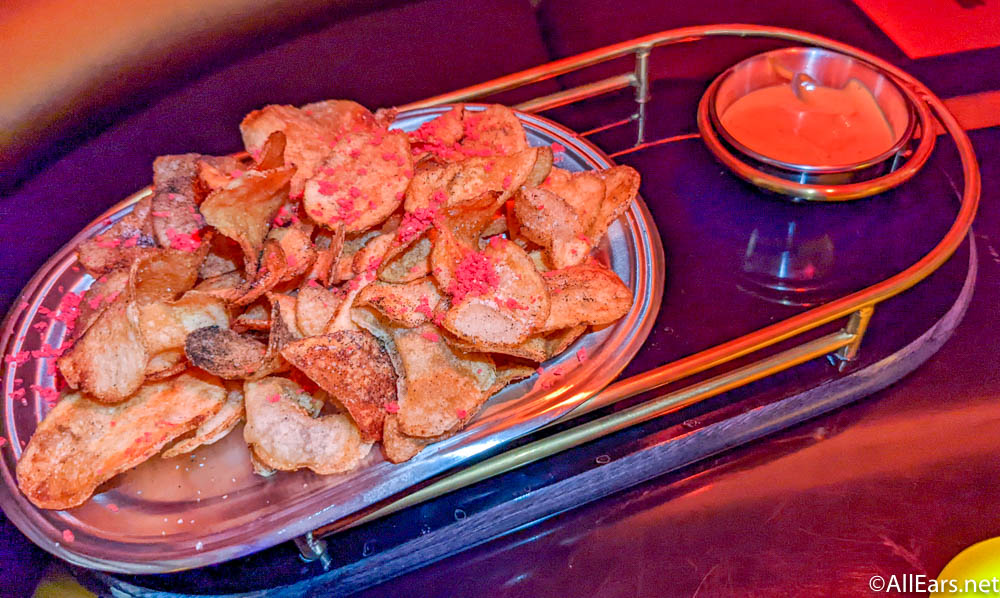 These are like the BEST salt & vinegar chips you'll ever have. Perfectly cooked kettle chips with a little bit of heat. They're great on their own, dipped in the aioli, or topped with some of the cheese.
Bonus points: they're plant-based!
4. Meteor Egg – Breakfast Day 3, Crown of Corellia Dining Room
SPACE SCOTCH EGG. Doesn't sound appealing? Hear me out.
I didn't even think I LIKED scotch eggs. But this egg came to me, like a little piece of space paradise.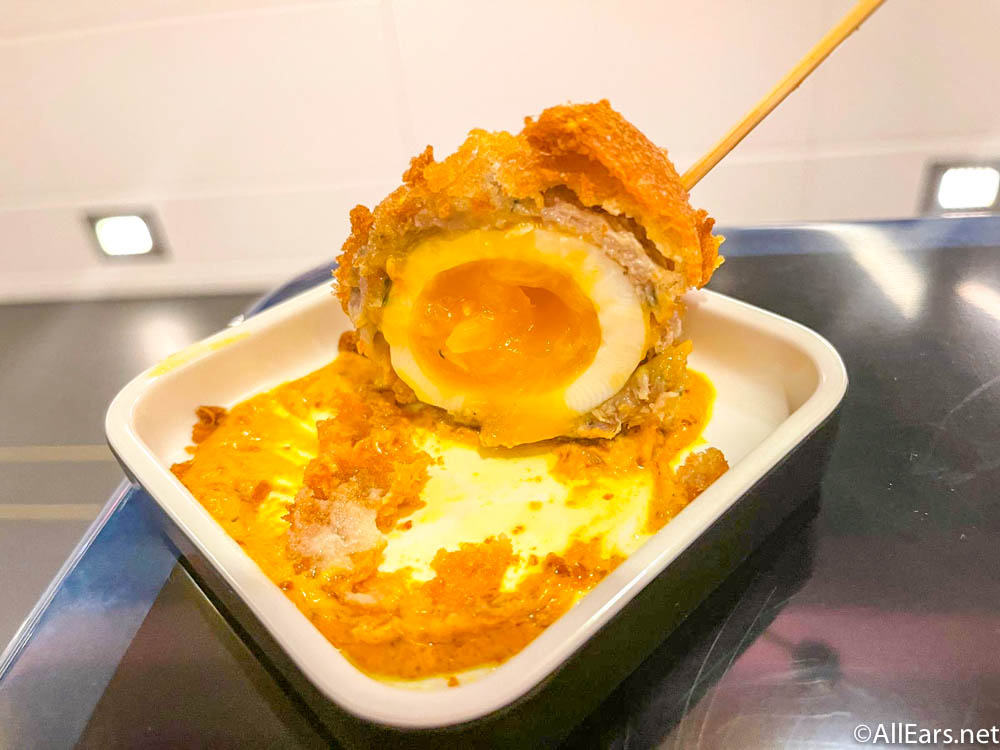 This is a perfectly soft-boiled egg, coated in sausage, and fried in slightly sweet cake batter, plus a turmeric aioli. It is the most magical, gooey, savory, bite. If you're an egg fan, DO NOT SKIP IT!
5. Pork and Cheese Takeaway — Lunch Day 1, Crown of Corellia Dining Room
On the surface, this is just a ham and cheese sandwich. But really, it's so much more.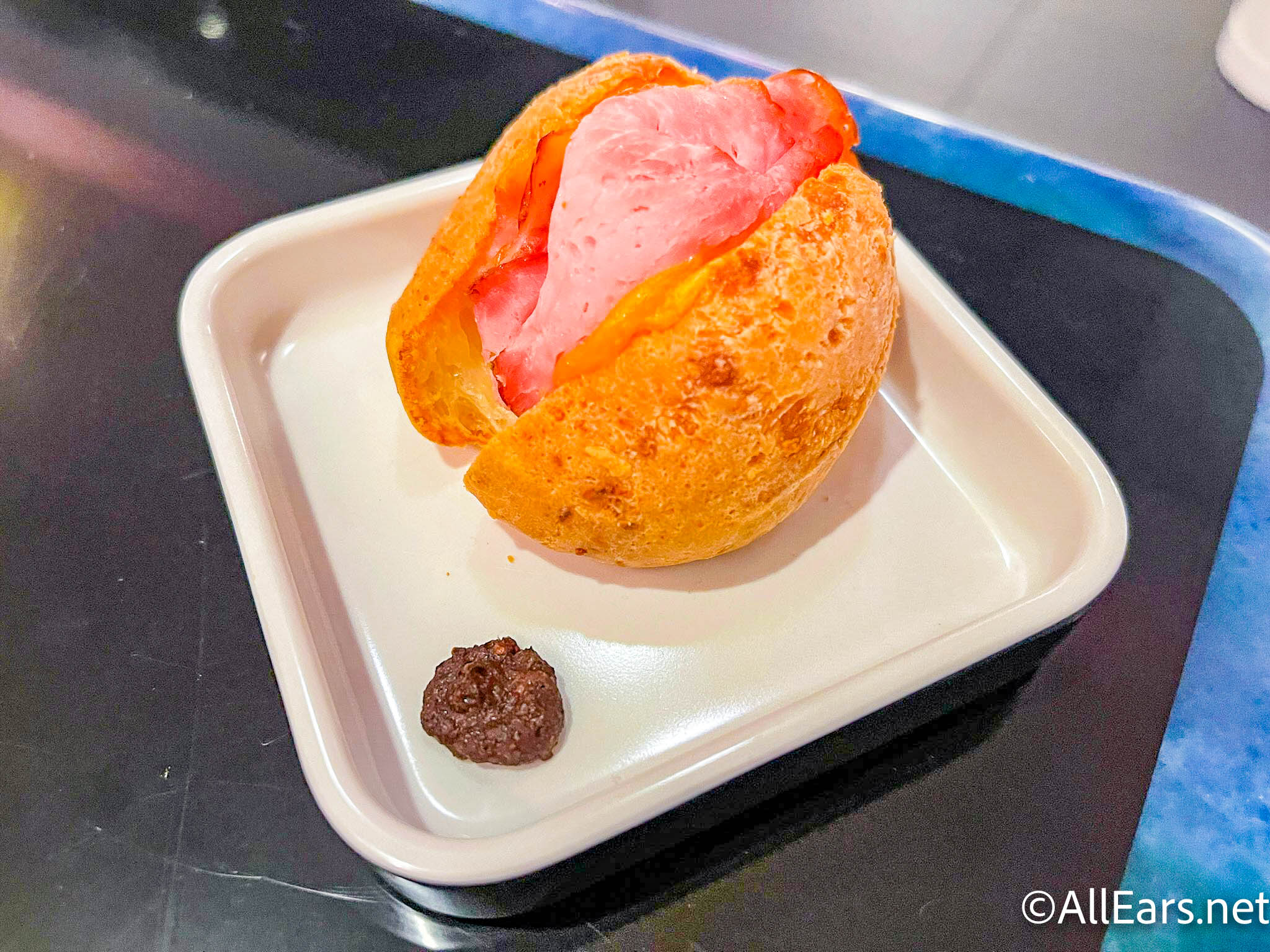 For starters, it's a good serving of tasty, salty ham and thick cheddar cheese. But it's served on a bun that's really Brazilian Cheese Bread! If you've ever had Brazilian Cheese Bread (pao de quejo) before, you know it's a delicious bread ball made of tapioca starch and cheese. It's one of my favorite dishes at the EPCOT Food and Wine Festival every year — but to put a sandwich on it?! Inspired.
6. Fiery Mustafarian — Sublight Lounge
It's cocktail time on the Halcyon! Heading into the voyage, I was worried the drinks would all be similar to Oga's Cantina — premade and generally too sweet for my tastes. But I was happily surprised that the cocktails are all made to order, and ranged drastically in flavor profiles!
My favorite of crafted beverages was the Fiery Mustfarian, which is basically a spicy margarita. It's made with tequila, mezcal, stone fruit, lime, chili, and black salt, and served with "lava extract" aka a spicy juice you add to your own desire.
It was a perfectly smokey and spicy margin, thanks to the lava extract and mezcal. It was nicely balanced with the tart fruit, and made for a very fun space beverage!
7. Silver Sea Martini – Sublight Lounge
Another excellent cocktail on board is the Silver Sea Martini. Made with gin, lemon, mint, ginger, and passionfruit, it's a gorgeous, glittery cocktail that looks and tastes luxurious.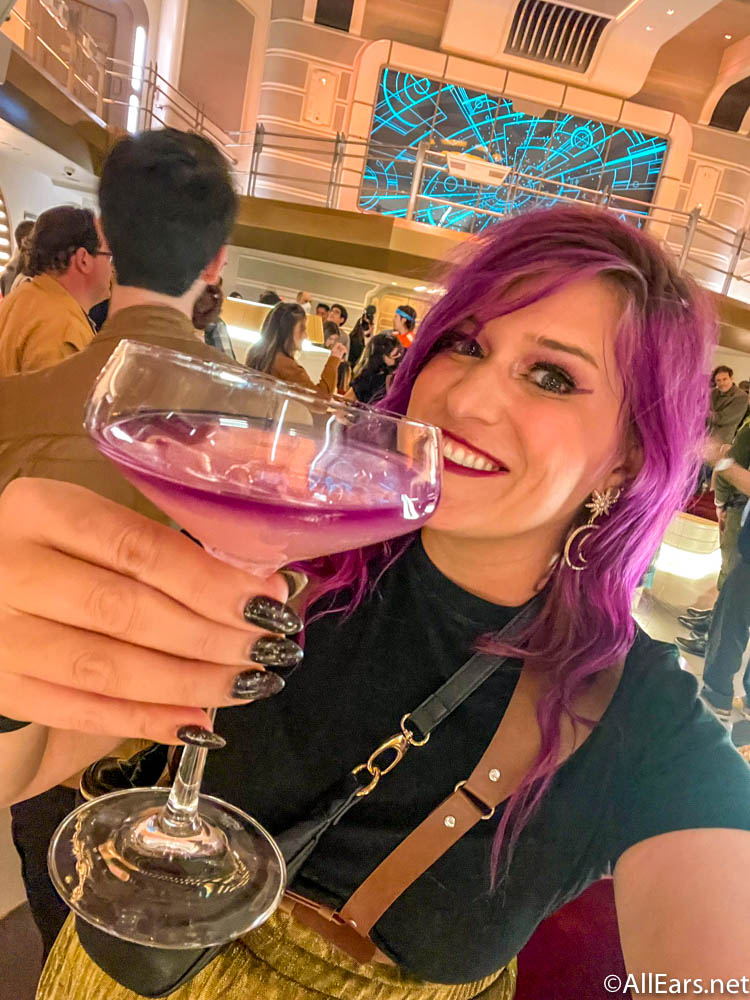 I always enjoy a martini during "fancy" occasions, and considering this was celebrating the 275th anniversary of the Halcyon, it fit the bill perfectly!
8. Fire-Melted Cheese Takeaway with Red Fruit Soup Dipper – Lunch Day 1, Crown of Corellia Dining Room
Disney hinted at this one before we boarded — a bubble waffle grilled cheese and tomato soup. As a self-certified grilled cheese master, I thought "HOW?!"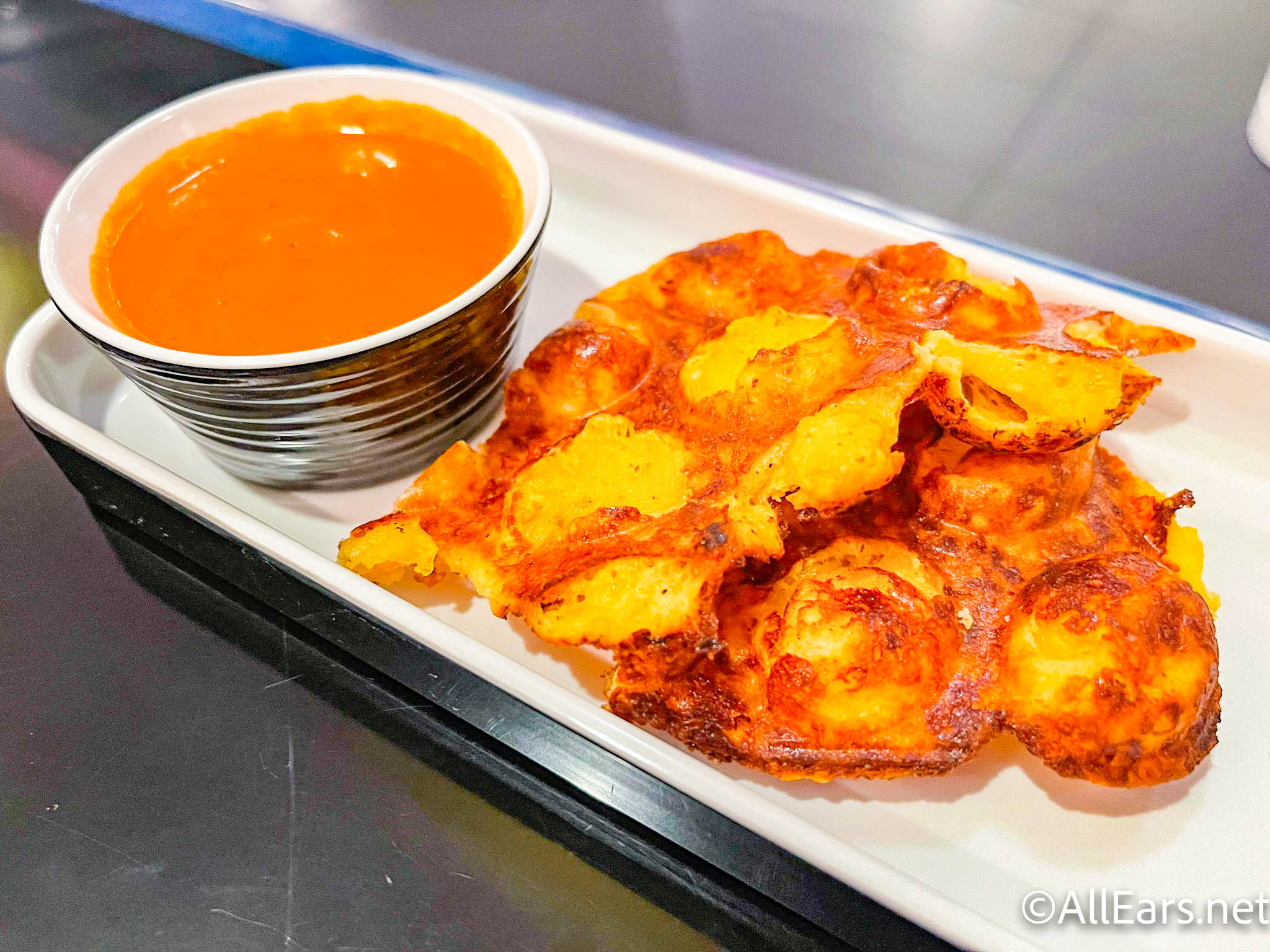 The bubble waffle is certainly waffle in appearance and texture, but it tastes just like a delicious buttery, melty grilled cheese! It's fascinating and a prime example of the food on the Galactic Starcruiser — familiar flavors, but presented in an unusual way.
9. Seared Kashyyyk Whitefish – Dinner Night 2, Crown of Corellia Dining Room
Dinner night two is "A Taste Around the Galaxy" with chefs presenting four courses, each sourced from a different Star Wars planet. The main course is from Kashyyyk, home of the Wookies!
Both bantha (beef) short ribs and whitefish are on the menu, but the whitefish was the star! It's served with a pour-over buttercream sauce and it was perfectly tender. Fish fans, this is certainly a highlight on board!
10. Crispy Tuber Waffle — Breakfast Day 2, Crown of Corellia Dining Room
This is all of your breakfast classics, presented in true Starcruiser fashion! This is a crispy hash brown waffle, topped with a cheesy egg, and finished with smokey bacon.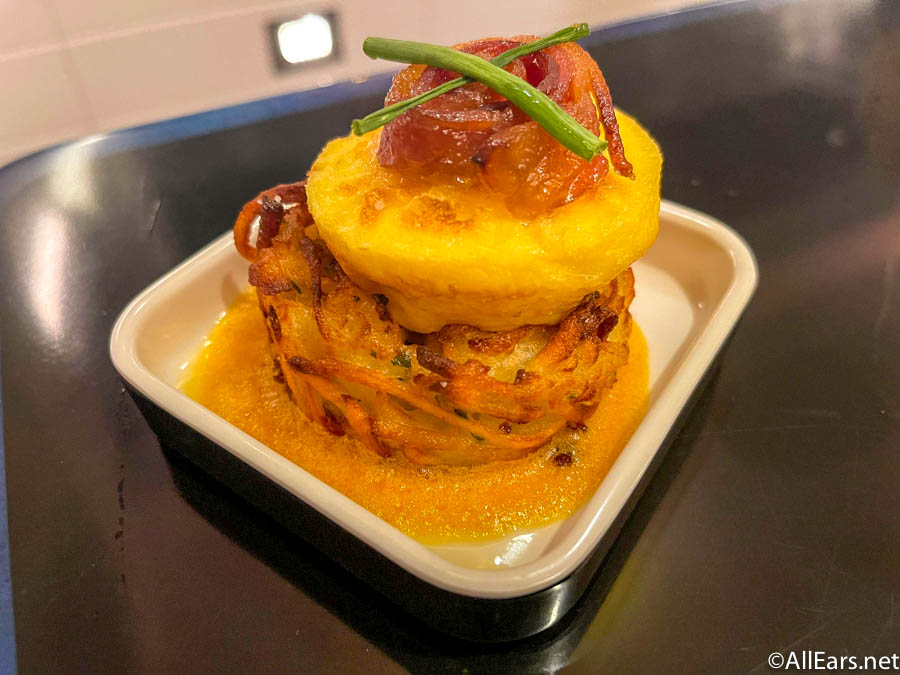 The cherry on top was an herby sauce, similar to a hollandaise, which took this basic breakfast dish to anything but boring.
11. Kid's Chedd-Cheesey Beef Spiral Dumpling — Dinner (Both Nights), Crown of Corellia Dining Rome
THERE ARE CHEESEBURGER PODS IN SPACE Y'ALL,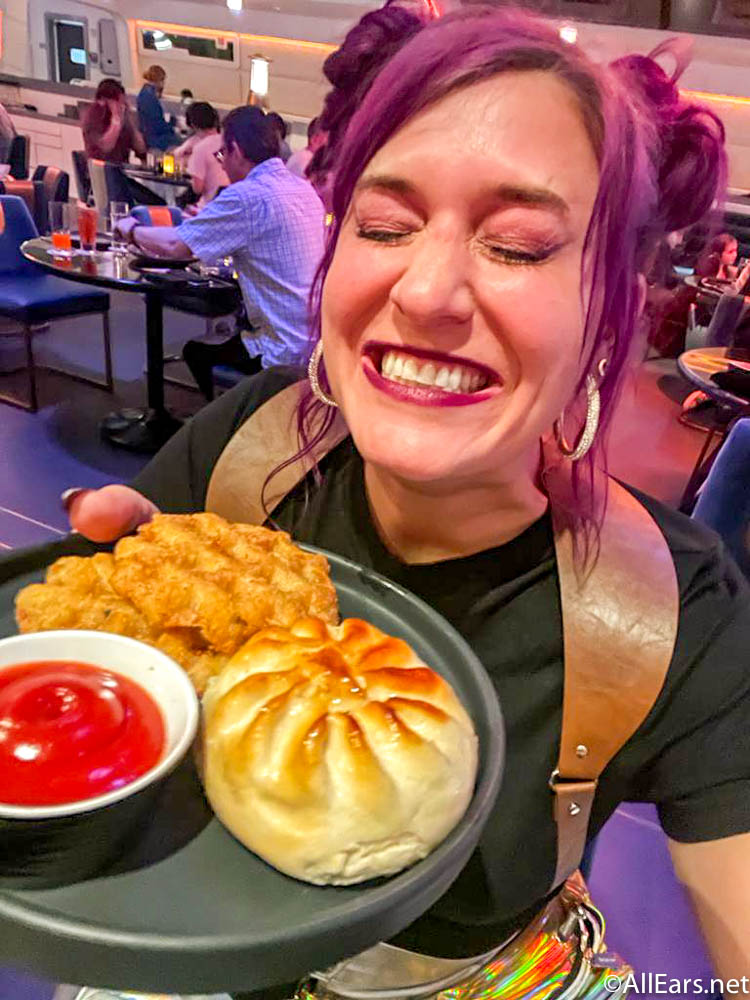 These little cuties are house-made INCREDIBLE cheeseburger pods. Adults, treat yourself. They're amazing.
And there you have the best things I ate on the Galactic Starcruiser! There are many more winners on board, so make sure to check this video out where I showcase all 100+ new eats, drinks, and treats!
While you're at it, make sure to check out some of our other Star Wars: Galactic Starcruiser posts to get a complete feel for what the experience onboard was like!
Join the AllEars.net Newsletter to get the free list of 20 things to know about Disney's Galactic Starcruiser! Click here to get started!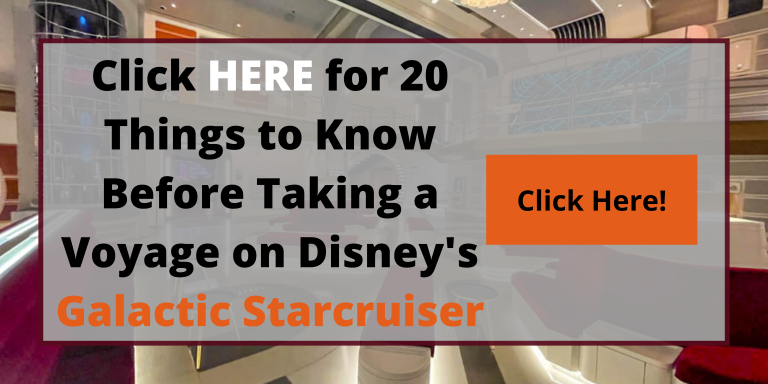 What looks the most appetizing to you!? Share in the comments!