Disclosure: We were invited by Walt Disney World to attend a media preview of Guardians of the Galaxy: Cosmic Rewind. This did not affect our reporting of the event — our opinions are our own.
We've been excited to ride Guardians of the Galaxy: Cosmic Rewind since it was announced back in 2017, and today's the day!
EPCOT's first rollercoaster officially opens on May 27th but we're bringing you a full first look right now! Join us as we step inside Guardians of the Galaxy: Cosmic Rewind for the first time!

First things first, SPOILER ALERT. This post will contain details about what you'll see on the ride, pictures of the queue and inside the ride building, and details about the story.
For the uninitiated, Guardians of the Galaxy: Cosmic Rewind is a family-friendly coaster featuring the characters from Marvel's Guardian of the Galaxy.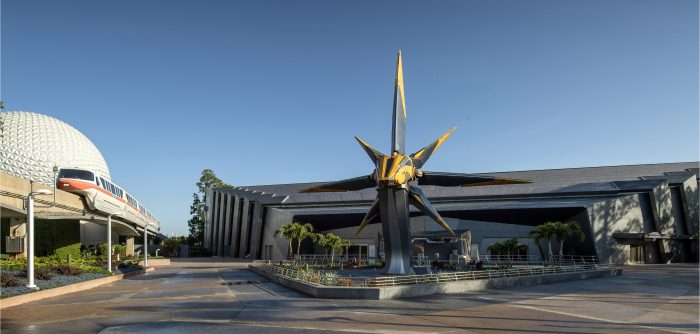 With a 42-inch height requirement, the ride will take guests on one of the longest enclosed rollercoasters in the world and the first Disney coaster ever to feature a reverse launch. Also, expect your ride vehicle to rotate as this ride is an "omnicoaster."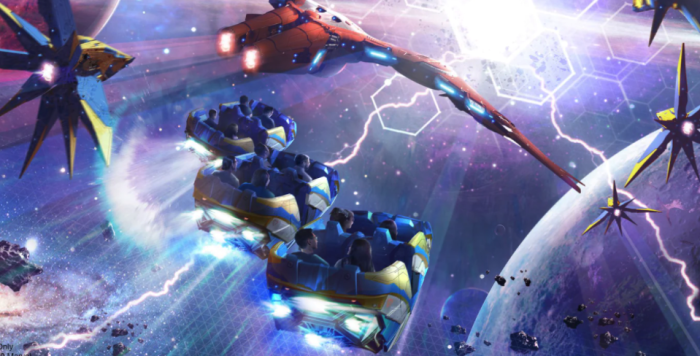 You can find the attraction in EPCOT's World Discovery across from Creations Shop and next to Mission: SPACE in what used to be EPCOT's Energy Pavilion.
When the ride opens, it will use a Virtual Queue and have a Lightning Lane available as an Individual Attraction Selection (or, a Fancy Ride as we like to call it).
outside
The ride is located in the new Wonders of Xandar Pavilion which we've been able to see from a distance for a while now. The ground features a design that feels very outer spacy and it, of course, supports the eye-catching Nova Corps Starblaster Ship at the front of the pavilion.
This ship is a recognizable one from the Guardian of the Galaxy films and this is the first full-scale model of one that has ever been built.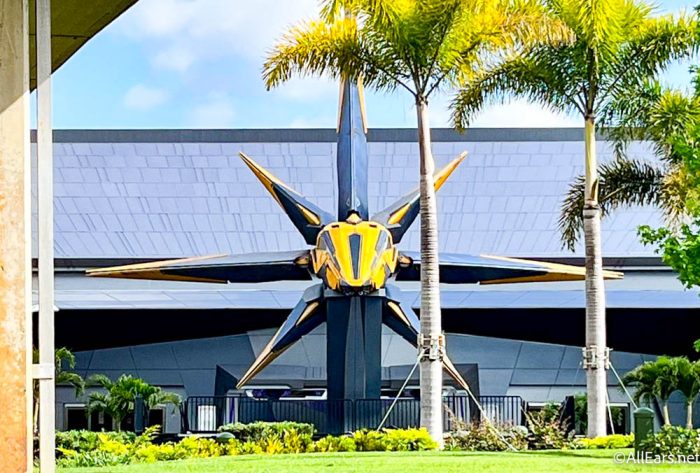 The story of this pavilion is that Peter Quill, AKA Star-Lord, visited EPCOT as a kid and loved it (Who wouldn't?). So he suggested that Xandar use it to connect with Terrans — that's us Earth folk. Voila, the Wonders of Xandar Pavilion came to be. Check out that sign!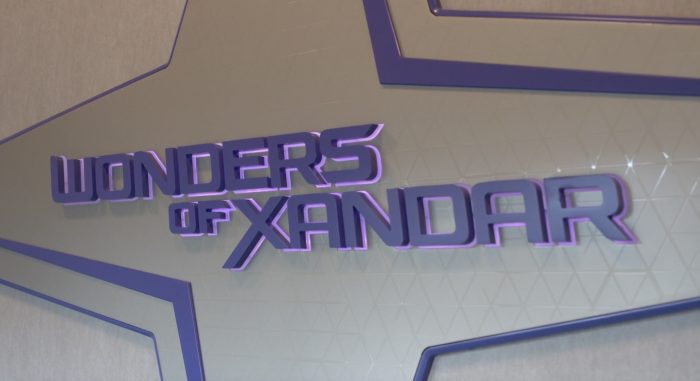 The entrance to Cosmic Rewind is a futuristic-looking awning featuring the wait times and the Lightning Lane return times with queue entrances for each line option. Let's head in!
queue
As you wait in line, you'll tour the Wonders of Xandar Pavilion and get to learn a bit more about Xandar across three distinct spaces.
The first is The Galaxarium. This reminded us of a super cool version of a planetarium where you can see details of the galactic features that connect Earth (sorry, Terra) and Xandar. This room features a show loop that is more than 30 minutes and teaches guests a little bit more about our Xandarian hosts.
You can hear a voice from overhead narrating the show as The Galaxarium changes above you. That's the Xandarian supercomputer, Worldmind. The room is large and the queue is windy through this area so that guests get a variety of views of The Galaxarium as they wait.
After The Galaxarium, we moved into the Xandar Gallery.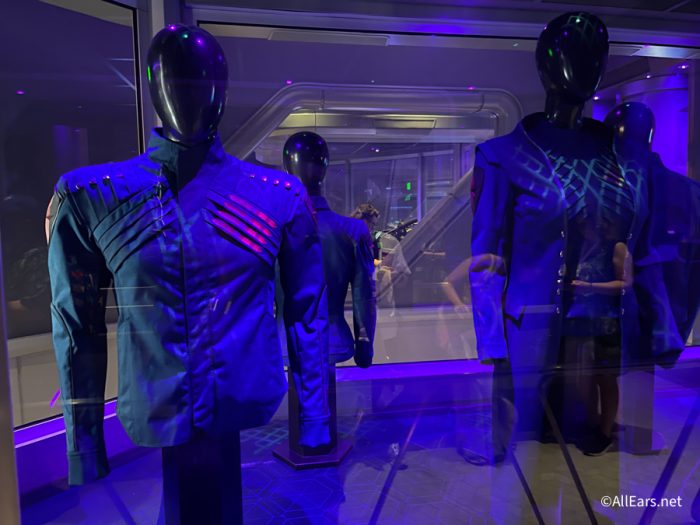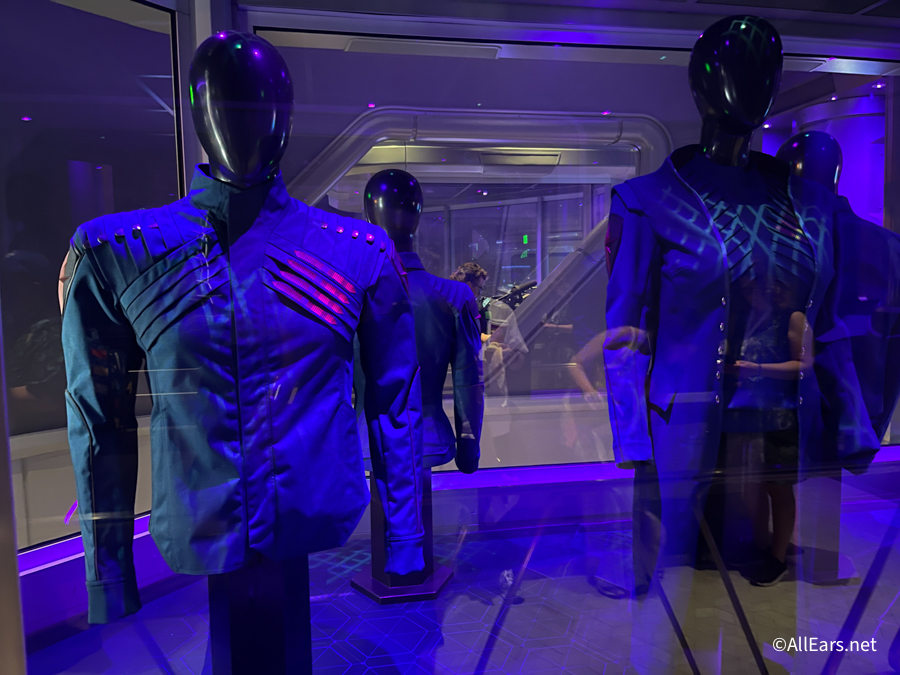 This space is like a museum gallery with, you guessed it, more information about Xandar and its people.
We spotted models of starships and a Xandarian city. And, there was even a Xandarian morning show playing! It was called, "Good Morning Xandar." Huh, that sounds familiar.
The final part of the queue is the Phase Chamber where guests teleport from EPCOT to the Nova Corps Starcharter Cruiser that's orbiting Earth. There are a lot of ways to get from EPCOT to space now between this and Space 220's space elevator.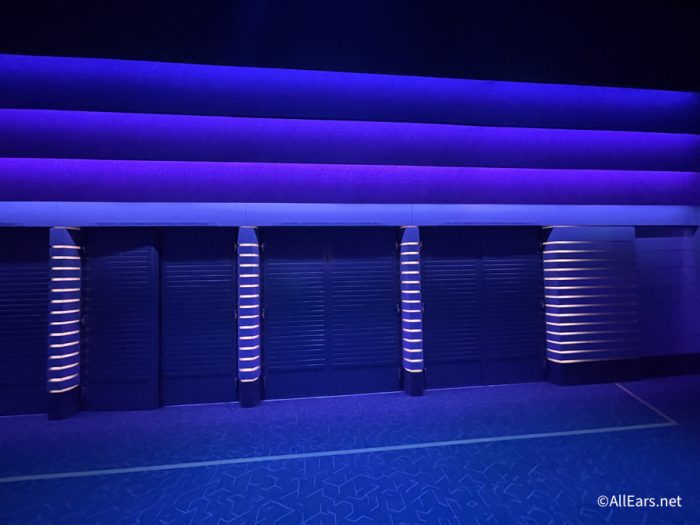 This is where we learned a bit about the Cosmic Generator, Xandarian tech that allows you to jump through portals for fast travel through space.
Pre show and Story
But, as you might have guessed, your routine trip to the Starcharter goes a bit haywire when Eson, a villain with a plan of his own, arrives with the Power Stone. Yes, to Infinity Stone!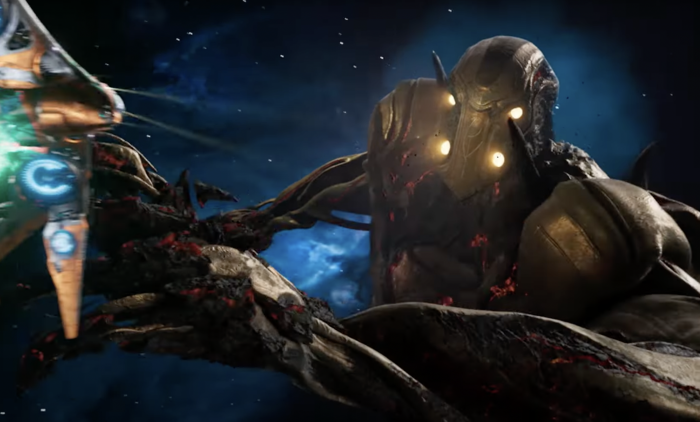 Eson has developed a bit of an interest in Earth and wants to use the Cosmic Generator to jump back in time and alter the course of humanity. That seems bad. Luckily, Glenn Close as Nova Prime Irani Rael arrives to command Centurion Tal Marik to contact the Guardians of the Galaxy for help!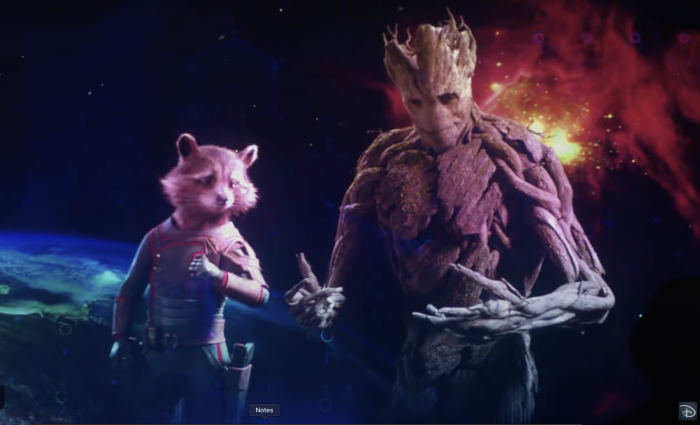 Of course, it's probably not a good idea for a bunch of Earth civilians to stick around while this all goes down, so the Xandarians evacuate you on the Starcharter's escape pods — Starjumper Shuttles.
Getting on the ride
Yep, those shuttles are your ride vehicle so it was time to head into the loading area. The area has an industrial feel with colors and designs that give it a Xandarian twist.
It's about to be ride time! 🥳#CosmicRewind #mediaevent pic.twitter.com/XawMHixBfM

— AllEars.Net (@AllEarsNet) May 5, 2022
The ride vehicles are a vibrant blue and gold with four seats and they cruise in to pick you up for a wild ride.
We're getting ✨real✨ close 👀#SaveTheGalaxyTime #mediaevent pic.twitter.com/mwjfKFhI5Z

— AllEars.Net (@AllEarsNet) May 5, 2022
Once we were safely loaded, we were off into space on our escape course!
Ride experience
Things start slow as you head into space but that reverse launch really kicks things up. It's certainly a surprising feeling but it's also a blast! This is a true rollercoaster (more intense than Space Mountain, but less intense than Rock 'n' Roller Coaster) and you whip around pretty quickly — not to mention the omnicoaster cars are turning you 360 degrees to follow the story and action.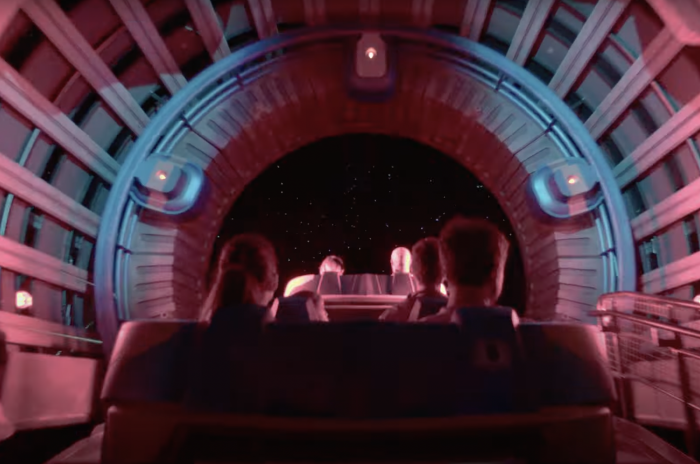 Of course, you do work with the Guardians of the Galaxy. This group decided that we're apparently totally qualified to help them track down Eson, so they reprogrammed our Starjumpers to help.
🚨HUGE SPOILER ALERT🚨

Let's go save the galaxy! #CosmicRewind #SaveTheGalaxyTime #mediaevent pic.twitter.com/8GpB51Gs1h

— AllEars.Net (@AllEarsNet) May 5, 2022
We're not sure we're qualified, but would you argue with Rocket Racoon? So, then we were off to stop Eson! And you even come face to face with Eson himself. Eek!
At this point, we had certainly noticed that iconic soundtrack. The ride has six different songs that could play while you're riding — but you won't know which one will play until you're cruising along. The six songs are "September," "Disco Inferno," "Conga," "Everybody Wants to Rule the World," "I Ran," and "One Way or Another." We got "One Way or Another!"
🚨HUGE SPOILER ALERT🚨

Here's the second half of 💫Guardians of the Galaxy: Cosmic Rewind💫#SaveTheGalaxyTime #CosmicRewind #mediaevent pic.twitter.com/3sOvEqFBLo

— AllEars.Net (@AllEarsNet) May 5, 2022
You can bet we did a good job helping the Guardians and we defeated Eson in the end. Whew, and that's the ride! We had a blast but we will say that you might get a little motion sick if you're prone to it. Here's how Molly felt!
My initial thoughts 💭 on 💫Guardians of the Galaxy: Cosmic Rewind💫

Are you excited to ride? 👀#SaveTheGalaxyTime #mediaevent pic.twitter.com/kgNyNf7wrS

— AllEars.Net (@AllEarsNet) May 5, 2022
Gift Shop and Exit
After the ride, we walked through the Treasures of Xandar gift shop. This shop has a brand new merchandise collection to go with the ride and some of it is pretty cool.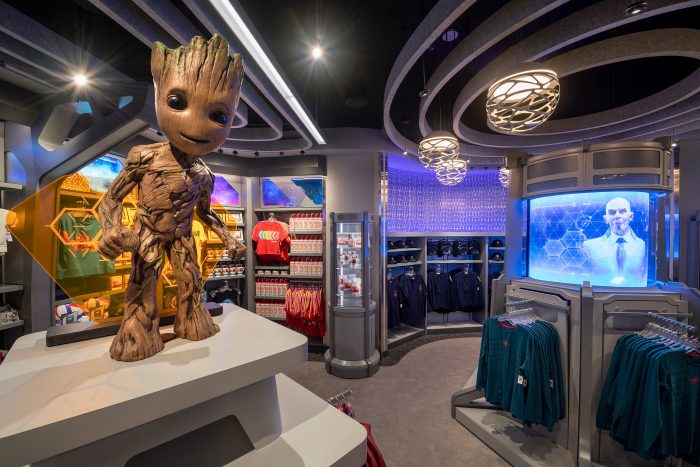 And that was the first look at Cosmic Rewind! Want to know more? Don't worry — we'll be back with many more in-depth details, so stay tuned to AllEars!
Here's the FULL playlist for EPCOT's Guardians of the Galaxy: Cosmic Rewind!
Join the AllEars.net Newsletter to stay on top of ALL the breaking Disney News! You'll also get access to AllEars tips, reviews, trivia, and MORE! Click here to Subscribe!

Are you excited to ride Guardians of the Galaxy: Cosmic Rewind? Tell us in the comments!